Melbourne's Malthouse Theatre announced its 2013 season on September 10, 2012.
Introducing the 2013 Malthouse Theatre season, Artistic Director Marion Potts said, "Different perspectives and styles give 2013 its particular character: epic Australian writing, contemporary dance, Indigenous languages, Soviet satire, and new musical composition are just some of the colours that give the season its vibrancy. They're as provocative as they are fun, as visceral as they are affirming and always a little irreverent.
"Each project has been handpicked for the power of its ideas and for its potential to take us into surprising corners of the imagination. But the overall season has also been curated to have shape, breadth and balance. At the heart of this is the idea of exploration: each production contributes to a bigger, year-long conversation about what's happening in our world.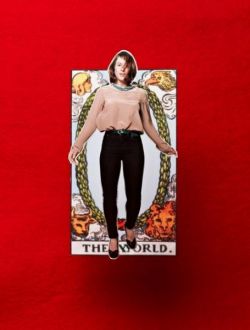 "Malthouse Theatre uses high-octane performance and entertainment as its currency. It tackles public subjects and themes that energise our thinking, quicken our emotion, and allow us to participate more wholeheartedly in the questions that affect our lives. It's a theatre that uses its vast expressive range as an engine for change.
"In 2013, three productions have come from the Engine Room, the research and development arm of our company that gives us the chance to test ideas and the confidence to take on ambitious and difficult projects.
"These works will continue to be reflected through future seasons, along with the best of what we've seen elsewhere and our collaborations with other companies.
"Above all, we hope that you enjoy the simple experience of going to the theatre. There is no 'right' way of responding to what we do. We welcome debate and differences of opinion. No matter what your age, background, academic record or clothing label, The Malthouse is a welcoming space that allows you to relax and talk, hang out with the artists over a drink and discuss what you've seen. Our audiences help us articulate the next set of questions to tackle."
The Productions
Hate
By Stephen Sewell.
Merlyn Theatre - 20 February – 8 March
Directed by Marion Potts. Cast includes William Zappa
Headed by John Gleason, businessman and political operator, the Gleasons are a family that from the outside has everything.
From the inside, however, it's another story.
Called together by John for a mysterious weekend at the family homestead, the Gleasons will undergo one final showdown in which the spoils of their empire will be divided. Besieged by a terrible storm and their dangerously charismatic father, passions quickly begin to rise and the family's fortune becomes the least of their concerns. As this powerful family is pitted against itself, the forces of history, anguish, and jealousy crack the Gleason's perfect façade, revealing a family whose deep pockets have protected some very dark secrets.
25 years after its premiere, Stephen Sewell's portrait of a monstrous patriarch who would be the country's king remains startlingly relevant.
Skeleton
Choreographed by Larissa McGowan. Directed by Sam Haren & Larissa McGowan.
Beckett Theatre - 14 - 23 March
Performers: Tobiah Booth-Remmers, Lisa Griffiths, Marcus Louend, Larissa McGowan & Lewis Rankin.
Choreographer Larissa McGowan's long-running fascination with the skeletal form has resulted in a work that cuts to the quick, exploring the strength and vulnerability of the human body in all of its forms, but particularly its most basic. Examining physicality through the idea of the trace – what we are is what we leave behind – McGowan's dancers will demonstrate acute physical strength and a choreographic pace that will make their very bones pop, lock, and pulse in place.
247 Days
Chunky Move
Merlyn Theatre - 15 - 23 March.
Choreographed by Anouk van Dijk. Performers: Leif Helland, Lauren Langlois, Alya Manzart & James Pham.
How do we view the world? How does the world view us? Do we behave as expected, or accept who we truly are? And if we could observe ourselves in an unguarded moment, what would we see? In this world premiere, Anouk van Dijk collides what has already been with what could be, challenging us to explore the importance of the individual. 247 Days will be an exploration of human dynamics within the context of a shifting Australian landscape.
Dance of Death
Written by Friedrich Dürrenmatt. Translation by Tom Holloway.
Beckett Theatre - 18 April – 12 May
Directed by Matthew Lutton. Cast includes Jacek Koman & Belinda McClory.
Married and living on an isolated island barracks, Alice and Edgar's marriage mirrors their surrounds: bleak, desolate and inescapable. Day after day, their hatred for each other has forged a bond stronger than any romance, and each takes great pleasure in pushing the other beyond the bounds of hope, or redemption.
When Alice's cousin (and ex-lover) Kurt arrives on the island to take up the post of Head of Quarantine, he is quickly drawn into the misery of their marriage. As they move with delight from bout to bout, relishing each jab, it becomes clear, however, that torment can form its own kind of love.
Dance of Death is a blistering black comedy created by Swiss master of the macabre Friedrich Dürrenmatt. Adapted from a Strindberg classic, Dance of Death is a surreal theatrical experience that pairs wedded bliss with boxing gloves to darkly humorous results.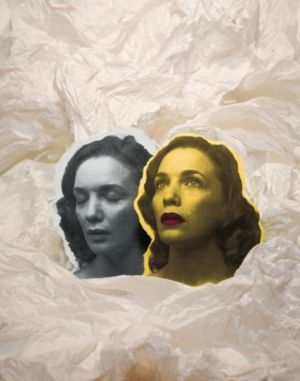 Personna
A Fraught Outfit production based on the film by Ingmar Bergman
Beckett Theatre - 27 June – 14 July.
Conceived by Adena Jacobs, Dayna Morrissey & Danny Pettingill. Directed by Adena Jacobs. Translated by Keith Bradfield. Cast Meredith Penman, Daniel Schlusser & Karen Sibbing
During a performance of Elektra, an actress falls silent and subsequently refuses to speak. The nurse assigned to her recovery takes her to a remote seaside cottage to rest and recuperate. But what should be a safe haven of convalescence quickly transforms into a space of terror and isolation.
As patient and nurse grow increasingly close, the actress quickly discovers that the bounds of her identity are dangerously unstable.
A nightmarish poem about intimacy and identity.
The Dragon
Written by Evgeny Shvarz. Adapted by Toby Schmitz. Music and Lyrics by Tripod.
Merlyn Theatre - 27 June – 14 July
Directed by Marion Potts. Cast includes Jimi Bani, Nikki Shiels & Tripod as the Dragon and other characters (Scott Edgar, Steven Gates & Simon Hall).
How can you save a damsel who's not in distress?
This is the problem facing Lancelot when he stumbles upon a village notorious for its oppression by a terrible dragon.
Once he arrives, however, it seems that the villagers don't need a hero after all. In fact, they have made their peace with their tyrant and the impositions he makes on their lives. Complicit in their subjugation, the villagers have decided that it's easier to tolerate even the most terrible abuses in order to keep the peace.
Despite their unwillingness, Lancelot decides to save the town and his soon-to-be-sacrificed lady-love from the tyranny of 'Old Draggers'. Featuring Tripod performing as the Dragon and with original music, The Dragon is a satire that provides a keen-witted exploration of political corruption and the perils of complacency.
How can democracy flourish until we have slain the dragon within us all?
White Rabbit, Red Rabbit
Written by Nassim Soleimanpour
Beckett Theatre - 23 July – 3 August
Project Curator Janice Mueller
Performers include Rodney Afif, Alison Bell, Shareena Clanton, Ming-Zhu Hii, Bert LaBonté, John Leary,
Caroline Lee, Brian Lipson, Genevieve Morris, Brian Nankervis, Sam Pang, Meredith Penman, Greg Stone & Magda Szubanski
Imagine being 29 and unable to leave your country.
By refusing to do national service, the passport of Iranian writer and playwright Nassim Soleimanpour was cancelled. With White Rabbit, Red Rabbit he has created a play that can navigate the globe in a way that he himself cannot.
White Rabbit, Red Rabbit is an audacious theatrical experiment that will come as a shock – not least to the actor handed the script the moment they walk on stage. Actor and audience will journey into the unknown together, as they stumble upon the humorous, terrifying and utterly human towards a dissection of the limits of liberty and our own role in ensuring its sanctity. This internationally acclaimed new work forges connections across time and continents, and provides a stunning example of live performance at its most immediate and urgent.
White Rabbit, Red Rabbit is a powerful exploration of the positives of a globalised world.
The Bloody Chamber
By Angela Carter. Performance text by Van Badham. Music by David Chisholm.
Merlyn Theatre - 2 – 10 August
Directed by Matthew Lutton. Cast includes Alison Whyte
When a young girl marries a much older man, her dreams are of wealth, glamour, and elegance – a world away from the poverty of her childhood. Whisked away from her family to a remote castle, festooned in jewels and fine clothes, her new life should be perfect. But she quickly comes to realise that all is not what it seems.
Abandoned by her husband on her wedding night, he offers her instead the keys to the castle; it's hers to enjoy, so long as she doesn't step in to the forbidden room…
The Bloody Chamber is a new work starring Alison Whyte that delves into the infamous legend of Bluebeard, bringing the tale of the aristocrat and his 'missing' wives to the Malthouse stage in all its gory glory. Inspired by Angela Carter's 1979 feminist novelette of the same name and Bartok's 1911 opera, Duke Bluebeard's Castle, The Bloody Chamber will be a gothic extravaganza in which text, music, and performance provide a spectacle both intimate and mythic; lavish and chilling.
Join us in the castle halls for a wild ride into the murky depths of folk story and fairytale. Hold onto your hats!
And your head.
Stories I Want to Tell You in Person
Written and Performed by Lally Katz
Beckett Theatre - 9 – 25 August
Malthouse Theatre and Belvoir
Directed by Anne-Louise Sarks
For more than a decade, playwright Lally Katz has been one of Australia's foremost fabulists, trekking off to the furthest coasts of the imagination and returning with her findings. Now she introduces to the stage one of her most unexpected subjects: herself. She might be alone on the stage but she's far from lonely, bringing with her a cast of characters – from fortune tellers to mystics to Mississippi Evangelicals – encountered on the quest to cure her curses. Known for delving into fantasy, this writer proves art imitates life.
Hard Rubbish
Original Concept by Men Of Steel
Beckett Theatre - 12 September – 6 October
Malthouse Theatre, Strut & Fret and Men of Steel
Directed by Ian Pidd. Co-created by Hamish Fletcher, Jared Lewis, Phillip McInnes, Ian Pidd, Tamara Rewse & Sam Routledge
It's hard to compete with a slender, blonde, Scandinavian; especially if you're a piece of furniture whose time appears to be up.
Welcome to Hard Rubbish, a world where it only takes the threat of a trip to the tip for a household of furniture to come alive. Soon to be replaced by a suite of Swedish minimalism, a pile of unloved old furniture has just learnt it's destined to live out its golden years at the council tip – a miserable prospect indeed. As the hour of their removal approaches, the hard rubbish decides to come out swingin' against their Nordic counterparts.
With sofas that slap and cupboards that club, the result is a military operation for which the 'flat packs' are unprepared.
Created by the extraordinary puppeteers Men of Steel, Hard Rubbish is a life size lounge-room battle where even the most inanimate of household objects will give as good as they get. Presented by Malthouse Theatre, this new family production will entertain the young and the young at heart, bringing new meaning to the term 'moving house'.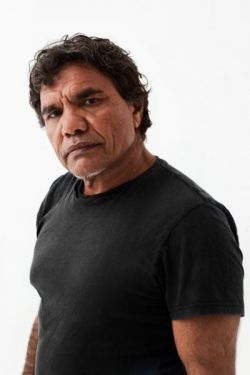 The Shadow King
Co-created by Michael Kantor & Tom E. Lewis (pictured).
Malthouse & Melbourne Festival, in association with Sydney Festival, Perth International Arts Festival, Adelaide Festival and Brisbane Festival
Malthouse Theatre Workshop - 8 – 27 October
Performed by Jimi Bani, Tom E. Lewis & Shareena Clanton
The greatest of all epics about nation, is finally an epic about our nation.
Bringing together the country's finest creative talents including Tom E. Lewis (The Chant of Jimmy Blacksmith), Jimi Bani (Mabo) and former Malthouse Theatre Artistic Director Michael Kantor, this epic reworking of Shakespeare's King Lear employs the timeless tragedy to speak to the history of Indigenous Australia. Working across cultures and generations, it is theatre of a scale and significance to match the land upon which it is made.
Created and produced in close consultation with Indigenous elders and performed in a mixture of modern English and the performers' own languages, The Shadow King will be a truly unique reworking of a tragedy that has endured across the ages.
Laser Beak Man
Directed and Devised by Bruce Gladwin. Devised by Back to Back Theatre Ensemble, Tim Sharp & David Woods. Inspired by Tim Sharp's drawings of Laser Beak Man.
Merlyn Theatre - 13 November – 1 December
Malthouse, STC and Back to Back
Fresh from the worldwide success of Ganesh Versus the Third Reich comes Back to Back Theatre's next excursion, inspired by the cartoon creations of artist Tim Sharp, Laser
Beak Man is a riotous spectacle that unleashes a brand new superhero (and a few parallel realities) onto its unsuspecting audience.
Tim Sharp is a 23 year-old artist with autism whose cartoon superhero, Laser Beak Man, has won fans around the globe. Produced as a cartoon for children's television channel ABC 3, this is the first time that Laser Beak
Man has appeared on the Australian stage. Featuring bright graphics, a surreal insight into contemporary culture and Tim's trademark sense of humour, Laser Beak Man is a unique representation of heroism and the imagination.