The hit musical is back in Australia for a national tour, just months before a movie sequel Mamma Mia! Here We Go Again reaches our cinemas. During rehearsals, Peter Gotting spoke with cast members who never get tired of singing Abba songs and can't wait to see the movie.
There's something about Mamma Mia! that makes Natalie O'Donnell more than happy to return and sing "here we go again". Seventeen years ago she played Sophie, the bride to be in the first Australian production of the wildly popular ABBA musical. This time around, she's playing Donna, Sophie's mother (made famous by Meryl Streep in the film).
"The experience for me was so special coming at that point in my career," she says. "I was 23 when I came into it and I'd done a couple of things but it was by far the biggest thing that I'd done at that stage. It's a good one to start off on."
This time it'll be quite different. The new production, which opened in Canberra and then plays most of the country's big cities, has been reimagined for the first time, with an Australian director, choreographer and creative team.
Also joining O'Donnell for a second crack at it are Jayde Westaby and Offspring star Alicia Gardiner. The three actors play "Donna and the Dynamos", the former girl group and best friends that reunite on the Greek islands for Sophie's wedding. These women are the backbone of a fittingly female-centric show (after all, strong women have always been central to ABBA).
Like O'Donnell, Westaby and Gardiner played different roles in earlier productions. "This isn't a carbon copy of the experience I had," Gardiner says. "There's certainly a familiarity but, at the end of the day, I'm experiencing it through the eyes of a totally different character. I'm being challenged creatively and discovering new things about the show at the same time."
There's little doubt what draws these women back.
"I'm so happy to return and hear this music every night," Westaby says. "You can't say that about everything when you've been in it for a year. But you never get sick of ABBA."
That's what the producers are counting on too — but it's a low-risk bet. The film was one of the most successful ever made in Britain and the musical, which premiered in London's West End in 1999, is still running there. But it's fitting that Australia - unparalleled for its admiration of the Swedish pop group - will be the first to restage the show.
"In a similar fashion to the way that Les Mis has been reimagined over the past couple of years - and Miss Saigon - this company is the first company that has been given permission to reimagine it," O'Donnell says. "It's such a fresh take on it all."
She believes there is something authentically Australian about this production: "the aesthetic of it, the colour palette that Linda Bewick, our designer, and Suzy Strout, our costume designer, have come up with."
"There are definitely fresh eyes on it," Westaby continues. "It's going to look spectacular, it's going to look different."
What won't be different, however, is the story on stage. Mamma Mia! centres around the planned wedding of 20-year-old Sophie, daughter of Donna, on a Greek island. Sophie wants her father to walk her down the aisle but she has one problem: she doesn't know who he is. She reads in her mother's diary of three romantic interests and so invites them all to her wedding (why wouldn't you?).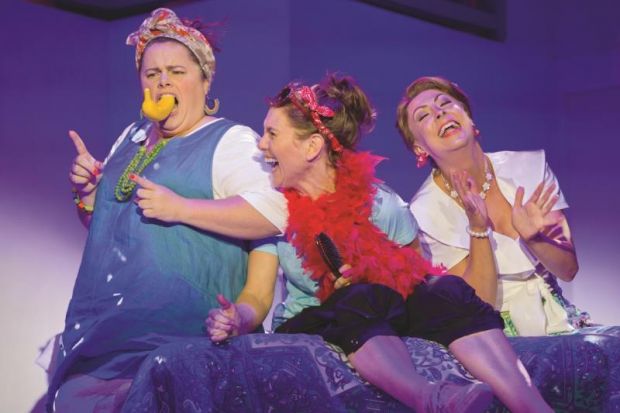 But the women remain central to this story, particularly Donna's friendship with the Dynamos, Tanya and Rosie. "Mamma Mia! has very strong female characters," Westaby says. "That's extremely rewarding and inspirational for us." The three women sing many of the big songs, including 'Dancing Queen' and 'Super Trouper'.
The reason for these strong female roles lies in how the show was created. It was the brainchild of Judy Craymer, a producer who once worked with ABBA's Benny Andersson and Björn Ulvaeus on their show Chess. Craymer was convinced the pop group's songs could be turned into a musical but Benny and Björn were hesitant (after all, Chess was a box office flop).
Craymer says she was inspired by one of ABBA's most poignant songs, 'The Winner Takes It All'. She saw dramatic potential: "The lyrics revealed a roller coaster story of love and loss that struck me as extraordinarily theatrical."
Alongside Benny and Björn, Craymer signed up British playwright Catherine Johnson to write the show's book, as well as director Phyllida Lloyd. "It was unusual, if not unheard of, for three women to be the collaborative creative force behind what was to become such a commercial success," Craymer has written. It's probably not a coincidence there are three strong women in the story.
A very different ABBA musical could have been made. Other "jukebox" musicals featuring the hits of famous pop artists — such as Jersey Boys and Beautiful: The Carole King Story — tell the personal stories behind those stars. There was, after all, a lot of potential here: 'The Winner Takes It All' was written when Ulvaeus was divorcing fellow ABBA star Agnetha Fältskog (though he has denied that's what the song is about).
But the idea here was for a new, fictional story, written around the lyrics of the songs. "My brief to Catherine was that no lyrics could change, the story should be a contemporary, ironic, romantic comedy," Craymer said. She also noticed that the songs largely fell across two generations - the younger, playful songs such as 'Dancing Queen' and 'Honey, Honey' and the more mature hits like 'Winner Takes It All' and 'Knowing Me, Knowing You'. That's how the idea of a cross-generational love story was devised.
"It's really easy to underestimate shows like this," O'Donnell says. "The show is deceptively honest and really hooks into human experience and a shared human experience.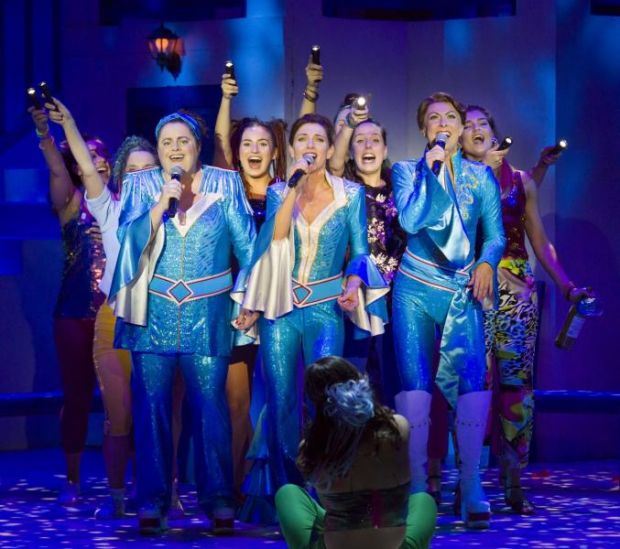 Gardiner says that while "there's certainly a huge amount of fun in a show like Mamma Mia! … the depth within ABBA's lyrics shouldn't be underestimated.
"They were story writers. Look at 'The Winner Takes It All', a song of loss and heartbreak. And I can barely listen to 'Slipping Through My Fingers' without crying. As with all good stories, there's certainly a depth."
There may well be even more depth in the characters to be revealed during this production. The new Australian cast will be about halfway through their run when a sequel film is released. Streep will again star with Amanda Seyfried, Pierce Brosnan and Julie Walters in Mamma Mia! Here We Go Again, due in cinemas next year. For added star power, Cher will also join the cast, playing Donna's mother.
This next film goes back in time to delve into how the relationships between the main characters were developed. We will probably learn more about Donna, Rosie and Tanya (as well as Donna's love interests).
The Australian cast are very confident they've got their own characterisations sorted out but they are wondering what the new film could reveal. "We were laughing because obviously we are doing backstory on our characters and they're doing our research for us," O'Donnell says. "All of a sudden it will be there.
"I'm really intrigued to see whether the conversations that we've had — how similar it ends up being."
The film will be good timing for the producers, as it will probably create even more of a buzz around the musical. Not that it needs it — when the primary purpose of a show is simply to have fun, around an extremely popular songbook, it's a sure bet for another box-office hit.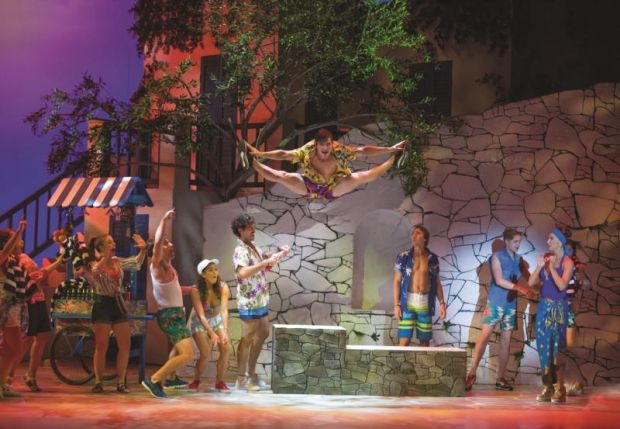 These three women know they're lucky to be going to work on such a show.
"I have had so much fun that I actually kind of freak myself out," O'Donnell says. "Hang on is it supposed to be this fun?"
It's common to just "burst into hysterics" in the rehearsal room, Westaby says. "Yes, you have to look after your voice and your body - it's eight shows a week. It's no mean feat.
"It is hard work but, geez, it's fun!"
Mamma Mia! commenced its new national tour at the Canberra Theatre Centre on November 24, playing at QPAC's Lyric Theatre, Brisbane from December 26, Sydney's Capitol Theatre from February 11 2018, Crown Theatre Perth from May 15, Melbourne's Princess Theatre from July 10, and the Festival Theatre at Adelaide Festival Centre from October 9.
Article originally published in the November / December 2017 edition of Stage Whispers.
Photographers: Peter Brew-Bevan (top image) and James Morgan (prodution images).