Put your 'Dancing Queen' shoes on because Packemin Productions' Mamma Mia! is almost here and we sat down Louise Symes and Courtney Bell who play Mother and Daughter duo Donna and Sophie to see what they're ABBA-solutely excited for in the lead up to the show.
Mamma Mia! is packed full of ABBA songs, tell us what your favourite is…
Louise: I love ALL ABBA songs...seriously! The first album I ever bought was "ABBA Arrival" when I was about 8 years old. Since being in Mamma Mia! "Slipping Through My Fingers" has quickly become my favourite songs because as a parent it is very poignant. The lyrics absolutely touch your heart...it's very hard for me to sing it without getting emotional.
Courtney: It's a close tie between "Waterloo"because it's just so much fun and "Slipping Through My Fingers" because it is very poignant and relatable and I can't help but become emotional when I hear it!
Tell us about your characters in the show, Mother and Daughter combo, Donna and Sophie.
L: I play Donna, Mother of Sophie. She is a very hard worker who has been dealt a few knocks in life but she gets up, dusts herself off, and gets on with things. Donna is wonderful to play because she still has moments of her youthful fun and energy but also has a wonderful depth of character, like the underlying sadness of losing the man she loved when she was younger as well as feeling emotional about losing her twenty-year-old daughter who is getting married.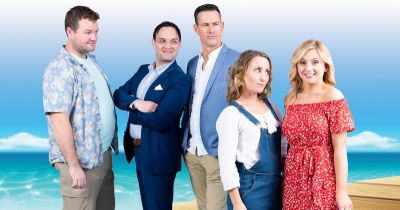 C: Sophie is a bubbly, kind-hearted, free-spirited 20 year old who is on the precipice of the rest of her life in Mamma Mia! After growing up with her just as free-spirited and unconventional Mum, Donna, Sophie is determined to discover the part of herself that has always been missing by finding out who her Dad is, as her Mum would never tell her. She is set to marry the love of her life, Sky, and to do everything properly, unlike her Mum, including having her Dad walk her down the aisle. After sneaking a peek at her Mum's diary, she invites three possible Dad candidates to her wedding. Sophie chases her dreams, but she is lost between the idea of a conventional marriage to the love of her life, which also allows her to fulfil the obligation she feels to stay and support her Mum after all she has done for her, to the excitement and allure of travelling the world with Sky. She hopes to find the answers to all her uncertainties by finding her Dad.
What are you most looking forward to in the lead-up to Mamma Mia!?
L: I'm really looking forward to sharing the stage with some outstanding actors that I've admired for so long. The entire cast is brilliant.
C: It has been such a joy working on Mamma Mia! with the talented creatives, cast and crew, so to finally be bringing this feel good show to the stage for audiences is exhilarating. I can't wait for the big dance party at the end of each show!!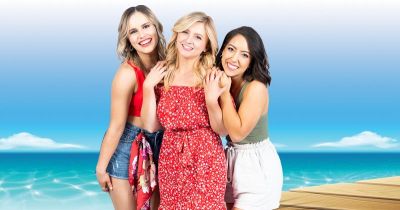 What is it like performing in such a fun, upbeat and well- known show?
L:This show makes people happy. I have loved every second of my rehearsals and I look forward to the performances. The entire show has an exciting energy, which is contagious.
C: I remember Mum taking my best friend and I to Mamma Mia! when I was younger. I fell in love with the show and thought to myself "I'd love to play Sophie one day". We blasted ABBA all the way home and sang along at the top of our voice. So getting to step into Sophie's shoes is making 13 year old Courtney's dreams come true.
Why should people come and see this production ofMamma Mia!?
L: People should come and see the show for the outstanding cast and musicians. It will be a fun night out.
C: Mamma Mia! is a show filled with love, good energy and your favourite ABBA tunes. It's a fun, feel-good night out for all and you'll be singing it all the way home!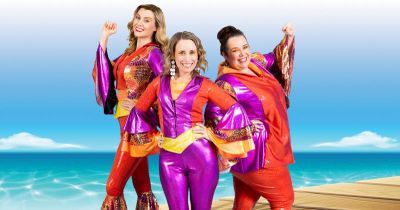 Starring Louise Symes as Donna, Courtney Bell (Madiba The Musical) as Sophie,Scott Irwin (Beauty and the Beast, West Side Story) as Sam, Debora Krizak (Sweet Charity, Anything Goes) as Tanya, Blake Erickson (Madiba The Musical, Les Misérables) as Harry, Mark Simpson (Hairspray, Kinky Boots) as Bill, Rachael Gillfeather as Rosie, Chris White (Hi-5) as Sky, along with a large cast of upbeat, energetic musical theatre performers, Mamma Mia! will be playing at Riverside Theatres, Parramatta from 2 – 17 August 2019.
Come along, see Courtney and Louise in these two iconic roles and enjoy all your favourite ABBA songs intertwined into the story.
Tickets are available at https://riversideparramatta.com.au/show/mamma-mia-19/
You can follow Packemin Productions for all the behind the scenes updates on Facebook https://www.facebook.com/packeminproductionsand Instagram @packeminprods
Photography by Grant Leslie (Perfect Images Photography)