International Australian musical theatre performer Philip Quast plays the role of Mr. Banks, father of the dysfunctional family at the heart of Mary Poppins. Graduating from NIDA in 1979, he shot to prominence with his award winning portrayal of Javert in the original Australian production of Les Misérables, a role he later repeated in the West End and recorded on the International Cast Recording. His West End career includes three Olivier Award winning performances in Sunday in the Park with George, The Fix and South Pacific. He has appeared with both the Royal Shakespeare Company and the National Theatre.
He spoke to Neil Litchfield about the role, and his personal Mary Poppins life lessons.
PQ:Of course Marina Prior, Verity (Hunt-Ballard) and myself, we all think the show is about our character. I think it's about George Banks, and what Mary Poppins thinks about him. You have to have that sort of arrogance in the show to bring as much depth to it as you can. Richard Eyre (the director of Mary Poppins) says this show is called, in his own words, 'The Denouement of George Banks,' and I suspect in some ways he's the one who has got the big journey in the show. He's the one who has to change the most, because he is so dogmatic in the way his life runs, and the way he was brought up, and he can't change. Therefore everyone is suffering. His wife is suffering, the children are suffering, and it's the catalyst for bringing Mary Poppins into the house. She uses the children, of course, to change it, but he goes through a big journey.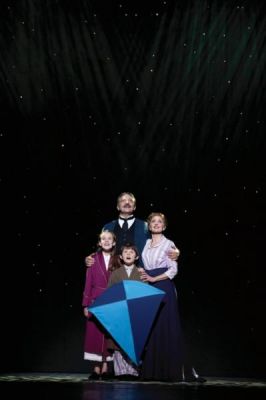 NL: What do you love about playing Mr Banks?
PQ:I have to confess that I've got more out of playing this than I thought I would, and I think since we opened it's got deeper and deeper and deeper, partially because we learn to make it real every night because we have different children. I've tried to put as much of myself as I can in there as possible. Not in an English way, but I'm away from my wife and I'm away from my children. I suspect that the role has even brought about a sort of mid-life crisis for me in some ways, because it's made me think, 'Oh, I don't want to be travelling away from my family any more.' I'm thinking I might come back to Australia and be closer to my parents, and we are now thinking of moving back. So it's had a real personal effect on my life, because it's made me think, you reach an age where you have to change. I can't keep working as hard as I want to work, and it's had a real effect on me. I've done all I can and all I want to in England, and it's got to me a bit. So at the end of the year I'll probably move back to Australia.
NL: What impact do you think that has had on the way you play the character and the way he comes across?
PQ:There are definite scenes where I have an absolute crisis. When the kids come up and say, 'we do love you daddy,' at the end, despite everything he's done to them. It really gets to me. I'm not talking method acting, but if you really listen, and despite how horrible you've been, these children come up and say we love you daddy, all is forgiven. When they say that I can't help but well up with tears, and there are some nights where it quite catches me. Especially on the last night in Melbourne. We were saying our goodbyes to five lots of children who had been with us for 11 months, and when they were saying those things, and playing those scenes, it actually got to me, and I thought I'm getting too old to be away from my parents, and away from my children. I don't want to be away from my young son in London and trying to make a living, so I'm in the process of trying to be debt free, and to try and rationalize my way of life.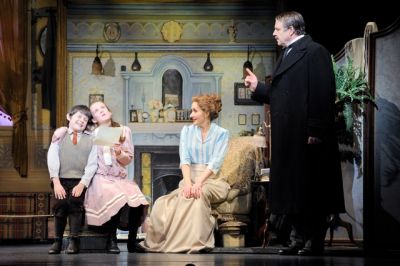 NL: What differences and changes can you see in the way you now play the character after that journey?
PQ:I think it has become deeper, and I think that comes with the familiarity of working with the other actors, like Marina, because you keep exploring things, and you try not to plan anything, but eventually you build up an arsenal, a repertoire of way of playing scenes. The audience certainly affects you every night, because we've been packed, and having children in the audience every night keeps you on your toes, because if they get restless, you know you're not playing it for truth, so that's had an effect on me.
It's got bigger in the extremes, so when he gets angry and loses his temper, I've gone on a bigger scale. I think it's changed because I've actually taken the emotional extremes further.
Mary Poppins is currently playing at Sydney's Capitol Theatre.
Images: Top - Philip Quast at the Sydney Opening Night Party reading this story in Stage Whispers. Middle - Marina Prior, Philip Quast, Kade Hughes & Hayley Edwards. Lower - Kade Hughes, Hayley Edwards, Marina Prior & Philip Quast. Both images from the Melbourne season.
To keep up with the latest news and reviews at Stage Whispers, click here to like us on Facebook, or follow us on Twitter.
Article originally published in the May / June 2011 edition of Stage Whispers.