Mary Poppins has commenced previews at Sydney's Capitol Theatre, with opening night on May 5, following a hugely successful, award-winning, Melbourne season.
Stage Whispers had the opportunity to chat with cast members Verity Hunt-Ballard (Mary Poppins), Sally-Anne Upton (Mrs Brill) and Christopher Rickerby (Robertson Ay) prior to the opening night.
Verity Hunt-Ballard, who plays the title role, spoke to Stage Whispers about the discoveries she has made about the role, and herself, since she started playing Mary Poppins.
"I'm constantly striving to find a deeper, richer portrayal of the role. We had such an intense rehearsal period, and opening night was essentially the crux of what we wanted to present every night, but she's such a mysterious, enigmatic character, and she's not human, so it's quite interesting to play a role that has human emotions, but really comes from somewhere else, and only enters the family for a short period of time to teach these lessons and morals, and then leaves again. She has to be quite detached. Even though she loves these children, she knows that eventually she'll have to leave.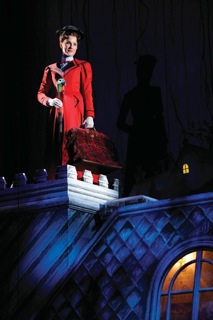 "I've learnt lots of things about the role, but also about myself as an actor, and the discipline that's needed. It's a very vocally and physically taxing role, so you build up stamina and need to be fairly disciplined with your lifestyle, and looking after yourself, and a mental kind of stamina too.
"I think she's incredibly mischievous, and she's cheeky, and I would never have thought so much about Mary Poppins' knowingness before playing the role. She's so knowing, she kind of knows the end product already, but she guides everybody; the parents and children, in this way. She's full of heart and full of warmth, and I think it's dangerous, when playing the role, to get into a stereotype of a schoolmarm-ish English woman when in fact she's so varied. She can be completely crazy one minute, and completely refined the next. She's very unpredictable, but she always knows the end result."
What do you love most about playing the role of Mary?
"It's really rewarding for me to have adults and children reacting in the same way to a certain line or a comic moment. If you hear the whole audience erupt in laughter, it's a sign of such great writing. It's wonderful to be in a hit show that's full every night, and they're reacting in an innocent wonderful way. The show has very innocent, powerful messages, and I think that's why the show is kind of timeless. People are still affected the same way, and they're still faced with the same challenges these days."
Christopher Rickerby describes his onstage partnership with Sally-Anne Upton as the Laurel and Hardy of Mary Poppins.
"I play the role of Roberston Ay, and it's really part of a two-handed comedy duo with myself and Sally-Anne Upton. Sally-Anne is the maid, Mrs Brill, and I'm the butler.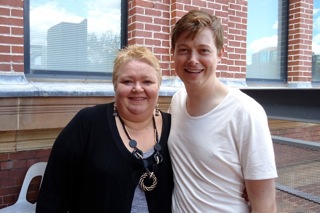 "He's the underdog in the household, who has basically been taken off the street and given a job. I think basically Winnifred Banks found him and took pity on him, then gave him a job in the household, much to the anger of Mrs Brill. I just never seem to be able to please her, or do anything that can make her happy, so there's a lot of comedy material there, where I can't even move a muscle, and she explodes, so it's a bit Laurel and Hardy, where I try to do a task that she's set me, and it all goes wrong of course. It's all great fun."
What do you love most about doing the show?
"I love the group, I love the cast, I love the team that we're working with. We've been going for a year and it's still great to be here. It's still great to turn up every day and do such a wonderful show.
" The show has real core values – it's not a pop musical, it's an old-fashioned book musical with a really strong dramatic through line and real highs and lows."
You have been playing the character for quite a while now. What discoveries have you made along the way which have influenced the way you played the role?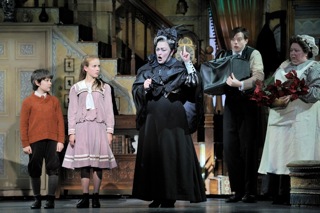 "In rehearsals we were really lucky in that we were allowed to find our own comic material, and that was Sally-Anne and I devising a lot of things. Of course opening night happens, and it's all great and it all works so well, but of course over time it all evolves and you start to feed off the audience as well, and so the timings would slightly change, and then suddenly we'd find a laugh where there was never a laugh before.
"In the last three weeks in Melbourne Sally-Anne got sick and so her understudy went on, and of course that throws all the timings out. In that time I found two or three new things which I was then able to bring into it when Sally was back on. So, you're constantly finding new things, because if you're looking for them they just pop up – little looks or little nuances that you just haven't seen or found before."
When something like that happens do you have to seek approval to keep it in?
"No, we're lucky. As long as we don't deviate from the script, and as long as we don't take up too much time, because we don't want the show to be running to midnight – as long as those things are kept in mind we have quite a bit of freedom. We're very, very lucky."
Asked to sum up her character in a nutshell, Sally-Anne Upton said:
"I'm fortunate enough to play Mrs Clara Brill, who is the housekeeper / cook / servant and long-suffering type person."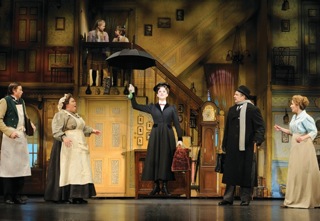 What do you love about the character?
"I love the fact that she is the underdog, and everybody relates to the underdog. We're there (referring to Christopher Rickerby as Roberston Ay) for the comic relief, but we do have some poignant moments in the piece, but what's so lovely is that the audience automatically identify with Brill, and I think Australians do because they love an underdog. It's a wonderful role to portray, and it's right throughout the show, so I'm very lucky in that way. I get to work with wonderful people, it's been an absolute success in Melbourne, and I think it's going to be a corker here in Sydney.
You've been playing the role for some time – is there a aspect of the part that's grown on you?
"What's grown on me has been her long-suffering. That's what I've played more on, and the more dry she is in delivery, the more people relate to it
"In any long-running production you reach the wall in about the fourth month in, where you just think, 'It's Groundhog Day.' It's really quite a big phenomenon, and you just plough through, and you get to the other end. But you start to muck around when you hit that wall, and you start to make it bigger than what it is. Then you just realize, 'Let's go back to basics, let's go back to what I was taught,' and you find it again. Then you realize the power is, the drier the delivery, the more power, so less is best with her.
"To have the longevity of a run like this, you have to reach for different skills as an actor. You've got to find it fresh every day. I remember when I worked with Topol (in Fiddler on the Roof), somebody asked him, how can you keep on doing a role like that (Topol), and he said that the hardest bit is getting out there each night and making it fresh.
"And we do, and it's wonderful, and it's still going strong. And it's so wonderful that we've still got the whole cast up from Melbourne – nobody's left. We've got new kids of course, but you're going to get a real corker of a show."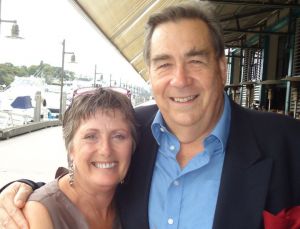 David Henry plays the supporting roles of Admiral Boom and Bank Chairman. We asked him how he saw his characters.
I play two roles, Admiral Boom, who is really the eyes and ears of the town we're living in. He's the chap who is watching, keeping an eye on everything, and commenting about procedures and things like that as they happen, and how the new nanny is getting on and how the children are behaving.
My other role is the Bank Chairman, who Mr Banks' employer. He's a very strict disciplinarian, a man who demands everything on the spot, and really frightens everyone into submission. He's the counter to Admiral Boom in a way.
Is there any trick to switching between those two characters for you?
They're really two very different people. One is a lovely seafaring man, a good Bristolian, a warm-hearted man and he's flirting with a character called Miss Lark, who has a little lap dog but he never quite gets to the point of achieving anything because as they are about to even look into each others eyes too closely, the dog growls, so there's always this unrequited love.
Whereas, changing over into the bank manager, he's a very somber, very dark man, whose decrees must be obeyed, like 'Great men have dreams of power and position, and it's our job to back them to the hilt. For shrewd investment and advice, they'll pay our price. The bedrock upon which banks are built.'
So he frightens Mr Banks into trying to make the right decision. In the end Mr Banks does make the right decision, but it's not the one that the Chairman of the Bank wants.
Physically they're very, very different. As the Chairman of the Bank I'm very upright, very tall and overpowering, whereas Admiral Boom is squatter, and warmer and cuddlier.
And the contrast in vocal quality?
There's a warmer sound to the Admiral, and he's more of a fun character, whereas the Chairman of the bank is very fixed in terms of what he's doing 'Precision and Order.' (How I wish I could reproduce David's wonderful intonations.)
They're two wonderful little cameo roles, and I love doing them and being with this company.
What have you brought to these characters since you first began performing them?
We're constantly bringing new things to them. The audience wouldn't see the change, but internally we're always bringing something new. For instance, when I have one of the big scenes with Phil Quast, who's playing Mr Banks, depending how I start with 'Come in Banks,' or 'Well Banks, how did it happen?' – depending on the timbre of my voice, it will change how he replies to me, and then we will go on another little journey, until finally we reach the point where the scene ends. While it will always end with the same sort of feeling behind it, in between there's a wonderful journey that we have. That is very exciting.
To keep up with the latest news and reviews, like us on Facebook, or follow us on Twitter.