Lipsynch, the nine-hour theatrical tour-de-force by master Canadian director Robert Lepage makes its Melbourne premiere in the State Theatre, Arts Centre Melbourne from August 4 – 12, 2012.
On a flight from Frankfurt to Montreal, a nameless young woman dies, leaving behind a wailing baby. And so begins the epic panorama linking nine lives and spanning seven decades in Robert Lepage's theatrical event, Lipsynch.
As audiences follow the main characters' journey they are treated to exquisite operatic arias, extraordinary staging, moving acting and a production spanning from war-torn Vienna to pre-revolutionary Nicaragua and contemporary London.
Lipsynch has taken as its starting point an exploration of the human voice, which Lepage has called the DNA of the soul. The work interweaves nine stories that unfold across time, countries and cultures, including the central tale of an opera singer who rescues the baby son of a prostitute who dies on a Canada-bound plane.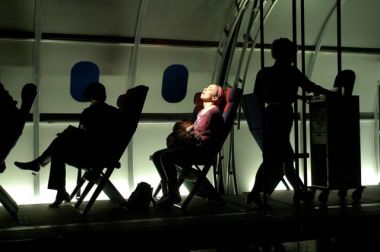 Blues, opera and the haunting work, Gorecki's Third Symphony, his Symphony Of Sorrowful Songs, are all featured music elements. Other works to be featured include those by artists and composers including Johann Sebastian Bach, Burt Bacharach and Hal David, Joy Division, Kern / Hammerstein, Robert Schumann, Debussy and Rick Miller.
Versatile in every form of theatre craft, Robert Lepage is equally talented as a director, playwright, actor and film director.
Highlights of his extensive career include directing Peter Gabriel's Secret World Tour (1993) and his role as a producer of Métissages, an exhibition at the Musée de la civilisation in Quebec City (2000). In 2002, he joined forces with Peter Gabriel again to direct the Growing Up Tour. He later designed and directed the Cirque du Soleil show KÀ in 2005, a permanent show in Las Vegas.
In 1994, Lepage founded Ex Machina, a multidisciplinary production company, for which he is artistic director. Lepage and Ex Machina have toured numerous productions internationally to critical and popular acclaim, most notably The Seven Streams of the River Ota (1994) and Elsinore (1995).
Other highlights include Geometry of Miracles (1998), The Andersen Project (2005) and The Far Side of the Moon (2000), a solo show in which he juxtaposed the Cold War competition of the Americans and the Soviets in the space race with the story of two Québécois brothers—one straight, one gay—and their competitive relationship after their mother's death. It went to win numerous awards, including four trophies at le Gala des Masques, a Time Out Award and the prestigious Evening Standard Award.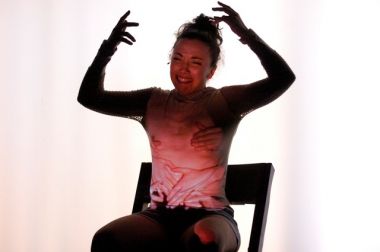 The Far Side of the Moon was adapted by Lepage—who plays both brothers—into a critically acclaimed 2003 film of the same name.
Lepage's Der Ring des Nibelungen by Richard Wagner for the Metropolitan opera in New York is being presented in installments during the 2010-2011 and 2011-2012 seasons.
Lepage's nine-hour Lipsynch will be presented at Arts Centre Melbourne four times in its entirety over two weekends on both the Saturday and Sunday and a fifth performance will be presented acrossthree single evenings during the week for the exclusive Melbourne season.
Performed in English, French, German and Spanish with English surtitles.
Arts Centre Melbourne presents
Lipsynch
Directed by Robert Lepage
Produced by Ex Machina (Canada) and Théâtre Sans Frontières (UK) in association with Cultural Industry Ltd and Northern Stage
Co-produced by Arts 276/Automne en Normandie, Barbicanbite08, London, Brooklyn Academy of Music, Cabildo Insular de Tenerife, Chekhov International Theatre Festival, Moscou, Festival de Otoño Madrid, Festival TransAmériques, Montréal, La Comète (scène nationale de Châlons-en-Champagne), Le Théâtre Denise-Pelletier, Montréal, Le Volcan - Scène nationale du Havre Luminato, Toronto Festival of Arts & Creativity, Napoli Teatro Festival Italia, the Sydney Festival and Wiener Festwochen.
Arts Centre Melbourne, State Theatre
4 – 12 August, 2012
www.artscentremelbourne.com.au or 1300 182 183
Win Tickets
Win a pair of tickets to Lipsynch on August 4 at 1pm.
Congratulations to our winner, Ryan Ricci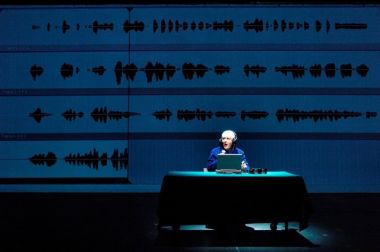 From Editor Neil Litchfield's review of the 2009 Sydney Festival performance of Lipsynch
Epic in length, inspired and innovative, international works like Robert Lepage's Lipsynch reach Australia only via subsidised arts events like the Sydney Festival. For a third time the festival has enabled Sydney to see the work of this luminary Canadian director.
As nearly nine hours of Lipsynch finished, I could happily have stayed longer, so engrossing was the theatre.
Lipsynch is divided into nine parts, the intersecting journeys of nine characters. In development since well before presentation in its first incarnation in Newcastle, UK (Feb. 2007), like so much of Lepage's work, it has been a work in constant collaborative organic development and evolution through subsequent international incarnations, development well beyond the constraints of standard rehearsal periods.
Illusion - be it sleight of hand staging or the illusions of light and camera – are trademark Lepage. While Lepage's renowned visual brilliance still abounds, voice has become his focus with Lipsynch - voice and language ranging from the glorious heightening of opera to the mundanity of everyday conversation.
Moving moments and powerful images abound – everyone I speak to connected most strongly to different episodes – numerous personal connections are possible with this vast piece, and the broad cross-section of humanity it covers – mine, possibly, a singer's journey, first to regain her own voice, then to recapture the voice of her father – a memory lost in surgery to remove a brain tumour.