English actor and singer Michael Crawford now lives in a small house by the beach north of Auckland. He moved there five years ago to recover from chronic fatigue syndrome. The change has worked so well for him that he returned to the West End in The Wizard of Oz, resumed doing the occasional concert and is promoting his latest album. Ironically The Phantom of the Opera will be haunting many theatres in New Zealand from next year, with the Australasian release of amateur rights to the show. Neil Litchfield spoke with Michael Crawford.
Neil Litchfield: With The Phantom of the Opera becoming available for amateur productions, what is your advice for potential Phantoms?
Michael Crawford: That's hard. The main thing is that the character should be as still as possible. He must have a presence that's felt by the audience, and the more still, and the more cat-like in his movement, the more hypnotic it can become. That has to be real. It doesn't mean you get up and walk around like a cat, it's a choreographic thing of stepping gently and working through the foot, and the whole body has to feel that. If you've got a good choreographer, they can read that. And a total concentration on Christine. For him, everything is to do with her. He's completely dedicated to his love for her. Stillness, and total focus on the strength of his love for her.
NL: You started performing at a very early age as a chorister and child actor.
MC:I was about 11 when I started at school in Benjamin Britten's Let's Make an Opera. Then I auditioned for it professionally and got the part when I was 12, and did that in London, at the Scala Theatre and the Royal Court Theatre. That was the start, and it was working with Benjamin Britten and Charles Mackerras, the great conductor, so it was quite a mind-boggling experience, though you don't know that when you're 12 years of age.
NL: What attracted you to performing at that early age?
MC: Well I wasn't doing terribly well academically, there's a clue. I was usually quite amusing at school, that seemed to be the only way I could get attention, but mainly, sadly, it was from the headmaster of any school I was at. You had lots of friends in the classroom till authority walked in, and then it fell apart. I just couldn't concentrate too much at school on academics. I was into sport, but I wasn't cut out to be a sportsman professionally. The singing came about accidentally, just by being in a choir. When I was 11, I went to a choir school and then sang at Westminster Abbey and the Savoy Church in London.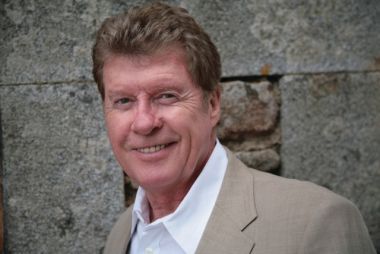 NL: Did it become apparent to you early that you wanted to be an actor and singer?
MC: I think it did. Suddenly when I did Let's Make an Opera with the English Opera Group it became apparent you were actually being paid to make people laugh. It was magical. Then, again accidentally, through a master at school writing a radio play, I had to sing a song called Ramona in a radio play at the BBC one day. Again, I was joking around a bit, and there was an agent there who got me a couple of scripts which I did on the radio, as an actor.
From there on I kept going. I did about 500 radio broadcasts as a child actor, doing educational programs from eleven to twelve every day. It was a great learning ground. You learnt lots of accents. You were playing Henry the Eighth one moment and three of his wives the next, in the same show. The budget was quite short. It was a terrific training ground.
NL:Do you have a highlight from those years as a child actor?
MC:There were a lot of radio plays. I did something called The Same Sky with Yvonne Mitchell. I played a little Jewish boy, and it was a beautiful dramatic role. So I did that till I was about 19.
I was very skinny. I was playing thin villains on early BBC television, and early ITV, like emergency Ward 10 and Probation Officer, and the very first episode of Police Surgeon, which became Avengers.
NL: Frank Spencer in Some Mothers Do 'Ave 'Em probably first brought you to prominence in Australia, but you had already had a substantial career before that.
MC: The love of my life is to work on the stage. I find it energizing and it's live, and different every night.People say, don't you get bored. I've done two shows which I did for four and a half years, Phantom being one, and Barnum the other, and I also did Billy for two and a half years, so that's twelve years with three shows, and it's never the same. You've got 30 people in an orchestra, 35 or 40 people on stage, you've got about 35 people backstage, and every person is an individual. You have to find continuity every night, to perform what was performed on the opening night, without filling the show with what you think are improvements.The analogy I use is, if you have a painting on the wall, and every colour decides to move itself just a quarter of an inch, you have a different painting. There is a great skill in reproducing it on stage every night, so the audience sees what was intended originally.
NL: What do you use to keep you on that track?
MC: It's concentration. The hardest thing is for an actor to do is not being tempted by getting a laugh one night, and then trying to 'improve' it the next night. The more you 'improve' it, the worse it gets, because you then forget where you got the original laugh from. It's very easy to lose that laugh completely.
NL: Before Frank Spencer you also had roles in major screen musicals.
MC: I did the film The Knack with Richard Lester, which won the Cannes Film Festival. He was then given the musical A Funny Thing Happened on the Way to the Forum, so I got the opportunity to work with people like Zero Mostel, Phil Silvers, and the great Buster Keaton, in his last film. Then Hello, Dolly! - with Gene Kelly, Barbra Streisand and Walter Mathau – what a wonderful opportunity.
NL: Do you have a favourite experience from those times?
MC: Working with Gene Kelly was the greatest experience, because every day he taught me something. He was completely dedicated and totally professional. He taught me my discipline. So, when I'm saying, keep the same thing every night, be accurate, it's like choreography. If you don't do the right choreography, and you're supposed to catch somebody, ten to one you're going to drop them. So it's very important to be accurate and precise about your skill.
NL: You've recorded and re-recorded the songs from Phantom over the years. How has your interpretation of them changed?
MC: The first recording I made was just after the show opened in London, and the most recent was probably a little less than 15 years ago, when I did it in concert, and I think that's the best recording. I was a bit too precise when I started. As time went on, my interpretation subtly improved.
Michael Crawford's The Story Of My Life is a 2 CD career retrospective collection featuring 30 songs including The Music Of The Night, The Phantom Of The Operaand All I Ask Of You(from The Phantom Of The Opera), Memory(from Cats), Bring Him Homeand I Dreamed A Dream(from Les Misérables), Love Changes Everything(from Aspects of Love), Gethsemane(J C Superstar), and many more.
Originally published in the May / June 2012 edition of Stage Whispers.