Ryan Cunningham and Joshua Salzman met while students in New York University's Graduate program in musical theatre writing. There, they began the process of creating songs that would eventually be at the heart of a modern musical, I Love You Because, based on a classic story that was written two centuries earlier. Now, Adelaide's Emma Knights is bringing that musical to the Adelaide stage. Lesley Reed reports.
Emma Knights is one of those brave entrepreneurs who is prepared to think outside the square and try just about anything in her quest to create immersive theatre and musical events for South Australian theatregoers.
Since setting up Emma Knights Productions in 2013 the breadth and variety of Knights' work has intrigued audiences. Not all productions are staged in traditional venues; from her Floating Melodies on the River Torrens, Oklahoma! which was set on a real farm, film-inspired events, adventurous children's events and more, Knights is nothing if not innovative. Even her musical theatre events that are staged in traditional venues invariably include a twist, such as the speakeasy theming for her successful production of Chicago in 2017.
Among Emma Knights' upcoming projects is I Love You Because, book and lyrics by Ryan Cunningham, music by Joshua Salzman, a modern musical retelling of Jane Austen's Pride and Prejudicewith its setting in New York.
First produced in 2006 in the USA, the story at first seems deceptively simple.Marcy, Austin, Jeff and Diana wade their way through the intricacies of dating, with love being more elusive than any of them could have imagined. Whether Austin will ever recover from his beloved Catherine's betrayal and find the perfect love of his life while facing the tumultuous and fickle dating game is at the heart of this whimsical musical. And nothing is more certain than the timeless truth that love, even imperfect love, can happen when you least expect it.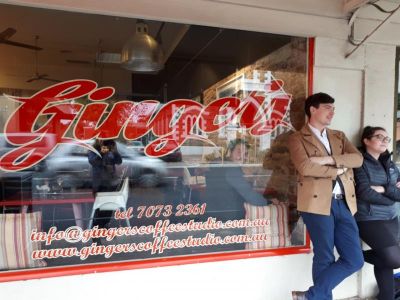 "I have loved the music from this musical for many years," Knights said. "It's more than that the story is both hilarious and touching. There are such beautiful moments in the show where the characters overcome their prejudices and become the people they want to be. I think the phrase and the show's title 'I Love You Because' is one that should be used more often in today's society. We talk a lot about accepting others and their differences; this show looks at this in a romantic partnership but has a message that transfers to the whole community."
"Cailene Kilcoyne is performing in her first Australian production alongside Josh Barkley, Stefanie Rossi-who was nominated for Best Professional Female in 2017 for my production of Chicago, James Nicholson, Charles Smith and Serena Martino-Williams," Knights said. "I also have some wonderful musicians in the band including Daniel Burgess, Paul Sinkinson, Sam Menzel and Tim Wilsdon."
The production is directed by Megan Doherty with choreography by Alana Sheperdson.
I Love You Because is a modern musical based on a timeless theme and its staging by Emma Knights Productions will surely be a show stopper. Don't miss it.
WHERE: Goodwood Institute, 166 Goodwood Road, Goodwood, South Australia
WHEN: 22nd and 23rd June, 2018
TICKETS: https://emmaknights.com/pec-events/4228/1529696700/
Adults $40, Concession $36 and Group of 6 $38
Approximate running time of 2 hours with a 20-minute interval.