Choreographer / director Graeme Murphy speaks to Coral Drouyn on the eve of his production of The Merry Widow for Opera Queensland at QPAC.
There's a whole new generation discovering that Opera doesn't have to be boring and stuffy with "fat sopranos and short tenors" singing in a language they don't understand. Opera Queensland goes from strength to strength in its productions and on this coming Friday, June 22nd, they launch a new production of Franz Lehar's delicious operetta The Merry Widow, both directed and choreographed by dance icon and official National Treasure, Graeme Murphy. Murphy's version has been produced before, but he has reworked it especially for this production. Preconceptions go out the window as Murphy moved the period firmly into the 1920s - with lavish Art Deco sets and stunning costumes of the era - sequinned capes, beaded flapper dresses, the entire production is a visual treat. Whilst Art Nouveau is the usual setting for the operetta repertoire, Art Deco is clean and sharp and beautiful. Is there anybody who doesn't love the era?
"Well, there may be," Graeme Murphy concedes, "but I have to say that it's my favourite era."
Murphy is known for his original and ground-breaking choreography that stretches dancers to the limit, but he's a gentle master when it comes to opera.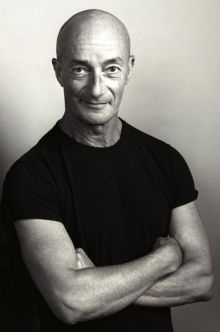 "You do want to push the limits when you are working with a dance company," Graeme tells me (and Sydney Dance Company certainly always did that). "But with opera you have to remember that there are so many other components - the music, the singing, the characters," he continues. "I don't go in with any pre-conceived ideas, especially if I'm working, as sometimes happens, with non -dancers, I like to find their strengths and work to those so that they will feel more comfortable. The more at ease they feel, the more they will fit comfortably into the character they are playing."
But isn't it frustrating when you're used to working with brilliantly trained highly technical dancers? I query.
"Not at all," Murphy explains. "Ballet dancers are the elite - they're thoroughbred race horse trained to move in a certain way. They are taught the right way to express themselves. But there are infinite aspects of dance. Recently I did a class with non-dancers – women of a "certain age". They were old enough to have lost their inhibitions, and what they showed me through their movements, their lack of self-awareness was absolutely exhilarating, a breath of spring. I am sure it was more rewarding for me than for them. And, you know, the surprising thing is that sometimes they got the move wrong, back to front, and it brought a totally new dynamic to the dance. It was quite magical. So I try not to prejudge; not to see anyone as limited. And I am really blessed with a very special cast."
That cast includes David Hobson (an artist who has delighted audiences in everything from Musical Theatre to Opera) as Danilo and the delightful Natalie Christie Peluso as Hanna, with a marvellous supporting cast and the Queensland Symphony Orchestra. It should be a treat for eyes and ears.
Graeme promises, "We're all about dispelling the myth that opera is distanced from the audience. We want to create something beautiful and say to our audience 'come into our world and share it with us."
The Merry Widow plays at QPAC 22nd June – 29th June, 2018.