Jersey Boys is like an episode of the television gangster series The Sopranos, with a great soundtrack behind it. Based on the 1960s rise to fame of Frankie Valli and The Four Seasons, the musical doesn't shy away from the reality of the mafia dominated New Jersey neighbourhood they grew up in. Jamelle Wells reports that the criminal element is a big part of the show's appeal.
We are fascinated by true crime and by this story even more so because it's about four people who, despite their run-ins with the law, went on to make something of themselves, even though the odds were stacked against them. The Four Seasons were far from perfect, but they fought hard for their success and their long-term survival in show business is remarkable.
Frankie Valli, Bob Gaudio, Tommy DeVito and Nick Massi started recording in the 1960s with hits like 'Sherry', 'Big Girls Don'tCry' and 'Oh What a Night', selling 175 million records worldwide, all before they turned 30. People were at first intrigued by The Four Seasons because lead singer Frankie Valli's falsetto sound was so different that those who had never seen the group sometimes wondered if it was a black African woman singing.
They grew up in a neighbourhood where a connection with the mafia and crime was a part of everyday life. Most of the venues and clubs they performed in were owned by the mob or by people connected to the mob.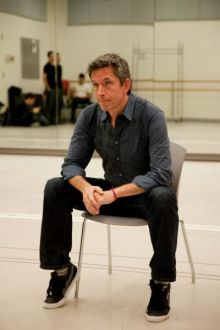 The Four Seasons knew the likes of Gyp DeCarlo, who was convicted of crimes that ranged from murder conspiracies to violent assaults and extortion. A major FBI investigation in the 1960s linked him to widespread corruption involving politicians and businessmen. In secretly recorded FBI conversations, he was busted talking about how he set fire to one of his victims but carried out a humane hit on another one by shooting them through the heart.
DeCarlo famously walked free from jail after serving just two years of a 12 year jail sentence, on being pardoned by then United States President Richard Nixon.
The show's creators Rick Elice and Marshall Brickman once told The Independent that The Four Seasons travelled to the jail DeCarlo was locked up in to perform for the inmates. He died in 1973, but Elice and Brickman also told the paper that during Jersey Boys auditions in California a mystery man pulled up in a dark car outside the theatre and phoned in to tell the producers he hoped the convicted criminal was being portrayed 'favourably' and 'respectfully'. Apparently they were quick to give a 'yes' reply. **
Although the group wrote their own songs and invented their own sounds in the 1960s they didn't get nearly as much publicity as The Beatles, who were around at the same time. The Beatles had a recording run of less than a decade before they broke up, but The Four Seasons kept going. They are among the bestselling music acts of all time and were inducted into the Rock and Roll Hall of Fame in 1990.
Their story has been seen by over 25 million people around the world since Jersey Boys opened on Broadway in 2005. The show is now back in Australia, after a long season that wrapped up here in 2013 played to an audience of 1.6 million.
The Four Seasons had hits beyond the 60's like 'Oh What a Night', and Valli recorded solo hits including 'Can't Take My Eyes Off You' and 'Grease'. Their music has never really gone away, even for a younger audience. As Cameron McDonald, who plays Tommy DeVito in the current Australian Jersey Boys production puts it, "My first memory of a Four Seasons song was on a Flame Grilled Whopper ad for Hungry Jacks ('My Eyes Adored You').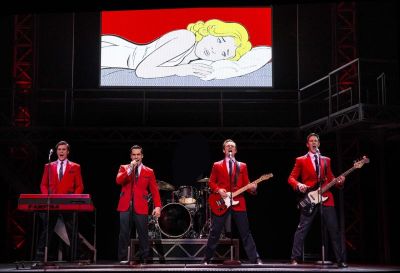 Jersey Boys is currently playing in five theatres around the world, including a purpose-built theatre on a Norwegian cruise ship where the performers have to be replaced every six months as required by maritime law.
Production Supervisor Richard Hester has seen the show more than anyone, starting as stage manager when it was put together in California in 2004. He says back then noone thought The Four Seasons was a good idea for a musical.
"Director Des McAnuff did not want to leave another Broadway show he was working on and we didn't see a script until the first rehearsal. We all thought it was going to be a two month job, but 14 years later the show is still going strong - although my hair is a little more grey now.
"Each production needs constant attention and recasting and each one is in a different time zone, but if you were an audience member on the Norwegian cruise ship or in a theatre somewhere else you would basically have the same experience"
The cruise ship show is about 35 minutes shorter and an Off Broadway production in New York also had a smaller cast because the producers wanted to keep operating costs down, but Hester reassures us this Australian production has the full complement of actors, dancers and musicians.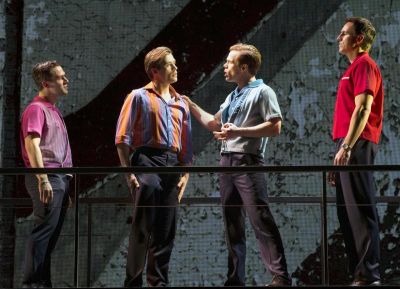 "Everybody can relate to the story of these four guys who try to succeed - in some cases not because they have delusions of stardom, but because stardom is their only opportunity to get out of their neighbourhood.
"I've watched this show at least 2,000 times. I still marvel at how they got out and think that all the stars must have been aligned in the universe to allow that to happen. The audience comes expecting to watch four guys sing but then they realise there's a full story there to tap into."
Hester says The Four Seasons were closely involved with the show from the start, from telling their story to the scriptwriters to having a say in the casting. It resulted in a biographical narrative told from four very different viewpoints, with Bob Gaudio writing the music for Marshall Brickman and Rick Elice's script.
"The script is very close to how things really were for the Jersey Boys, although some people they knew didn't want to be in a musical, so their names have been changed," says Hester.
"I'm sure the guys would also prefer it if some details of their personal lives had been left out, like the tensions in their relationships with each other, but for the audience that's what the drama is.
"To their credit, Frankie, Tommy and Bob (who was the business brain of the group, despite not finishing school) still come to see the show from time to time but have allowed us to create a musical about their lives with very little interference.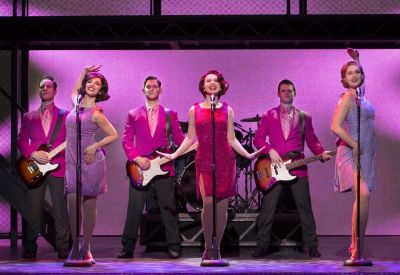 "As a result, there are no completely unblemished heroes or completely tarnished villains. It's four guys doing the best they can," says Hester.
Frankie Valli might have escaped from New Jersey in his youth but Sopranosfans will know that he has revisited it by acting in the television series as mob member Rusty Millio, who gets gunned down by a hit man in his driveway. There are also references to Valli peppered through the series, such as a character who buys flowers at the same florist 'used by Frankie Valli' and a scam involving selling 'stolen Frankie Valli concert tickets.'
Jersey Boys is playing at Sydney's Capitol Theatre until December 16, 2018. It tours to Brisbane (January 2019) and Melbourne (February 2019.
**Rhoda Koenig –'Mob music: How the creators of the Jersey Boys got a call from the Mafia.' The Independent. March 6, 2008.
Production photos by Jeff Busby.