With local Musical Theatre having an unexpected boom right now, Coral Drouyn talks to four young men who are the future of musicals in Australia
They are young, super talented, and on the brink of leading a revolution. Though all four are under the age of 25, they have written over eight musicals between them, and hundreds of songs. They are the New Guard; the future of musicals, here and internationally. As if that's not enough, they are all triple threats and more - writers; musicians; producers and/or directors; straight actors; all cabaret performers and great singers; and all spoken about as "The Next Big Thing".
Remember the names of these two partnerships; Chiarella and Tripolino, and Hedger and Nicholson. In simpler terms they are Hugo and Rob, and Nick and Ben. Interestingly they met at Performing Arts Academies – Rob and Hugo at VCA and Nick and Ben at WAAPA, but at that stage they saw their future as performers. But rather than progressing slowly, both teams jumped in the deep end and started writing together almost immediately.
At this stage Nick and Ben are ahead in output – with their latest musical revue Hook Up garnering rave reviews and awards. Nick and Ben have Homesick, an Australian musical based in the Victorian Bushfires, as their next project. I've heard some of the songs and they are stunning. There's also musical based on The Picture of Dorian Gray, and Fable – a look at the stories and rhymes we are drawn to throughout our lives– in a way their take on Into The Woods. They are also the brains behind Hook-Up….a monthly concert series which allows new composers to showcase their work.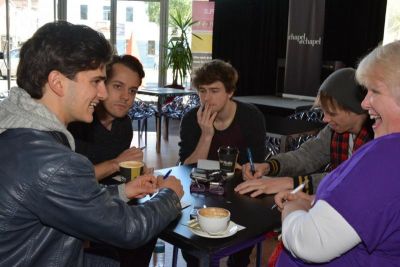 Rob is still gigging as a musician as well as doing acting roles, Hugo is in the cast of Les Mis and is the star of a Channel Nine Children's series. Their Musical Dreamsong has had a major production with a stellar cast and they're now working on a children's musical for 2015.
In 20 years, or maybe even 10 with luck on their side, music theatre tragics may speak of them in hushed tones as people once did of Rodgers and Hammerstein or Lerner and Loewe. No, I'm not kidding. So here's the scenario – and forget about hindsight, use foresight and insight instead.
We're sitting drinking coffee in the funky foyer of Chapel off Chapel. In the background the amazing Matthew Lee Robinson is working on his laptop. Matt has his new show Happy People opening the following day. MLR is so close to breaking onto the world scene that everyone in the business can taste it, but to my four young companions he's already there, he's made it, a Superstar. He's what they aspire to in the short term and they're genuinely delighted that he comes over to chat; and Ben and Nick have already bought their tickets to Happy People. Sure…they'd love to be Stephen Sondheim, but they'd be more than happy to be Matthew Lee Robinson.
None of the four is very experienced at giving interviews, and, despite their love for what they do, they think it's a bit "geeky" to sit around talking about Musical Theatre…"geeky", but also pretty cool. Being several generations older, I push them to do some written "homework" – and they change their minds three or four times so that the answers are hard to read through all the scribble. But, with a lot of deciphering, here's what they had to say.
Q: Best Musical you've ever seen?
Rob chose The Book of Mormon, Hugo went for Sunday in the Park; no arguments there. But Nick and Ben couldn't settle on one, and while Nick also had The Book of Mormon, he couldn't split it from Into the Woods or Merrily We Roll Along. Ben chose three, but then changed the order three times and ended up with Next to Normal, ALittle Night Music, and The Boy from Oz…in that order. That started our "geek speak" as we argued over the choices…with Ben defending The Boy from Oz because he saw Hugh Jackman do it when he was "just a kid" - Ben, that is … not Hugh!
Q: Worst score of a musical you've ever heard?
Rob chose King Kong – "I mean, they spent all this money on the production, the effects, and Kong….and then the music! It was just random songs, mostly it hadn't got anything to do with story at all." Hugo was adamant that Stephen Ward is the worst score ever written…ever – not just the worst he's heard. Ben jumped in with Blood Brothers and Hugo protested that he had initially put it down as his favourite. (It's true, I could just read it through the scribble.) Ben is only slightly apologetic … "Sorry, I love the book, I really do, but the score? It's so annoying." (Must be those endless repeats of 'Like Marilyn Monroe'). Nick names Brigadoon, though he will concede there are a couple of good songs, but overall it's so cheesy. We're all stunned that he even knows it.
Q: The BEST song from any musical…eleven o'clock or otherwise?
Rob is involved with the forthcoming production of La Cage Aux Folles, so it isn't surprising that he names 'I Am What I Am'. Nick and Hugo both name 'Franklin Shepard Inc' from Merrily We Roll Along, but Nick also can't separate 'Being Alive' and 'Meadowlark'….Sondheim is on a roll here. Ben goes for Sondheim too with 'The Miller's Son' from A Little Night Music, but it's a tie with 'Make Up Your Mind/Catch Me I'm Falling' from Next to Normal.
We get sidetracked into "geek speak" about what makes a great song, not just the emotional connection, but songs that tell a story. Rob and Hugo have just written the score for Josh Robson's Guilty Pleasures (every song tells a story) and Josh has just won the Rob Guest endowment singing 'Soliloquy' from Carousel, surely the ultimate story song? We all get excited as we bandy around the great story songs from musicals new and old, and that's a cue for more coffee, although it's apparent we don't need any more caffeine.
Q: And what is the WORST song from a musical?
Ben cracks us up by choosing 'Thank Heavens For Little Girls' from Gigi, though it makes more sense when he explains. "It's creepy. I mean, here's this old man singing about…well little girls. It's so not right." Hugo has a one track mind. If Stephen Ward is the worst musical ever written, then any song is the worst song, and Rob also takes the collective route by naming "any song from Spiderman". Nick has been watching his collaborator perform in Carrie and picks 'You Shine' and 'The World According to Chris' as joint losers. We end up agreeing that there are far more lousy songs around than there are good ones.
Q: Who do you think is the best composer/lyricist (one person or collaborators) of all time?
No surprises that three of the four pick Stephen Sondheim. Hugo goes for Ahrens and Flaherty, writers of Ragtime, Once on This Island, A Man of No Importance, Seussical and, most recently, Rocky The Musical.
We talk story, and the importance of book, of saying something to an audience through their work. While Rob is happy composing and found it interesting working on Josh Robson's book, Hugo wouldn't want to repeat it too often. "It's about saying the things I want to say, telling my own stories. So yes, it was interesting, and we had input into the book while we were writing the songs. But I wouldn't like to do it too often."
Ben and Nick have a close collaboration – both write music and lyrics, but Ben writes the bulk of the book and directs. "I have trouble letting go," he says, "and also I have to see the full picture to know whether something is working or not." He concedes that it's insecurity too that makes him want to control the process.
So where did these luminous talents come from?
Surprisingly Rob, who comes from a family full of music, and who was gigging with rock bands from his early teens, wanted to be a classical dancer, after years of dancing school. "That was my passion," he says. "I wanted to get into The Australian Ballet School but I failed the audition… TWICE. It was just horrible. So I decided to try for VCA but I had glandular fever and missed the dance audition. Then someone told me about the Musical Theatre course and really I knew absolutely nothing about Musicals, but at least there was a dance component. So I auditioned and got in, and Ben, who had this great singing voice, was in the same course. So it was like destiny or something."
Nick Hedger's parents are stalwarts in Community Theatre and his mum is a singing teacher. "I used to see shows they were in and think it was both fantastic and weird seeing my parents on stage. My mum would make me learn about the composers; the fact that someone had to write those songs before they could sing them. I knew once I reached my teens that I wanted to be one of those writers. I didn't have a fallback plan when I applied to WAAPA, no idea of University or a "proper" career. I'm just lucky it's worked out this way."
Ben comes from a family of sports nuts, all of them athletic and great at a variety of sports. "That just wasn't me," he says. "I'm hopeless at sports, and I grew like a weed. But I'm a terrible show off and so it was a case of 'Hello…look at me!' And theatre is the best avenue for that. Although my parents weren't great theatregoers my mum was a big fan of Hair and used to make me listen to it with her."
Hugo discovered theatre early. "There's this magic thing when a show transports you and takes you to another place. It's euphoric in a way that no other form is. I think I was hooked from my first show, and that's what I want to create for others."
None of them mention fame and fortune when you ask what their ultimate aim is. All say it's to do good work, to write something that changes someone, and lasts for years; to make Australian musicals known overseas; and neither team has any illusion about the future. Hugo explains "We do so many different things because right now it's not possible to make a living from royalties in Australia. And we write small musicals because of the budgets and venues we can afford. But hopefully that will change in years to come," Ben agrees. "There's no trickle UP effect in Musical Theatre here. Broadway productions trickle down to Australia and the rest of the world via the West End. But no show originating here is able to trickle UP to Broadway."
But that won't stop them trying and it will be exciting to see whether it's Chiarella/Tripolino or Hedger/Nicholson who get there first.
Images: (top) Nick Hedger, Ben Nicholson, Robert Tripolino and Hugo Chiarella & (lower) chatting over cofee with Coral Drouyn. Photographer: Ibrahim Mustafa, Chapel off Chapel.
Originally published in the November / December 2014 edition of Stage Whispers.
Website Links