No expense was been spared for the glittering opening concerts at the newly refurbished Hamer Hall in Melbourne this week. Lucy Graham reports.
Over two nights patrons were treated to a wonderfully eclectic program. Opening with the Welcome to Country, the aroma of smoking eucalyptus pervaded the performance space, and was followed by the wonderful IDJA Dance Theatre and Jack Charles, Barerungar ngargee (coming together to celebrate our land). The contemporary dance told the stories of three ancestral spirits: Bunjil (the eagle) protector and creator of man, Balang (his brother the bat) creator of woman, and Waa (the crow) protector of the waterways.
Lior had our spirits soaring as he sang the spine tingling Avinu Malkeinu from the uppermost balcony, and then Eddie Perfect, that lovable rogue, sang the house down with two original songs about Melbourne: A Place by the River and then the hilarious Laneways.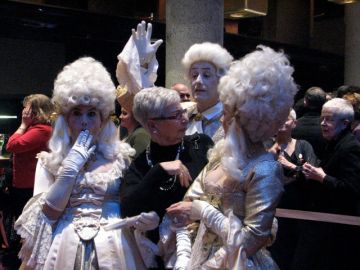 Archie Roach steadied the pace, warming our collective hearts, by his singing of Spirit of Place, and then Caroline O'Connor and eight suited and gloved dancers, wowed the crowd with How Lucky Can You Get?
After interval we reminisced with images and a recording of Dame Nellie Melba, and then Rachelle Durkin sang Je Veux Vivre from Gounod's Romeo and Juliet. The acoustic clarity of the Hall came to the fore when The Australian National Academy of Music Orchestra and MSO string players, conducted by Benjamin Northey, presented Stravinsky's Infernal Dance, Berceuse and Finale (Firebird Suite).
When a barefooted K.D. Lang graced the stage the crowd could barely contain its excitement. She sang four songs, I Dream of Spring, A Kiss to Build a Dream On, Constant Craving and what has become her signature tune, Cohen's Hallelujah. It was a completely riveting performance, sultry and sensual, and Lang's capacity to convey intimacy in such a massive space is breathtakingly spine-tingling.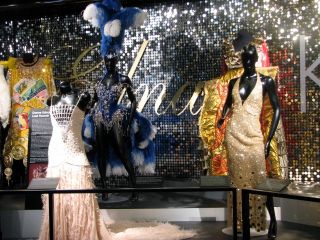 We did not want to let her go, but go she did, to be followed by eight formidable Wagnerian sopranos (Jacqueline Dark, Antoinette Halloran, Deborah Humble, Rosamund Illing, Liane Keegan, Sian Pendry, Sally-Anne Russell and Nicole Youl) singing Prelude and Scene 1 (Act 3) of Wagner's Die Walkure. What A Show!
Before and after the show, buskers and musicians entertained the packed foyers.
Two days of concerts, accessed with holographic tickets (collectors items in themselves), now give way to guided tours through the $135.8 million redevelopment that has taken two years to complete. The lineup is as extensive as it is varied.
July 28, 2012.
Images: Riverside entrance to Hamer Hall with access to promenade and Southbank restaurants and shops, buskers in the foyer, and frocks worn by Kylie Minogue and Dame Edna, on display in the foyer.Photographer: Lucy Graham.