Chelsea Plumley joins an formidable alumni of divas including Barbara Dickson, Stephanie Lawrence, Helen Reddy, Carole King, Chrissy Amphlett and Petula Clark when she undertakes the tour de force central role of Mrs Johnstone in Willy Russell's musical Blood Brothers at Melbourne's Chapel Off Chapel from March 19.
Set in impoverished 1960s Liverpool (UK), Blood Brothers tells the tragic tale of Mrs Johnstone and her twins (Gareth Keegan and Matthew Bradford) separated at birth, then disastrously reunited.
For Chelsea, the rehearsal process has been "Sublime. I've adored every second. I love the process of discovering a character; brainstorming with other cast members and gathering their opinions on my character is always incredibly useful - a treasure trove if you are willing to listen and accept others' contribution."
This is a small production of a fairly big musical. What can audiences expect?
"To be blown away. The script is impeccable, the songs hummable and the heart and soul of the show is pitch perfect."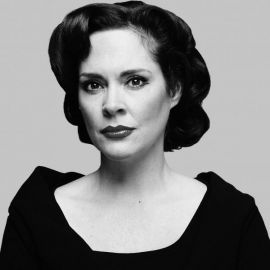 Chelsea has some of the great rock/music theatre ballads to sing in this show. Is the score a challenge or is she relishing the experience?
"The score itself isn't a challenge vocally but maintaining the technical requirements whilst upset or angry IS hard. Emotions show through the voice very clearly and I'm yet to sing my two big songs without crying."
Why should audiences come and see the show?
"Very simply - you will be touched, moved and inspired. You will laugh and cry. You will feel connected to humanity. You will never regret leaving home to visit the theatre!"
Director Chris Parker explains what attracted him to the show.
"Blood Brothers is a story with great momentum on the page, and as a director I am really drawn to that. The music is very familiar, which makes it very accessible for an audience. Willy Russell is a master at writing recognisable characters, and I think this is one of the reasons audiences are so moved by the story. This is a piece of theatre that no-one doesn't like. It has moved audiences all around the world year after year - and that is a rare and wonderful thing.
None of the characters have very likeable or redeeming qualities. What is the challenge in guiding actors to bring these characters to life?
"I think Willy Russell is very clever at writing characters that all have humanity and feel completely justified in their actions. The process we undertook was to spend adequate time around a table discussing and understanding the motivations and given circumstances of each character, and questioning to what degree this is a reaction to what is happening in the world at large at that time. It is the job of the creative process to understand the motivations of each character and work to justify them, so that everyone is pursuing their desired intentions under given circumstantial obstacles. There are no bad guys."
Is the show ultimately about redemption or fate?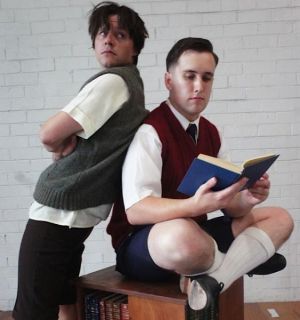 "Blood Brothers tells the story of twin boys who were separated at birth, one growing up on a council estate and the other receiving private school education. The Narrator tells us at top of the play, what their destiny will be. The plot covers several decades, from 1958 with Marilyn Monroe at the height of her fame, through to1984 with the industrial strikes opposing the Thatcher government. With themes of class, economic struggle, and mass unemployment this story almost feels like it should be witnessed with trepidation given our current political climate in Australia. I don't believe redemption is part of the writer's intention. The play is a self-fulfilling prophecy, that has the narrator chase the characters to the finish line."
How has it been directing the current cast?
"I learn so much working with a cast of this calibre. They bring such intelligence and emotional insight into the rehearsal room. I have very consciously made efforts to work with people that are more experienced than myself for most of my career. I find this is the best way to learn and make sure I keep maturing as an artist. This cast bring such a dynamic mix of energy and experience to the piece, I feel very privileged they have given me such commitment to this production."
Hailed as one of the best musicals of all time, Blood Brothers played more than10,000 performances to become the third longest-running musical production in West End history due to the show's emotional impact on audiences.
It was written by Willy Russell, whose body-of-work includes the plays, Educating Rita and Shirley Valentine, for which Russell received both BAFTA and Oscar nominations for penning the screenplays of their film adaptations.
Blood Brothers is presented by Manilla Street Productions, rapidly gaining a reputation for producing new or little performed works including Bad Blood Blues and Sondheim musical Pacific Overtures and the premiere of Where Do I Begin? The Voice of Shirley Bassey, written by Matthew Robinson.
Willy Russell's BLOOD BROTHERS
March 19 – April 6, 2014
The Chapel, Chapel Off Chapel
Tickets $40 - $49
Tel: 1300 182183
Online: www.chapeloffchapel.com.au
Cast:
Chelsea Plumley - Mrs Johnstone
Gareth Keegan - Mickey
Matthew Bradford - Eddie
Lisa Marie Parker - Linda
Glaston Toft - Sammy
Simon Wilton - Narrator
Glenda Linscott - Mrs Lyons
Peter Hardy - Mr Lyons
Creative Team:
Chris Parker - Director
Andrew Patterson - Musical Director
Stephen Agisilaou - Choreographer
Scott Allan - Lighting Designer
Marcello Lo Ricco - Sound Designer
Gus Powers - Designer
More Reading