StageArt is presenting the musical Nine, based on the Fellini film 8 ½, at Chapel off Chapel during October 2018. Courtney Glass, who plays the role of Claudia, chats to Flora Georgiou.
Flora Georgiou: Tell us about your more recent past in Musical Theatre?
Courtney Glass: My partner and I relocated into Sydney in 2014. I was, of course, worried that leaving New York City meant my acting career was going to be put "on ice", but I found refuge in the company of Jay James Moody and Squabbalogic Independent Theatre. With Squabb, I got to work with Tony Sheldon (Man Of La Mancha), make my Sydney Opera House debut (Of Thee I Sing) and played one of my bucket-list roles in a concert presentation of Kiss Me, Kate. A move to Melbourne in 2016 introduced me to StageArt. I saw their production of Titanic and immediately put them on my audition radar. I was lucky, and in their next season, booked The Full Monty followed by two contracts with The Production Company (Brigadoon and Oklahoma!).
Flora Georgiou: What are your most memorable performances? And Why?
Courtney Glass: I will never forget the morning I awoke to a call from my stage manager saying: "you're going on for Angela". I was 21 and had been performing an ensemble track in the original Broadway company of The Woman In White. We'd received our closing notice about a week before, so I really didn't think I would ever be stepping into the title role! I essentially levitated the entire 30 block walk to the theatre from my small studio apartment in the Meatpacking District. I had regular rehearsals in the role, but never in costume or with the orchestra and full tech. I was so well supported, by my cast and all the various behind-the-scenes departments, that nerves never came into play and I gave a performance that I am remain proud of nearly 15 years later.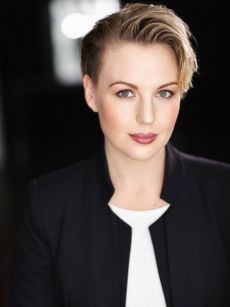 Flora Georgiou: What lead you to choose this difficult career path?
Courtney Glass: I started working professionally as a young adult at a couple of unionised theatres in my hometown of Sacramento, California. Other kids had summer jobs at the pool club or Burr's Ice Cream Shop. I gigged at The Music Circus. It just seemed like a normal source of pocket money for a 12-16 year old. When it came time to start looking at colleges, I was encouraged by my adult colleagues to apply for conservatory programs. I really never considered a Plan B. I still don't have a Plan B, though I do have a very satisfying "parallel career" as a yoga teacher and educator.
Flora Georgiou: Tell us your personal favorite Musical theatre show(s) and Why?
Courtney Glass: I recently took a trip back to New York in January and fell desperately in love with Come From Away. Australia is very lucky to be having a professional production coming to Melbourne next season. My favourite pieces are the ones that hold up a mirror to humanity, the good, the bad and the ugly, and hopefully inspire audiences to leave the theatre and celebrate and elevate their own lives.
Flora Georgiou: Nine the Musicalis the new show at Chapel off Chapel. What are the defining character points about your current role as muse and ideal woman in this new show?
Courtney Glass: Claudia is Guido's muse, but she also feels a debt of gratitude towards him. In a way, they are in love with their perceptions of one another, but I don't believe they know each other fully. I think Claudia becomes aware that the love between them will always be conditional. And one of those conditions is the unrealistic beauty standard that has made her a star in her twenties. She knows and is at peace with the fact that the platinum hair, the hourglass figure, the painted face won't last forever. She wants a love and a creative career that runs deeper than those superficialities, even if that means saying goodbye to the glamour, perhaps even saying goodbye to Guido.
Flora Georgiou: How is this musical different to the Fellini movie 8 ½, given that it is based on the original script?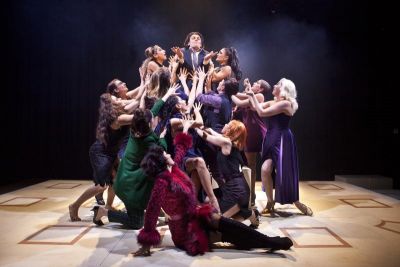 Courtney Glass: A lot of people ask me "why is it called Nine if the movie is 8 ½?" I say, well you try rhyming 8 ½with anything! Jokes. I suppose my first takeaway from this question is, that while the film is female heavy, there are male roles where as in this version of Nine, Guido is the only boy/man on stage. The ambiance of the musical is undeniably female, from the vocal parts, to the feminine movement, the essential energies around Guido are exclusively female.
Flora Georgiou: How do you feel you can change the evolving landscape of Musical theatre through your performances?
Courtney Glass: Well, that's a huge question. I'm not sure I have ever thought that broadly about my contribution as an artist, nor am I sure it is something one does consciously through the work itself. In terms of the work, I always start with the text and when appropriate some research. Then, I make offers based on the incontrovertible facts of the piece and allow the rest of my performance to be shaped by direction and synergy with my colleagues. Outside of the craft aspect, however, I hope that if I am to leave behind any sort of impression or legacy, I would hope to be remembered as an actor who is "happy to be here, easy to work with" but has also established and protected her personal boundaries. So many people want performing careers: they will go under-waged, under-supported, under-respected because the chance to do the gig is sooooooooo important to them. Women especially, I think, live in fear of being marked as "difficult" if they speak up about a problem, but time's up! I hope that performers, especially those around my age, set examples of piping up in a professional manner when things are not right.
Nine plays at Chapel off Chapel from October 12 to November 3, 2018