Independent reviewer Simon Parris complements his Australian theatrical calendar with visits to New York and London each year. With a focus on musicals and plays, Simon shares his Top Ten for 2018.
10. The Ferryman (January 2018, Gielgud Theatre, London)
Jez Butterworth's epic new play The Ferryman featured a multigenerational cast of 23 performers, including a live baby, as well as a live goose, rabbits and even rats.
Set in the 1980s during Harvest Festival at an Irish farm, the play offset charming family dynamics with an undercurrent of tension over the conflict in Northern Ireland. Towards the end of its mighty 195 minute running time, the play jolted the audience with a shocking act of violence.
Now playing on Broadway, it would be very surprising if The Ferryman does not make it to Australian in the near future.
Image - photographer: Jonah Persson.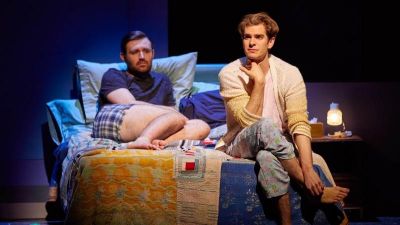 9. Angels in America (April 2018, Neil Simon Theatre, New York)
Originating at London's National Theatre, the acclaimed revival of Tony Kushner's Angels in America went home to New York in 2018. Audiences around the world had already been lucky enough to see the play as part of the NT Live cinema season.
The sprawling two-part play retained its political and emotional potency, bolstered by Marianne Elliott's ingenious direction. Adding to the entertainment value were star turns by Nathan Lane as vicious, closeted lawyer Roy Cohn and Andrew Garfield, who played against type as histrionically inclined gay man Prior Walter.
The Broadway revival scored the most Tony Award nominations for a play in history, winning three awards.
Image: Brinkhoff-Moegenburg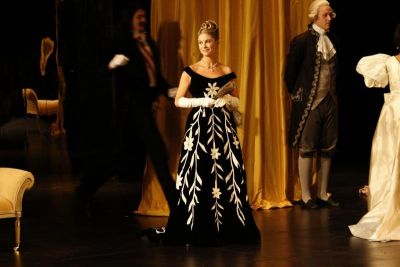 8. An Ideal Husband (July 2018, Playhouse, Arts Centre Melbourne)
Melbourne Theatre Company matched the sparkle of Oscar Wilde's wit with a gleaming production of An Ideal Husband, bejewelled with dazzling performances.
Director Dean Bryant delivered a beautifully realised, endlessly entertaining production. The splendid cast exceeded expectations, successfully unearthing the humanity of Wilde's characters.
Simon Gleeson created a grey area of morality, keeping the audience on side despite the dishonest background of Sir Robert Chiltern. Christie Whelan Browne made a striking move into darker territory, playing a beautiful yet vulnerable woman prone to blackmail and theft. As mutton-chopped dandy Lord Goring, Brent Hill engaged audience affection for a character who could have been seen as a spoiled layabout. Gina Riley was luxury casting as plummy society matron Lady Markby.
Image - photographer: Jeff Busby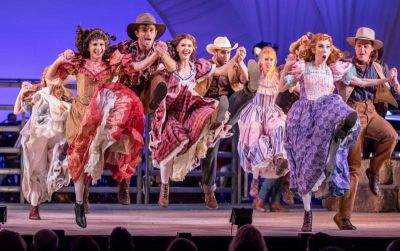 7. Oklahoma! (May 2018, State Theatre, Arts Centre Melbourne)
Melbourne institution The Production Company began their landmark twentieth season with a knockout concert staging of Rodgers and Hammerstein's Oklahoma!, in which each artistic element was expertly realised.
In his directorial debut, Chris Parker respected the original material, delivered fresh appeal to the humour and brought authentic impact to the moments of danger and pathos.
Performing beneath soaring calico arches, an all star cast and large chorus remained fully engaged in the energetic action at all times. Superb singers Simon Gleeson and Anna O'Byrne enjoyed strong chemistry as Curly and Laurie. Robyn Nevin proved a good sport as crotchety Aunt Eller. Elise McCann, Bobby Fox, Ben Mingay, Grant Piro and Richard Piper all shone in their roles, contributing to a vivid, memorable production.
Photographer: Jeff Busby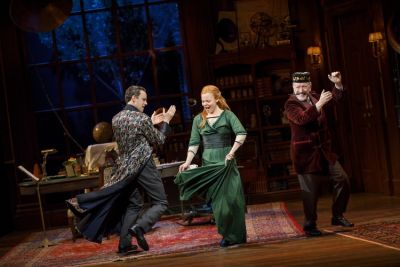 6. My Fair Lady (April 2018, Vivian Beaumont Theatre, New York)
The jewel in the crown of Broadway's golden age, My Fair Lady was masterfully revived by director Bartlett Sher and his dream team of collaborators. Sher created much discussion by tweaking the ending, retaining the text but adding a new final action for reformed flower girl Eliza Doolittle.
The incredible design for Professor Higgins' home was the centrepiece for the staging. Constructed on a large scale, the spectacle increased when the elaborate set rotated to show two other areas of the home.
Having an Eliza and Higgins of roughly the same age added to the spark of romance. Harry Hadden-Paton (The Crown) charmed as Higgins, while Lauren Ambrose (Six Feet Under) surprised the audience with a legitimate soprano singing voice. Grande dame Diana Rigg was perfectly cast as Mrs Higgins, with Broadway favourite Norbert Leo Butz as Alfred P. Doolittle.
Image - photographer: Joan Marcus.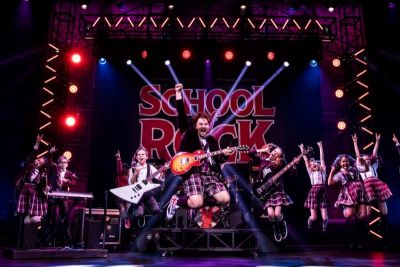 5. School of Rock (November 2018, Her Majesty's Theatre, Melbourne)
Finally breaking the drought for prolific composer Andrew Lloyd Webber, School of Rock was a Broadway and West End hit before its Melbourne premiere. The lavishly produced and impeccably cast Australian tour of School of Rock is a welcome reward for local audiences who have seen an abundance of musical revivals of late.
Based on the popular film, the musical had a joyous, independent life of its own, the live music from the extraordinary cast of children providing additional excitement that is only to be found in the theatre.
Infinitely likeable actor Brent Hill gave a star turn that is all the more engaging for his complete immersion in the character and his utter trust of the material. Amy Lehpamer played somewhat against type as prim headmistress Rosalie Mullins, who let fly in act two with electric results.
Photographer: Matthew Murphy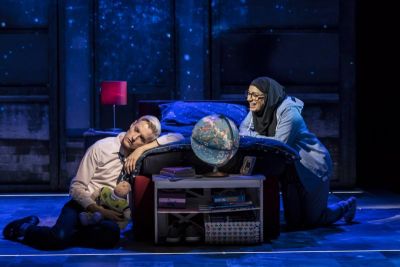 4. Everybody's Talking About Jamie (January 2018, Apollo Theatre, London)
A joyful celebration of the power of embracing what makes a person special, Everybody's Talking About Jamie was one of the most exciting new British musicals in a long time. Based on a documentary, the musical originated in Sheffield, where prolific producer and West End theatre owner Nica Burns caught the final matinee, and subsequently brought the show to London's West End.
A diverse cast, natural humour, accessible music, energetic choreography and loads of heart combined to create a musical that drew crowds of young people to the theatre.
In what is a very pleasing current trend, local audiences were treated to chance to see Everybody's Talking About Jamie thanks to cinema screenings in November.
Image: phothgrapher: Johan Perrson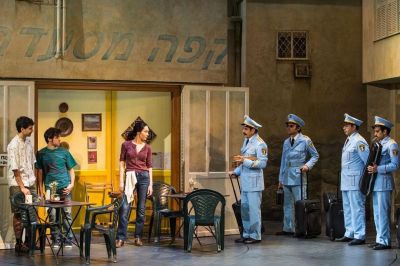 3. The Band's Visit (April 2018, Barrymore Theatre, New York)
Gently understated and leisurely paced, The Band's Visit is the antithesis of the current Broadway musical, and is all the richer for it.
Transporting the audience to another time and place, the musical was an adaptation of a 2007 arthouse movie. Heading to Petah Tivkah, the Alexandria Police Orchestra mistakenly boards a bus to Bet Hatikvah, spending 24 hours with the restless inhabitants of the small town.
David Yazbek's score highlighted his flair for fascinating rhythm and intelligent lyrics. Actress Katrina Lenk anchored the musical as fascinatingly flawed café owner Dina. The Band's Visit won an extraordinary nine Tony Awards, which will hopefully encourage a brave producer to bring the decidedly non-commercial musical to Australia.
Image: phothgrapher: Matthew Murphy.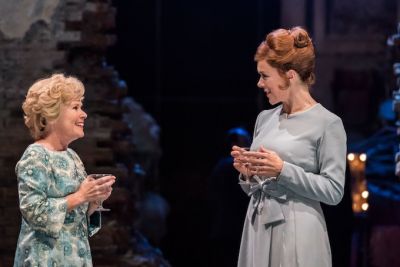 2. Follies (January 2018, Olivier Theatre, National Theatre London)
On a scale not possible in commercial musical theatre, a cast of 37 and an orchestra of 21 brought cherished Stephen Sondheim musical Follies roaring back to life at London's National Theatre. Produced on a large scale, the revival was both a warm bath of nostalgia and a dazzling piece of entertainment in its own right.
Acclaimed actress Imelda Staunton was heartbreaking as Sally, engaging the audience's protective instincts as layers of Sally's self-delusion and romantic desperation were revealed. Philip Quast brought his luxurious singing voice to the role of Ben. Exceptional dancer Janie Dee gave Phyllis' weary cynicism a sharp, acid-tongued edge.
Follies was shown in cinemas as part of the NT Live series. Follies returns to National Theatre, London in 2019.
Image - photographer: Jonah Persson.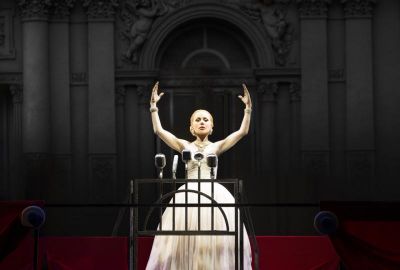 1. Evita (December 2018, State Theatre, Arts Centre Melbourne)
First seen at Sydney Opera House in September, this long overdue revival subsequently arrived in Melbourne in much sharper condition.
A recreation of the original production of Evita, in honour of its 40th anniversary, the staging looked magnificent in Melbourne's mighty State Theatre. Hal Prince's avant garde direction was filled with marvellous moments, and Andrew Lloyd Webber's richly melodious score was heard at its best.
Seasoned, multi-platform entertainer Tina Arena gave the performance of her career as Eva Perón, singing the role with thrilling intensity and precision, and portraying Eva's journey from simple girl to dazzling icon to tragic patient in a compelling and affecting manner. Kurt Kansley provided the necessary sparks of danger as revolutionary figure Che.
Photographer: Jeff Busby