What happens when a playwright creates direct connections with some of the worldwide companies producing that writer's play? Two years ago, Stage Whispers' SA Correspondent discovered the benefits of this rare brand of creative collaboration for herself when she performed as Lily in the Australian Premiere of English comedic drama, Sex Cells, written by London-based playwright Anna Longaretti. The 'Cells' are multiplying and now an ex-patriate South Australian actor/director living in England is benefiting in person from the same playwright's unique efforts to reach out. Lesley Reed reports.
As performers, directors or producers we appreciate playwrights' notes in play scripts because even small insights into what motivated the writing, together with some understanding of how writers see the protagonists who inhabit their stories must invariably contribute to creating memorable characters on stage.
It is a rare thing, though, for small theatre companies and actors to have a direct and ongoing connection to a playwright except in the unlikely event that the writer is part of a company's local creative community.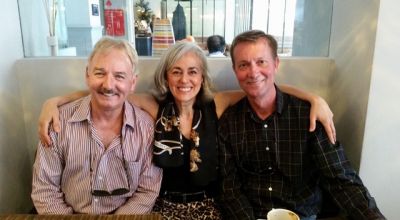 As many companies around the world have happily learned, Anna Longaretti, English author of a quirky comedic drama for the stage, Sex Cells, is that rare beast, a very hands-on playwright. Unlike many writers who are involved only in the first professional production of their plays, Longaretti's involvement has not diminished for many subsequent worldwide productions of her play Sex Cells, including for community theatre.
When this, Longaretti's first play, premiered at Riverside Studios in London in 2013 it was quickly snapped up by Samuel French and has been performed all over Britain, the USA, Greece, New Zealand and parts of Australia, twice with award-nominated or award-winning productions.
Longaretti first initiated contact with companies producing her play through setting up a Facebook page titled 'I'm in a Production of Sex Cells' and the page was enthusiastically received. Companies across the globe have posted there, shared her posts and even gained valuable insights from people involved in past productions of Sex Cells. The page is at https://www.facebook.com/SexCellsproduction/?ref=br_tf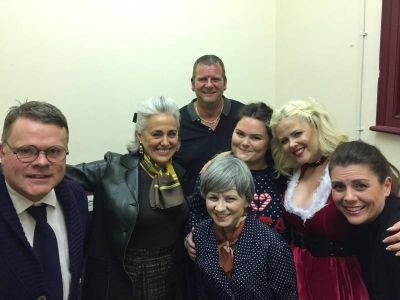 I first discovered Anna Longaretti's warm and helpful communication for myself when acting in the 2016 Australian Premiere of Sex Cells, produced by Adelaide community theatre company, Galleon Theatre Group. The play is a story about motherhood, yet it has a twist; it's set in a call centre selling adult sex toys, of all things. The setting is unusual and provides hilarious comedy but the story is about the women who work there and is poignant, warm and very real. It focuses on the struggles of becoming a mother, being a busy mother of young children, as well as on issues for mothers facing alienation from adult children.
When Galleon Theatre Group's resident producer/director Kym Clayton and another Galleon stalwart Andrew Clark visited London on holiday some months prior to Galleon's production of Sex Cells Anna was keen to meet up and discuss the company's production of her play.
"From a theatre director's point of view, knowledge of the content of a work is vital," said Kym Clayton. "With this in mind it was a great pleasure to meet Anna Longaretti. I was delighted that she had agreed to meet me and was happy to be quizzed about the play. I was interested to discover what her views were about the characters; what she thought made them 'tick', their history, their contexts, their relationships with the other characters and what Anna intended by the play. Was it just fun or was there a deeper message? If she was directing it, what would be the look and feel of the piece? As the producer, my conversation with Anna later allowed me to have a rich discussion with our Sex Cells director Warren McKenzie and provided additional 'food for thought' as he navigated the text."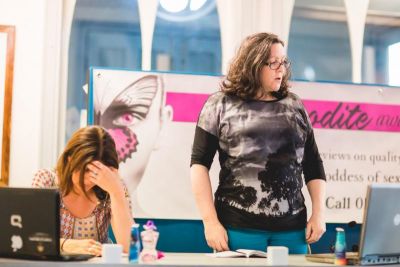 The May 2016 Galleon production was subsequently nominated for the Best Ensemble Award at the 2015/16 Adelaide Theatre Guide Awards. Recently, British company Bonkers Theatrical's production was winner of Best Play and Best Drama in the Noda Awards.
"Connections with companies have been amazing, so much so that we are still in touch with some," Anna Longaretti said. This is true for Galleon Theatre Group too, though Longaretti never pushes communication with a company or production if that is unwanted.
"I've loved getting feedback from the players themselves and hearing some moving stories from members of their audience who have felt the need to speak to the actors after the show," Anna said. "An actor who played Lily said that a young man who had recently lost his mother told her he felt that for one night, she lived again. And people seem so thrilled to meet me, but they don't realise how thrilled I am to meet them. How could I feel anything other than flattered. That couldn't have happened if I'd kept my distance and what a loss to me that would be."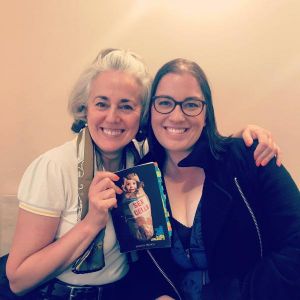 Imagine my recent surprise when, two years after my own involvement with Sex Cells and with Anna Longaretti, I discovered ex-patriate South Australian actor/director and now UK-based Olivia Jane Parker, who had directed me in the past, had been asked to direct Sex Cells, which is being performed from July 17 to 21 this year at The Bear Pit in Stratford Upon Avon, her English home base. Once again, the connection between Anna Longaretti and a South Australian artist has been made and been welcomed. As usual, this has already had creative benefits.
"I moved to Stratford Upon Avon in May 2017, started working with The Bear Pit Theatre Company and haven't stopped," Olivia said of her company, which is allied to the Royal Shakespeare Company through RSC's Open Stages Project. "I had heard that The Bear Pit were thinking about Sex Cells being a part of their season for 2018 and I expressed my interest at the time. I decided to audition for the part of Janice. I was unsuccessful in my audition, however I enjoyed the audition process so much and had such a great affinity for the play that I signed myself up to be Stage Manager. When Sarah Methuen was no longer available to direct, I was asked to direct by the Artistic Director and have inherited a stellar cast. It will be featured in The Bear Pit's Tenth Year anniversary film too, produced by Patrick Baldwin."
Olivia is enthusiastic about having personal access to the writer of this internationally performed play and recognises it is a unique privilege not available to most directors. As both are in England, playwright and director have met personally but also communicate extensively by phone, email and social media.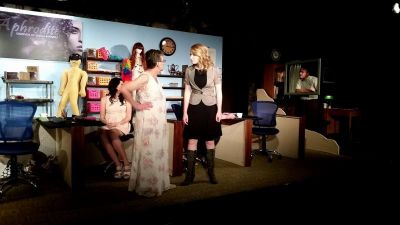 "If I have a question regarding the play, Anna does her best to respond quickly with insight I wouldn't otherwise have access to," said Olivia. "I did ask her recently about the few characters referred to in Sex Cells that we do not actually meet as an audience. I asked, 'Who are they? How do you see them as people?' Offstage characters can be as significant as those standing in front of us. The additional information helped the cast and myself attach qualities to these characters, enhancing the story for us all."
Longaretti is impressed. "Olivia Jane Parker is so busy promoting and sharing her experiences regarding the forthcoming production at The Bear Pit that I can hardly keep up," she said. It makes me feel very connected to this particular production which I'll be going to see on 21st July. I can hardly wait."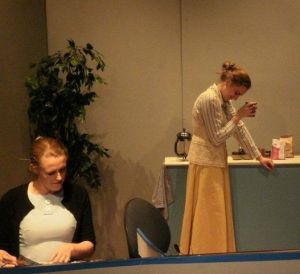 Anna Longaretti has also written a new farce, titled Curl Up & Die, this piece published through Stagescripts. No doubt theatre companies that stage this comedy, which has roles for older female actors, will have the opportunity to benefit from the playwright's insights too.
The many producers, directors and actors over the years who have wished they'd had an opportunity to discuss a play with a playwright who was at that time long gone would agree with Longaretti's cheeky observation, "To any companies staging my plays, remember, the author is currently alive. Why not make the most of her?"
Why not indeed? Let's hope other playwrights may consider a similar approach in the future.
Images (from top): Sex Cells cast from original English professional production; the playwright with two of SA's Galleon Theatre Group Board, in London; Bonkers Theatrical award winning cast with Anna Longaretti; SA ex-pat director Olivia Jane Parker's Sex Cells rehearsals (Photographer: Sam Allard); Olivia Jane Parker with playwright Anna Longaretti; USA company Actors Repertory Theatre's Sex Cells production; and New Zealand company Elmwood Players' production.