The Production Company has announced its program for 2013, which will include Gypsy, Singin' in the Rain and The Pirates of Penzance.
We lovers of Musical Theatre in Melbourne are reminded every year just how lucky we are to have The Production Company, under the patronage of Jeanne Pratt, to satisfy our yearning for excellence. Many of us are still talking about last year's season with its brilliant production of The Producers, and Gale Edwards' fabulous version of Chess. And so today the media was invited to the superb stately home of Raheen, in Kew, (The Production Company is always a class act) for the announcement of the 2013 season; and what an announcement it was.
There's a banquet of Musical Theatre around, with new shows like The Addams Family and Legally Blonde, and the spectacle of King Kong to come. But The Production Company has opted for great solid entertainment at a price all lovers of theatre can afford, shows that will satisfy our appetites and be a treat for our senses without breaking our pockets. And a televised greeting from Caroline O'Connor had the media audience salivating. She will return to Australia to play Rose in Gypsy – a part created for the great Ethel Merman and a must on every Diva's CV. The Great Gale Edwards will direct and it promises to be one of the most sought after tickets in town come this July.
The cast of Gypsy also includes Matt Hetherington (The Voice, Promises, Promises) as Herbie, the candy salesman who falls for Rose and becomes her manager. Christina Tan (Mary Poppins, Wicked) as Louise, who becomes Gypsy Rose Lee, the famous burlesque star, Gemma-Ashley Kaplan, Nicki Wendt, Anne Wood and Nathan Pinnell.
Gypsy plays from July 6 – 14 at the State Theatre, Arts Centre Melbourne, an extended season due to populart demand. Andrew Hallsworth is chreographer and Guy Simpson is musical director.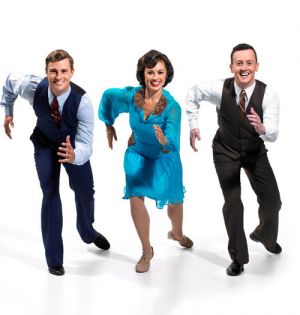 Singin' in the Rain follows from August 21 – 25 at the State Theatre, with Rohan Browne as Don Lockwood, Matt Lee as Cosmo Brown, Alinta Chidzey as Kathy Selden and Christie Whelan-Browne as Lina Lamont. Gary Young directs, with Kelley Abbey as choreographer and John Foreman as Musical Director.
The season concludes with the Broadway version of Gilbert and Sullivan's The Pirates of Penzance, from October 30 to November 3 at Hamer Hall. Dean Bryant and Andrew Hallsworth will stage the production, with a cast including Gareth Keegan as Frederick, Adam Murphy as The Pirate King, Brent Hill as the Sergeant of Police, Virginia Gay as Ruth and Wayne Scott Kermond as Major General Stanley. Matthew Frank will conduct.
The Production Company celebrates its 15th Birthday in 2013.
Images: Caroline O'Connor in Gyspy & Rohan Browne, Alinta Chidzey and Matt Lee in singin' in the Rain.
www.theproductioncompany.com.au