At a Fitzroy cafe, Finn Caldwell has ordered boiled egg with soldiers. Perhaps he is homesick. But if War Horse continues as it has begun, chances are the English actor turned Puppetry Director will have to get used to a global lifestyle.
War Horse has, ironically, taken on a life of its own. Since opening at the National Theatre in 2007, millions of people have seen the stage show in London's West End, New York, Toronto and Los Angeles. Hollywood director Steven Spielberg even turned it into a movie.
'No-one thought this was going to be a hit. It was an experimental show. I could see the potential of the puppets, but we were groping in the dark. I was asking myself, Is it good enough to put on stage? I wasn't sure.'
'Every time we moved on to the West End, or Broadway, or Australia nobody was saying, Oh yeah we're this big hit that's taking over the world. None of us can believe this is happening.'
Nick Stafford's stage adaption of Michael Morpurgo's 1982 children's novel War Horse, is about Joey, the beloved horse of a boy, Albert, sold to the cavalry in World War 1. Shipped to France, Joey is involved on both sides of the fighting. But Albert can't forget Joey and sets out to bring him home.
Adrian Kohler of Handspring Puppet Company in South Africa is the 'genius' behind the life-sized puppets. Made for a six-week season, prototypes were brought to England, road tested by puppeteers, and modified.
'I'm still blown away by the horses. I'm still thrilled to be working with them,' he said.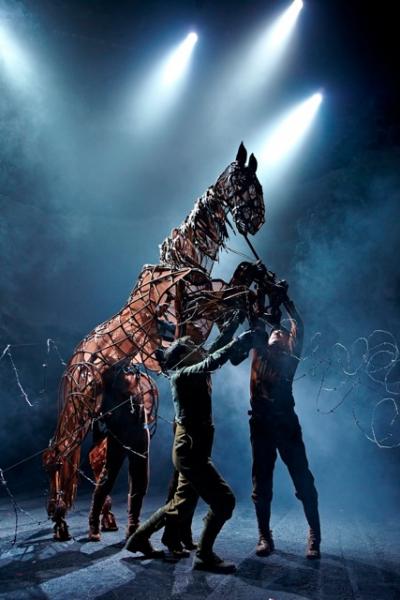 Finn Caldwell was born in London to artistic parents, but grew up in the 'rough industrial town' of Middlesbrough, and left 'as quickly as I could.'
'I love the Northern attitude my family have – a great gruff warmth and friendliness. But you had to be tough to live in Middlesbrough. If you were walking down the street and made eye contact with someone it was an invitation to have a physical fight. That's the kind of environment it was. So the name Finn didn't really work that well there.'
'What would have been a good name?' I smile.
'Dan. James. Steve. Pete.' He is serious.
Caldwell describes his mother as 'an extraordinary artist' who could have worked professionally, but wanted to teach. When he was ten she studied psychotherapy.
In his mid-teens when he had to decide on senior school subjects, he 'hibernated' in his room for three days. 'I came to the conclusion that the only thing I could stand doing for the rest of my life was playing games. So that was the theatre choice really.'
'I was lucky. I have a strong voice and possibly some of my mother's artistic instincts. Her psychotherapy instincts helped me to understand character.'
After six years as an actor, Caldwell realised that while he enjoyed it, he wasn't pursuing his greatest passion.
'When you're a young man there's a vanity to it, and I guess I'm over that vanity. I was lucky enough to work for the Royal Shakespeare Company and the National Theatre, and I've had all these fantastic acting experiences and influences.'
'I'm much more interested in storytelling these days. There's something about representations of humanity that are really moving for me. It was a hard thing to admit to myself. It's very different when people ask what you do. I'm an actor, to I'm a puppeteer - it doesn't pack the same punch.'
Caldwell investigated contemporary puppetry in England. He was disappointed, labelling much of it 'weak', 'twee', 'and sentimental'. So he started making his own.
'I want to see an [animated] character that is just as strongly motivated, just as well researched, just as developed in its psychology and emotion, as I would expect a great actor to be.'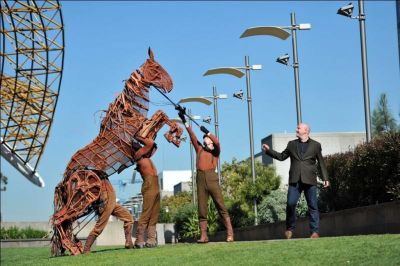 I wonder out aloud how Caldwell would compare War Horse with, say, The Lion King.
'Lion King was totally revolutionary when it came out. The difference is that Lion King is a story about humans, whereas our horse is a horse. We look at war totally objectively. You see how senseless, meaningless, cruel, stupid it is.'
When the 35 Australian cast members begin rehearsals in September, ahead of a New Year's Eve opening at Melbourne's State Theatre, they will all be operating the show's eighteen puppets.
'The environment is created by puppets. The mud is a puppet. The tank is puppeteered. There is nothing mechanical – everything is done by hand,' enthuses Caldwell.
'It takes two months to train the puppeteers solidly every day to get them ready for performance. For the first two weeks the puppeteers can't walk [as a horse]. It's mind-bogglingly hard.'
Ask Caldwell what his favourite moment in the show is, and he lists several. Having previously played the goose links him to the comical, and Joey reaching adulthood is a 'rather spectacular moment'. But there is another moment too.
'When the show opens the stage is completely bare. Someone comes out and starts drawing. Someone comes out and starts singing. Then the mist clears and you see this foal. People suddenly get that they're going to see these three puppeteers. Then suddenly this thing they've accepted breathes, and then it takes a step. You can hear people respond.'
'The fact we're getting [the audience] to commit to [Joey] as a character that doesn't talk, is another level of extraordinary. Unlike the film, it's not being given to you. The audience is drawn into making the show happen. I think that's why the show is having the success that it is.'
The Australian premiere season commences in Melbourne on Monday 31 December, 2012 at Arts Centre Melbourne's State Theatre (previews from December 23), followed by a Sydney at the Lyric Theatre from Thursday 23 March, 2013 and a Brisbane season at Lyric Theatre from Thursday 11 July.
Images: Top two, from the London production (Brinkhoff-Mogenburg), lower, Finn Caldwell and Joey at the Melbourne launch.
Originally published in the July / August 2012 edition of Stage Whispers.
Our Exclusive Video Preview