As The Book of Mormon began its highly anticipated Australian season in January, Coral Drouyn examines the remarkable journey of its creators from South Park to Melbourne via Broadway.
You know you are looking at something special when a show has to extend its initial season months before it even opens. That's precisely what happened with The Book of Mormon. At a time when we seem swamped with major theatrical productions, some of which might wish for better ticket sales, BOM (as it is affectionately known) is defying the naysayers who could not see that there would be a market for the show in Australia, despite its nine Tony Awards, best selling album, and slew of other awards. Not a bad track record for two boys (Trey Parker and Matt Stone) who met at college in Colorado, where they were raised, and connected through a mutual love of Monty Python. Trey recalls that it was the tacky production values of the Python shows that made them think, "Hey, we could do that!"
The result of that friendship was South Park, which completely changed adult thinking on animation. It was more like a school craft lesson than a professional animation project, but then both creators have conceded they have always been just kids with big dreams. Their tools were paper, scissors and glue, and a video camera -hardly hi-tech.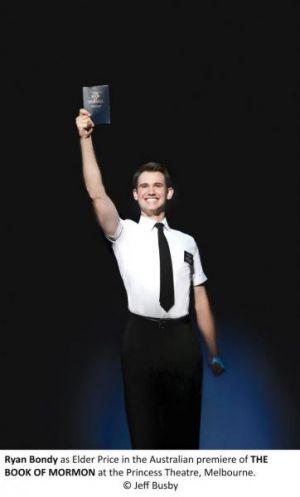 "We used coloured paper and cut out what we wanted for the figures - mostly circles or ovals," Trey has explained in the past. "Then we shot it laid flat on a table with the camera overhead."
"It was cheesy, but it didn't matter, it was the jokes and what we had to say that counted," Matt Stone added.
Because Trey had been interested in music and even musical theatre since his early teens, it was inevitable that a large part of the show would be music. After all, comic songs were Parker's greatest love, and his secret ambition was to write a musical one day.
The pilot for South Park took six months to make, and all those pieces of paper still exist in the show's archive, including various sizes of the yellow school bus to depict it driving away. By the time the two friends reached season 16, the pair had the schedule down to six days per episode from start to finish. "It helps when you're the writers, directors and the actors," they explained.
From the start, the show was highly contentious, in that it showed no quarter to anyone in its satirising and lampooning of American adult institutions from the point of view of kids. It was fresh, managing to be both puerile and profound. But it was never intended to be vicious. In fact, they have been remarkably even-handed, satirising both the Left and the Right with equal candour. For Parker and Stone, nothing is sacred and no-one is safe.
One of the most surprising things about their work is that the satire, while biting, is surprisingly good-natured. Trey Parker has said that they never went into the writers' room thinking "what can we do to piss people off?" The two never sought to change people's minds, but rather to just throw what they thought was funny out there to the audience, and let them react. Matt Stone once said, "Everyone's beliefs are on the chopping block," and so the show poked fun at Catholics, Jews, Muslims and …yes…Mormons. Somehow things seem less offensive if you set them to music, and when their song 'Blame Canada', from the South Park movie, was nominated for an Academy Award, the idea of a stage show which lampooned organised religion – which both believe is ridiculous – started to obsess them.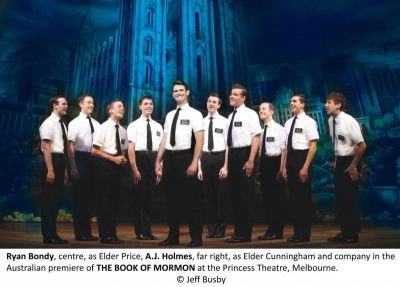 It wasn't until they saw Avenue Q, and met writer/composer Robert Lopez after the show, that they knew for certain that Musical Theatre was where they wanted to be, and Lopez was someone they could work with. Lopez had hit the jackpot with his very first show, Avenue Q, written with Jeff Marx. Though a few years younger than Parker and Stone, Lopez was a South Park fan and credited the show with providing inspiration for Avenue Q, which had already won a Best Score Tony Award. It was inevitable that the three would want to work together. It wasn't a desire to take Broadway by storm, win lots of awards and make huge amounts of money that drove the partnership between the three. It was simply the fun of creating a show - of seeing how far they could push the boundaries - the anticipation of wondering what would happen next.
In one interview Trey explained that the whole process began as an album.
"We knew that if we said what we wanted in the actual songs, then that would dictate where the show was going."
The show wasn't all consuming for them; all of them had other projects they were working on and got together when they could. It was only when the album really took off that they realised that they actually had to seriously work on the project – and it would prove to be seriously funny work. It's the only time we have found that three creatives have collaborated on music, lyrics, and book together.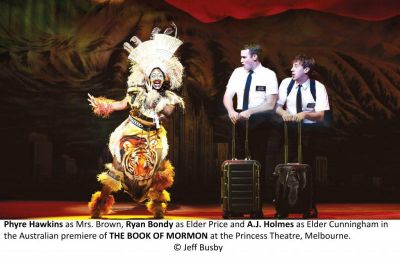 Parker and Stone found an affinity with Lopez in the area of working with non-human characters – cartoons and puppets. But all of them knew that to fill a stage they needed to make the human element real, so that an audience would give their undivided attention to three-dimensional people. There's a naiveté to the main characters, the young Elders, that makes the audience care for them.
For anyone who doesn't know much about the Church of Jesus Christ of Latter Day Saints – The Mormons – they might imagine that the idea of good-looking young men going out in pairs to spread the Gospel of Prophet John Smith, who based his Book of Mormon on his belief that the original native Americans were actually white Angels come to earth to settle the chosen country (America), was pure fiction or fantasy, it sounds so bizarre. And yet that's exactly what the Mormons believe. Trey calls it "super cheesy", but then adds that only an American will knock on the door of total strangers in another country and, with a polite smile, tell them how to live their lives. It's a perfect set-up for comedy; especially if you take the innocent young men to the worst place on earth - in the show's case Uganda - and confront locals who are more concerned with AIDS, famine, and a despotic warlord, and really couldn't care less about your story. Remarkably, what seems like a very American story is set to open in Sweden in a few months, followed by Denmark and Norway. Beneath the religious narrative lies a classic "fish out of water" story which people the world over recognise and identify with.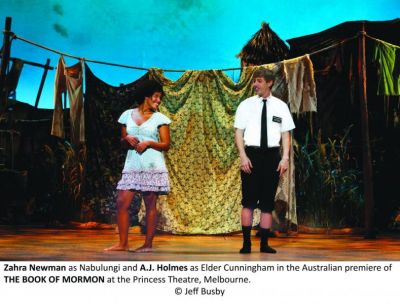 That's the basis for the show which has been dubbed "The Funniest Musical of All Time" and its perfect material. In fact Parker wonders why the Mormons themselves didn't think of it first. After all, the church has its traditional basis in music as diverse as The Mormon Tabernacle Choir and The Osmonds. And though the Broadway community held its breath for a moment wondering what the reaction would be, they needn't have worried. The Church of Latter Day Saints saw the humour in the show and took out full page ads in the Playbill programme - "You've seen the show … now read the book!" And sales of the actual book went crazy, though it's not known if there was any wholesale conversion to Mormonism.
Now it's Australia's turn, with two of the Broadway stars – in Ryan Bondy and A.J Holmes – reprising their roles of Elder Price and Elder Cunningham respectively. There's also a great cast of our finest theatre performers, headed by Zahra Newman, Bert LaBonté and Rowan Witt.
And you don't have to know, or believe, anything about any religion to have fun and fall in love with the musical. Despite the satirical bite, the show promises to make you feel good long after you leave the theatre, get home, and finally stop laughing. As Parker says, "No-one wants to pay $100 a ticket for negativity."
After all, this is "God's Favourite Musical", and, whatever you believe, who's going to argue with that?
Top image: (l-r) Authors Robert Lopez, Matt Stone and Trey Parker, with Director Casey Nicholaw.
Article originally published in the January / February 2017 edition of Srtage Whispers - More details.
More reading