Season Extended to July 12 due to popular demand.
When satirical all female Off-Broadway musical Ruthless! – a razor sharp send-up of theatrical ambition and the entertainment business – has its Sydney Premiere on June 20, it will be the culmination of a 16 year dream for co-stars and co -producers Meredith O'Reilly and Katrina Retallick. They spoke to Neil Litchfield.
The current Sydney production of Ruthless! The Musical had its genesis in a dressing room 16 years ago, bubbling along quietly on the backburner for another 15 years.
"I saw Ruthless! 20 years ago Off-Broadway," said Meredith O'Reilly, "but it's 16 years since Katrina and I first met and started talking about it while we were sharing a dressing room for seven months doing The Rocky Horror Show, so it's a dream finally coming to fruition. I'm the only one of anyone who's involved in this production who's actually seen it. I happened to be on my very first trip to New York, and I thought what a great, whacky show. This is fun. And it just stayed in my mind.
"We'd never met or worked together," Meredith continued, "and we were in the ensemble; I was the alternate Magenta, and she was the alternate Columbia and Janet. When I saw her in her pink Janet dress I just thought wow, you're absolutely perfect for the character of Judy Denmark, that sort of idealistic 1950s housewife. Katrina's naturally funny disposition, and the way she is often cast in those roles reflects her as a person too. I said, 'look, there's this show I saw. I'm sure you'd be interested in.' I gave her the CD and she loved it. She read the script and fell in love with it. So we said this is something we should one day think about. But we were kind of young and not in producer mode back then."
"I just fell in love with it straight away," said Katrina Retallick. "I laughed out loud. It's just so crackingly funny. Everything is really rich and beautifully written. I immediately fell in love with the play as a whole, but the actual character of Judy / Ginger is just one I've been dieing to play. I love a journey where the characters evolve and change in a big, discernable way, and this one certainly does. She's a very docile, domesticated housewife in the first act. She dotes on her perfect daughter, but she doesn't know where Tina gets her talent from. All she can do is make a bed and cook a chicken, but she's immensely proud of Tina. But then, through the turn of events she discovers that she's actually got Broadway blood in her veins, and so in the second act she's completely different. She becomes this monstrous, over-the-top, incredibly egotistical maniacal diva that act one gives no hint of whatsoever. With that journey you're almost playing two characters in one show. It's just so delicious."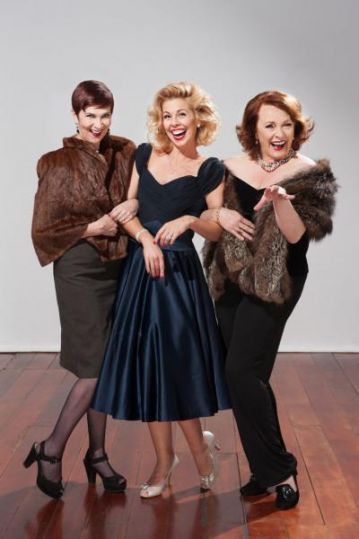 "I'm particularly excited to see Katrina in the role, because she gets to show a much darker side in act two, which audiences don't often get to see of her," Meredith said. "So that's going to be fun."
Sixteen years after the scheme was hatched, Meredith will be playing Sylvia St Croix, rather than the school teacher role, as per the original plan.
"Sylvia St Croix may or may not be a faded Broadway starlet, and she's an ambitious manager / agent type," Meredith explained." She's very much based on Momma Rose / Auntie Mame – very pushy, bustling, determined to get her pound of flesh out of little Tina. She spots the talent and wants to reap the rewards, financial and otherwise, that she thinks she can get from that talent. So it definitely requires a mature performer but also there's something about the energy of her character that resonates with me. I just think, yep, I can totally identify with her. She's very pushy, and some would suggest that I'm quite pushy, but in a good, determined way to get things done. She appeals to me. She's like the Momma Rose you have when you're not having Momma Rose, and the songs are fantastic. I'm looking forward to making a meal of them as well."
Last year the planets began to align for the long-discussed production.
"Over the years Katrina and I stayed great friends," Meredith said. "We'd meet up and say, you know we should probably think about that Ruthless! idea. Then when we were doing The Addams Family, Katrina and I were happily once again just two girls together in a dressing room for three months and we started to talk about it more seriously.
"We thought, gosh," said Katrina, "it's not been done, and we're even more right for these roles than we were 16 years ago, so lets really try and do this, and it all came together towards the end of last year."
"We did start putting out feelers, though nothing really happened, but everyone we spoke to thought it was a good idea," Meredith continued. "Then Katrina went off and had another triumph with Dirty Rotten Scoundrels. After that Alistair Thompson sent her a lovely complimentary email. He'd done a little bit of producing with her cabaret show Impossible Blonde many years before that, and he said, 'is there any pet project you've wanted to do? I'm forming a theatre producing arm of my events production company (Thompson Street), which is going to be called The Theatre Division.'
"Katrina explained that for many years we'd been talking about Ruthless!, so she sent him the recording and the script. He had already started talking to Lisa Freshwater, who had directed both of us before in independent shows – Life Force and Every Single Saturday – both new Australian musicals. So it was very serendipitous. Lisa read it, loved it and was very interested in directing it."
"It was all really beautifully timed, and right for the plucking," said Katrina.
Given that Ruthless! is such a pet project for both Meredith and Katrina, it's no surprise that they're not simply content performing in the show.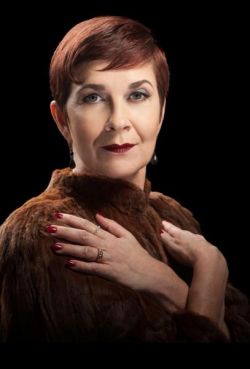 "I came on board helping to produce it," said Meredith, "as it was my idea, my baby, so I'm an Associate Producer and so is Katrina. We're like the junior producers, but we've been able to bring some ideas to it, and in my case, bring some investment to the table from outside sources. And it's a joy."
Katrina and Meredith both enthused about their 'dream cast'.
"It was a very exciting day to be able to ring up Geraldine Turner," Meredith said, "and say, 'look, there's a role in this for you,the Broadway critic Lita Encore,would you be interested?' She said absolutely, and she sings that fabulous song, 'I Hate Musicals', which she had already sung in her own cabaret show. And I went to university with Margi (de Ferranti), so I've known her since we were in our 20s. Even back in The Addams Family last year, when Katrina and I started talking seriously about getting Ruthless! up, I said Margi would be really good for Miss Thorn. Katrina's since worked with Margi in Falsettos and had a great time.
"Then we needed the final pieces in the puzzle," Meredith continued, "so we auditioned for them. The beautiful Caitlin Berry was a knockout for the roles of Betty Lerman / Eve. She's been seen in Dr Zhivago, and more recently South Pacific, but this will be a nice standout role for her, where people will suddenly go, 'Wow, who's this girl?'"
"We're really excited that we've found two terrifically talented 10-year-old performers to play Tina Denmark, who is eight in the first act and ten in the second act," Katrina told me. "That was always going to be crucial in the casting, because she has to be believable – as sweet as pie, innocent and gorgeous. Everyone falls at her feet and paves the way for her, but she's got to have that steeliness and that glint in her eye, and you have to believe that she's capable of something really dark in order to achieve her ambitions, and we've got those girls, so we just can't wait."
"Madison (Russo) and Jade (Gillis) are both extraordinary finds," said Meredith. "They're little peas in a pod. They're going to knock the audience's socks off as well. They're absolute little triple threats. We were excited and terrified by the level of talent of all the young girls that auditioned for us, from age 9 through to age 13. They just blew us away – that they could be so talented, but also that so many of them had that drive that little Tina Denmark has; that she's desperate to be the lead in the school show. They had that kind of ambition and focus in the audition. That's what we'll need when they're there on a stage full of feisty women. They'll need to hold their ground, and I'm sure they will."
Meredith and Katrina must be able to find so many parallels and resonances in your own careers in this show, I suggested.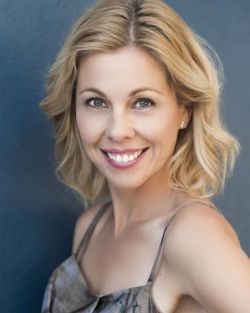 "Absolutely, without a doubt," Meredith answered. "In some ways it's a pastiche, and a tribute, and a reference to Gypsy, Mame, The Bad Seed and The Women. It's got all those references heavily slathered on in the lyrics and dialogue, but it's just a love song to the Broadway stage because of the style of show that it is, and even with the song 'I Hate Musicals' that Geraldine's character sings, while the character is saying I hate musicals, it's giving another love song to the musical genre to the audience."
"It's pure entertainment. It's quite ridiculous, it's fast-paced, it's really clever. The writers know their stuff," Katrina explained. "I actually had the pleasure of meeting Marvin Laird, who wrote the music. He is Bernadette Peters' musical director. After her concert earlier this year we went down to his dressing room and were talking about our plans for the show, and showed him our advertising material. He was really excited, and in fact he said, 'this is an old script'. I'd been carrying around this faded, dog-eared script for 16 years. He said, 'why don't I get my partner Joel, who wrote the book, to send you the new version of the script.'
"So I left my email address with him, and the next day it was in my inbox. So we have a direct line to the creators of this show, which just couldn't be better. All our planets are aligning so beautifully."
And just how would these Associate Producer / performers describe the show, given a free rein with the adjectives?
For Meredith, it's "colourful, brash, sassy, black-humoured, acid-tongued, vicious and delicious. It's a show for all the family. There's nothing R-rated in it, and the kids can identify with that kid on stage, but hopefully not emulate her. Maybe they'll even learn a thing or two about ambition and showbiz."
For Katrina, Ruthless! is "over-the-top theatrical, fast-paced, cracking comedy, with show-stopping songs. We're all clawing our way to get to our moments in the sun, the songs drive the story forward – it's very clever, but ridiculous at the same time, so I think it's going to appeal to a broad range of theatregoers. The performance style will be huge and ridiculous but always based in truth. So the stakes are very high for all of us at all times because we are ruthlessly driven to achieve our goals."
The season of Ruthless! has now been extended, and plays at the Seymour Centre's Reginald Theatre from June 19 to July 12, 2014. Bookings: 02 9351 7940 or www.seymourcentre.com
Images: Meredith O'Reilly and Katrina Retallick; Meredith, Katrina and Geraldine Turner (Blueprint Studios); Meredith & Katrina.