Brent Hill is stepping right into the shoes of Hollywood rock star Jack Black, playing the lead role of Dewey in Andrew Lloyd Webbers' hit musical adaptation of the film School of Rock, which is opening in Melbourne. The actor is well placed to mix it up with a group of precociously talented school children. David Spicer reports.
When Brent Hill was 21 he ventured off on a summer camp in Seattle and was surrounded by teenagers with a range of challenges.
"It was just like in School of Rock, where all the kids have their problems and Dewey (the unqualified stand-in teacher at the posh private school) deals with it. Some were more aggressive and others were insular. I had to learn how to bring out the best in them."
The American teenagers teased him about his accent, mimicking the way he said 'pass the mustard'. At the end of the YMCA camp they gave him a special award. It was the Jack Black Look-Alike Award.
Now he is looking forward to reliving his young adult experience of hanging out with a group of younger ones.
"Kids know how to play games and have fun. Amy Lehpamer (playing uptight headmistress Rosalie Mullins) is also on board and did The Sound of Music. She talked about leading the troop.
"You need to be like a big kid but also have to be a little tough with them - make sure we do the work that is put before us."
The 36 children, aged between nine and twelve, have been selected from across Australia. He described them as "savants".
"One guitarist says I have only been playing for a few years. He jams out this Hendrix solo. I said to him, dude how are you doing this with no lessons?"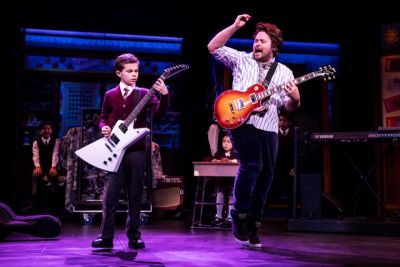 Brent says he expects and hopes he is upstaged by them.
The children who were cast needed to receive a tick of approval from Andrew Lloyd Webber.
"I've seen all of the audition tapes for School of Rock in Australia and I know we've got a really great cast. We've got great kids in a show that is all about how music can empower children," says Lloyd Webber.
The musical opened in 2015 on Broadway and has since toured the US and opened in the West End. It features 14 new songs from Andrew Lloyd Webber and all the original songs from the movie. Promoters describe it as a "high-octane smash that delivers face-melting guitar riffs and touching romance in equal doses."
Another unique feature of this production is that High Schools are being given special permission to stage the musical in the same town where it is playing on the professional stage. Normally amateur rights are restricted when a professional production is on, but in this case the thinking is that it only helps ticket sales.
I saw School of Rock on Broadway and was impressed by the thumping score and great story-line. It marked a welcome return to the "hit" parade for Andrew Lloyd Webber. In the 20th century he penned one blockbuster after another. This century has been leaner. The Woman in White, The Beautiful Game, Love Never Dies andStephen Ward were, by his standards, far less successful.
The musical Spamalot lampooned his style.
Sir Galahad: Now we can go straight into the middle eight. A bridge that is too far for me.
Lady of the Lake: I'll sing it in your face while we both embrace.
Both: And then we change the key.
Sir Galahad: Now we're into E! *hem* That's awfully high for me.
Lady of the Lake: But as everyone can see. We should have stayed in D.
Both: For this is our song that goes like this!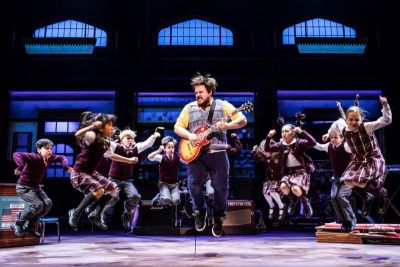 School of Rock certainly has a different sound to Evita, Cats and Phantom of the Opera – although in the lead up the Broadway premiere Lloyd Webber was keen to play up his rock credentials in a not too shabby musical he wrote in the 1970's, Jesus Christ Superstar.
But don't expect School of Rock to have a hard rock sound. It is at the lighter contemporary end of the spectrum, with the occasional classical flourish.
Brent Hill also recognises a familiar tune in the score.
"You can hear Music of the Night in it." He then sings "Daaaa da da da da daaaaaah" down the phone to me.
The WAAPA graduate has scored some great roles in recent years.
"At the moment I am doing An Ideal Husband (with the Melbourne Theatre Company) which is exceedingly different. It is more 1896 English upper-class witticisms, that are always very sharp and en pointe."
Andrew Lloyd Webber's School of Rock began previews on Wednesday 31 October, 2018 at Her Majesty's Theatre, Melbourne. Brisbane and Sydney seasons have been announced for 2019.
Photographer: Matthew Murphy.