Jenny Simm, the inspiration for new Australian musical The Secret Singer which has its premiere at the Eternity Playhouse in August, chats to Stage Whispers.
Genevieve Lemon and Kate Mannix star in the world premiere season of a joyful new musical play – based on a true story - by Joanna Weinberg (Goddess, Pandora's Bag, Lifeforce, The Piano Diaries).
The Secret Singer is the life-affirming story of a singing lesson that changes the life of two very different women.
Jenny is a 70-something woman who wants to sing in a different community choir 7 days a week. Her one problem? She can barely produce a note. When she bursts into the studio of burnt-out singing teacher Emjay, the sparks fly. But then something amazing happens… and neither will ever be the same.
In The Secret Singer, Genevieve Lemon's plays a disillusioned singing teacher whose life is turned around by a very unusual pupil, played by Kate Mannix (It Shoulda Been You and The Biograph Girl - on the West End). What starts as an exasperating relationship becomes transformative for both, as hearts and minds open and they discover that sometimes you need to lose yourself to find yourself…
Ahead of the world premiere season at Darlinghurst Theatre Company's Eternity Playhouse from 28 August, Jenny Simm spoke about her love of singing and the musical it has inspired.
What is it that you love about singing with other people?
You can arrive at a singing rehearsal or a performance and there are people there from different walks of life, different colours, different countries, but once you start the rehearsal you become one, a unit, and all your differences disappear. All of your worries and cares and woes are all forgotten.
How long have you been singing in choirs?
I think probably ten years now. My first choir was Sydney Street Choir. That's for everybody and anybody. I just thought they wouldn't be judgmental and I wouldn't be told to stop singing. And they weren't!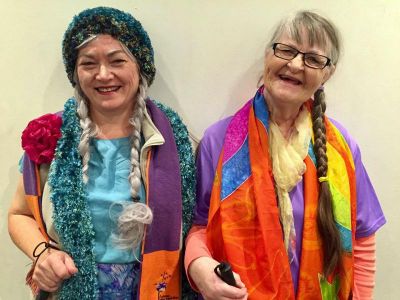 What is your favourite kind of music?
Classical music. I like the older songs and the slower songs, also songs with unusual changes in them that do something you don't expect.
What are you performing in right now?
I will be doing Candide by Bernstein, at the end of September in the Opera House, directed by Brett Waymark.
What do you think of the play you inspired?
I think it's amazing. Unbelievable. I marvel at how Joanna the writer has taken the facts and then woven them together like a Persian Carpet. All the different colours and everything. I don't know how she got them right and got them so true to the way the person's life is.
What is your next step?
The next step is to continue singing and improving my singing , but now I have been given the skills of how to sing, it's given me a lot of confidence and I will continue with my lessons. The interesting thing about lessons is that gradually, Camille (my singing teacher) has given me more and more skills – it's like baking a cake, you gotta put in your butter and your sugar and your basics.
But now bit by bit new ingredients come in and I gradually learn more and more.
What choirs are you in?
The other choir I sing in is Crystal Set Choir. We do performances in rest homes. The choir leader Moya is 86 going on 21 – if I don't feel very well, I think of her. She's my inspiration. I also sing with Choir Rocks in Miller's Point with Joanna, the writer of the Secret Singer.
The Secret Singer, written and directed by Joanna Weinberg
Starring Genevieve Lemon and Kate Mannix, Musical Direction by Matt Reid
28th Aug - 9th Sep 2018, the Eternity Playhouse, 39 Burton Street Darlinghurst
Tuesday to Saturday 7.30pm, Sundays 5pm, Wed 3pm matinees
Produced by John Feitelson and Lawrence Jackson, in association with Darlinghurst Theatre
Tickets: Adult $54 | Seniors $49 | Groups $44 | Concession $35
Bookings and Information: www.darlinghursttheatre.com or call (02) 8356 9987
Images: Kate Mannix and Genevieve Lemon, & Kate Mannix and Jenny Simm.