Triple Threat Musical Theatre performer Sharon Millerchip's career came almost full circle this year. She is playing the role of Meg Giry in the new Australian production of Andrew Lloyd Webber's Love Never Dies, a role she first played in the original Australian production of The Phantom of the Opera.
Sharon spoke to Neil Litchfield prior to rehearsals for the show, which opened at Melbourne's Regent Theatre in May.
We now offer an extended version of that interview, which originally appeared in the May / June print edition of Stage Whispers.
While she had studied both singing and dancing, Sharon Millerchip's were sights firmly set on dancing with a contemporary dance company like Graeme Murphy's Sydney Dance Company. In another full career circle, she will finally be working with Graeme Murphy on Love Never Dies.
Sharon began her music theatre career, almost by accident, at the age of 18 in Cats.
SM: I went in for the original cattle call for Cats, but I was too young. Then a couple of years later, when they were opening in Melbourne, and they had a couple of more big cattle calls and somehow I landed a swing job.
It was the first time I'd moved out of home, I moved to Melbourne and started this job, which was a swing, which was just mind-bogglingly difficult on a show like Cats. I was covering six roles, and I went on for all of them. I covered mainly Sillabub and Victoria, but I went on for Rumpelteazer and Demeter, and even as Cassandra, which is supposed to be the tall Burmese cat, which is slightly hilarious. It was a very good apprenticeship.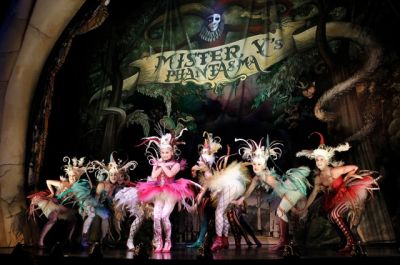 NL: So Phantom followed straight after Cats?
SM: Cats very clearly decided me that this was what I wanted to do. Jo-Anne Robinson was the Resident Director, and she was also casting Phantom, so she had her eye on me.
Even before the tour had finished I was doing auditions, then it turned out that I was going to be on a holiday in America, and I was going to miss the final, final auditions, when Andrew Lloyd Webber, Hal Prince and everybody came out.
It turned out that Hal Prince was going to be in New York at the same time as I was there, so they said 'you can do your audition in New York for Hal Prince. Talk about holiday of a lifetime – I took my ballet shoes in my bag and did a ballet barre ever day,
Of course I got to New York, went up to the 37th floor of the Rockefeller Plaza, had a bit of a chat. He just talked to me, said 'It's great to meet you.' I said, 'sdo you want me to dance?' He said 'Nooo!' I'd been practicing my ballet all this time and he didn't want to see me dance or anything. I asked 'When will you be making a decision on casting?' and he said, 'Oh God, you've got it. You had it eight weeks ago.' I think he was just signing off on me – just wanted to see if he liked the look of me I suppose.
NL: Do you have any particular recollections of working with Hal Prince?
SM: The role of Meg was a fairly small one in terms of the principals, and I was such a kid, so I think I was incredibly reverential toward him, and didn't say boo apart from my lines, of which there weren't very many.
There's a nice story that I do remember, because Meg was blonde, and everywhere else in the world up until that point she'd always been a blonde. So they put me in a blonde wig. Then one day during previews, we were having notes, and he said 'Sharon, stand up. You know, I think God had a good idea when he made you, and we're going to keep you with your own hair colour. So I was the first auburn Meg in the world.' It was quite a big deal, because they had to change all the photos and everything, but this time I'm back to blonde.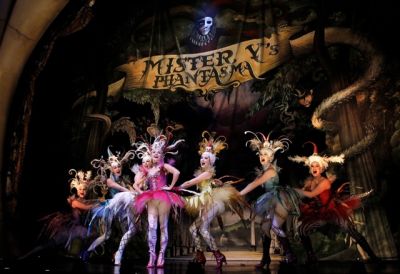 NL: While Meg was a small role in Phantom, can you run me through some of the highlights?
SM: It was a small role, but an important role. I mean, Meg closed the show, with the mask in her hand – that's an iconic sort of image – and I do remember, in terms of her character traits, she was always getting in trouble from Madame Giry for talking when she shouldn't be, and doing what she shouldn't be doing. It was written in there, that she had this little rebellious spark – that she was always being pulled into line with a stern glance from Madame Giry, and I think that has gone on and blossomed in the sequel. I was really there to give information and be a friend to Christine.
I'm really glad that Meg won't be on pointe shoes in Love Never Dies. I'm very happy to be completely done with pointe shoes, I think I put them away on the final show of Phantom of the Opera.
NL: Does that dynamic between Meg and her mother, the ballet mistress, develop further in Love Never Dies.
SM: The dynamic between mother and daughter is really fleshed out. She's very much dominated and influenced by her mother's will.
NL: And personal Phantom highlights?
SM: That I got to watch Anthony Warlow play that role in the theatre for a year, then of course beautiful Rob Guest. At the very end of the show Meg and some of the others climb down this big grid, which meant that we had to spend the whole of the last scene up in the flies, with nothing to do other than watch Anthony's performance, and beautiful Marina Prior, and I watched it every night for a year. To actually be up there and to watch his consistency and total commitment eight shows a week was an inspiration to me.
I remember something that happened to me. We were on a harnesses, but I was a bit cocky and gung-ho - you're meant to always have one hand and one foot on the ladder, but I sort of bounced down, and of course one day I missed the railing, and the flyman who had my rope said he just looked down and saw the rope going through his hands, and I dropped fifteen feet, broke my finger and ricked my neck – but finished the show (laughs).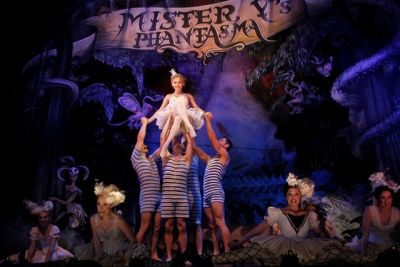 NL: How long did you did you do Phantom for?
SM: I did it for two years. I did all of Melbourne, then I left to do Into the Woods. They let me out of my contract early, on the proviso that I came back to do the first six months in Sydney.
NL: So now you're coming back to the role in the continuation of the story, Love Never Dies. How did that come about?
SM: They'd spoken to me about auditioning, but I'd really dismissed it – because she's only supposed to have aged 10 years, not 20. To be perfectly honest, at the same time as the auditions were on I was opening Last of the Red Hot Lovers at the Ensemble, which is probably the most challenging, rewarding thing I've ever done. It was my first straight no singing / no dancing role.
I was totally immersed in that, and I was previewing that when the calls started coming in saying they really want to see you for Love Never Dies.
I remember just thinking, 'you can't do everything, you'll just have to let that one go.'
NL: At the same time was there a conflicting desire to do it?
SM: There was, but, probably to my detriment, sometimes I just sort of trust the universe. I sort of thought, if I'm meant to do it, it will happen, but right now I can't think about it. But my agent was really keen. I said, 'I haven't looked at any of the material – I'll have to come in and just stand at the piano and have a sing.' So I did that, and they said, 'Yeah, you need to come back.' So the day that I had my big final audition, that they filmed to send to the Lord, the big audition in front of Graeme Murphy, with the producers and everyone in the room, was the day of my first preview. So the day that I had my big final audition, that they filmed to send to the Lord, the big audition in front of Graeme Murphy, with the producers and everyone in the room, was the day of my first preview.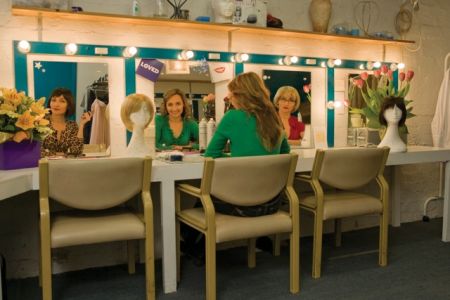 NL: Do you think that actually worked in your favour?
SM: I think perhaps it did. Seriously, I hate auditions worse than anything. I always joke that I sometimes get jobs in spite of the auditions I do. Because I had so much pressure on myself that day, I really couldn't indulge myself. With my usual self-deprecation – I just had to do it. I just had to slap myself out if it and say to myself, 'For Goodness sake Sharon, just do it, you've got important things to do.
So it was a massive day. But you know, in terms of my career, I'm just not a planner – I don't have any grand plan – I never, ever have. I'm a meticulous planner in other areas of my life – you have to be when you're a working mum - but in terms of my career, maybe it's an acknowledgement that I don't know how much say I have in it. What do they say? The chips fall as they may. I just think I was kind of meant to do this, because really it does seem sort of poetically romantic that I should be back doing it, and to be honest, everything has fallen into place so effortlessly in many regards – not that I didn't have to work my patuti off in that audition, because they did work me hard – but in terms of the logistics of things like moving my family, everything has come together so seamlessly.
NL: What can you tell us about this new production of Love Never Dies at this early stage?
SM: One of the things I'm most excited about is that Simon (Phillips) has made it very clear to us that we are in a workshop situation. Obviously we have an incredibly strong template of a show, but a lot of it is being reworked for Australia. The script has been totally reworked, and will continue to change throughout the rehearsal period. Some musical numbers will change. Andrew Lloyd Webber is going to be in the rehearsal room – not all the time, but toward the end, which is incredibly exciting. Simon has made it really clear that we're forging new paths in terms of relationships between the characters.
When the show opened in London there were mixed reviews, so they've made massive changes in the West End, and had it re-reviewed, which were much more favourable.
I have enormous confidence and faith in Simon. He's such a smart man and will make such intelligent choices, that I put my faith in him. And Graeme Murphy choreography – Oh my God, It's like I've died and gone to heaven, although I'm not daunted. He's just so brilliant and inventive. I'm excited – they want to create this other-worldly feel, that we loved so much about the first Phantom – when you were in the Phantom's lair it was of another world – there was a strange, macabre romance, and I think he will find that. He doesn't traditionally choreograph for musical theatre, so he's approach it from a different perspective – I'm excited that he will be able to bring a darkness to it, perhaps,
The most exciting and daunting thing about first day of rehearsal in ten days is the unknown. I only got my score yesterday, and only by insistence. They said, but we're changing things – there are so many changes – and they said, we'll send you the music as it stands, but it will change. How often does that happen? That's so exciting.
What is so exciting too, is that the team that is making the costumes and the hats is the same team that was used in the original, so that attention to detail will be there as it was in the very, very original. They're really going for quality every step of the way.
The set designs are just breathtaking – I believe that Andrew Lloyd Webber just saw them and instantly fell in love with them, and he's really thrilled and excited.
NL: And the character of Meg ten years on?
SM: Originally Meg was a pretty narky, cold, bitchy character, hungry for the limelight, but by the second incarnation in London she'd morphed to a much more sympathetic, likeable character. I'm excited that I don't quite know where we're going to take it in rehearsal here.
It was through circumstance, and you can understand it, but they've decided that it was perhaps better for the piece to retain that friendly relationship between Christine and Meg. It had been ten years since they've seen each other, and a lot of things do change during that time.
NL: You've just had your first costume fitting. What are the costumes like?
SM: The costumes are absolutely incredible. I don't know how much I can tell you about it. I love that there is a twist. I keep using this word macabre, but it's an element that I'm loving. The costumes for the gala opening number are beautiful – in the original there were elements of vaudeville, but in Love Never Dies maybe it's steering slightly towards a magical, burlesque sort of thing – a little bit sinister – nothing is quite what it seems, perhaps. It's all corsets, and beautiful boning and jewels and feathers – it's really elaborate, and the kind of costumes that girls like to wear. We'll all look fabulous in them.
To keep up with the latest news and reviews, like Stage Whispers on Facebook, or follow us on Twitter.

Part 2.
While we concentrated on the present in our print interview, that was only part of a much longer chat about Sharon's career, which we now continue.
NL: Going back to the beginning, I asked Sharon how she started performing.
SM: I started ballet at three and went to the Johnny Young Talent School at about 9 or 10 until I was about 15, and from there I left the singing and acting and really just concentrated on my dance.
I went to the Johnny Young Talent School when I was young and I was part of the performing group there, so I'd actually done lots of semi-pro things as a child, I suppose, and I'd done lots of TV. I was absolutely mad for it. I was just passionate about classes. A day that I didn't have a class on I was just bereft. I look at my daughter now, and realize she's not like that, and you realize that you either are or you aren't. I loved it so much. I couldn't wait to get to another class.
NL: During Phantom, you first became part of the cabaret trio Combo Fiasco didn't you? Playing small role in Phantom, I guess that allowed you to really express yourself as a performer.
SM: It absolutely did. And it also gave me a lot more confidence as a singer. I'd really only ever seen myself as a dancer, and it was really through the support and encouragement from Shaun Murphy and Tony McGill that we all got this thing going, and people saw me as being a singer. Gosh, we had so much fun doing that show. When you do the same show eight times a week for a long time, it can be a bit mind-numbing in the sense that creatively you're not being challenged in the way you would like to be, so that absolutely gave us that outlet to challenge ourselves and to sing songs other than the show. That was wonderful.
The very first performance we did was at a Pink Dingo, which was one of the parties that the company used to put on – it was very social in those days. You'd have a Pink Dingo after the second show on a Saturday – we didn't do Sunday show in those days – we'd hire out a venue , hire out a rockin' band, and people would get up and sing rock songs really, and have a bit of a rock'n'roll night. We got up and sang Queen Bee, and it was such a hit – everyone just loved it. So we thought, there's something in this. Then Marina Prior opened her restaurant called Prior Engagements, and invited us to sing there. So we threw a group of songs together, and voila, we formed a cabaret group.
It's weird that everyone knows what the term cabaret means now – every performer has a cabaret act, we have the cabaret convention, and cabaret is prolific, but at that time nobody was doing cabaret. It was something that you might see at an RSL club, but there were no intimate rooms. It was happening a bit in New York, but not really in Australia. At the time it was quite innovative for Australia.
We made a CD, and we went to New York and did really well. It was so different, that we were interviewed for a segment on A Current Affair – this young Australian cabaret group that went over to New York
We went there three times. I sang live on the NBC Today Show with Katie Couric. So it was quite a big deal for the time.
NL: You mentioned that Into the Woods, for which you won a Mo Award, followed Phantom.
SM: That was huge for me – it was the first time I'd done any comedy. I have so much to thank Brian Stacey for really, because he was the Musical Director of Phantom of the Opera, and he really championed me for Into the Woods. I'd never auditioned for the Sydney Theatre Company before, or anything like that.
A big thing that probably got me in the door, too, was that the cast of Phantom had done a concert version of Into the Woods about a year before, and I'd played Riding Hood in that, but we'd used scripts. John O'May was in it, and Marina Prior – it was pretty incredible.
I learnt a monologue for the first time in my life, which I had to do for the audition, and I got it.
I'll never forget the opening night. It was so far behind because we cancelled all the previews – they had this triple revolve – it was a nightmare, and had been plagued with dramas all the way. The first time we ran it without stopping was opening night, when we were all reviewed. We had nine previews scheduled, and cancelled all of them, and literally just went out on a wing and a prayer. With comedy it's so hard to wing it, because you just don't know where the laughs are going to be, but we went out, and the audience just went nuts. They kept laughing at things I was saying. It was such a surreal experience – in the rehearsal room I had no idea. The show would just stop sometimes because of the laughter. It was one of the most phenomenal performing experiences of my life.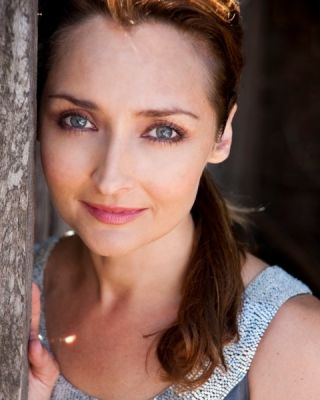 NL: While you suggested that lack of planning in your career as perhaps being to your detriment, has it also worked to your advantage?
SM: When it works, it works wonderfully, when it doesn't work, it's dreadful. After I had my first child Ellie, I had a couple of years off because I wanted to, but then, when I decided to go back to work, it didn't really happen. I couldn't get work to save myself. But I went back and did co-op shows, Kooky Tunes with Eddie Perfect, produced by David Hawkins, and a show at the Q Theatre at Penrith, called Somewhere, so I ended up doing some really interesting things, even if I didn't earn any money.
I was just gaining momentum again when I had my second child, but then it was completely different. When my boy was six months old I got a phone call from Peter Cousens, bless his cotton socks, who said, "I'm doing Pippin, would you like to come and be in it?" That started a momentum – Pippin, Sweet Charity, Rocky Horror, and Chicago.
NL: You received Helpmann Awards twice for Chicago – first as Velma in 2001, and then as Roxie in the 2009 revival.
SM: Chicago was huge – and then to go back the second time.
I replaced Caroline O'Connor as Velma in the original – big shoes to fill, as you would understand, but I absolutely loved it, and believed the show was all about Velma Kelly. Then ten years later, it was really interesting. We'd heard that Caroline was coming back to play Velma in the most recent revival, so I thought, that's me out of the picture.
So I was doing Rocky Horror, and Verity Hunt Ballard (now playing Mary Poppins) said, I want to audition for Roxy, can I have a couple of coaching sessions. We got together a couple of times, and just chatted about the character, and about the monologue, and her journey, because she knew I had done the show, and during the course of this, I was thinking, Roxie's a really interesting character, she's the one who's got the really interesting part. At that stage I had no ambitions to do it myself, I was just helping Verity. Then, much further down the line they actually ended up seeing me for it, and I wrapped my head around the idea of doing it – another thing where the universe had a plan, and I just had to go along for the ride.
NL: So you played Velma originally. What made that right for you then, and Roxie right almost a decade later?
SW: Putting it in perspective, I'd only just finished playing Belle in Beauty and the Beast when I auditioned for Chicago. I'd just finished the playing the ingénue, and thought that I was probably going to audition for Roxie, because to my mind Roxie was the softer of the two characters. It was actually the American supervising the auditions who told me I was a Velma, and I just took her on her word, and they gave me all the Velma stuff. I was offered the cover for Caroline, but I wasn't really interested in covering, having just played the lead, Belle. I did love the way she talked, having just come from Belle, who was very sweet and very Disney. So it went away for a year, and it wasn't until Caroline left that they called me and said, 'You know how we offered you the cover, well Caroline's leaving now, would you like to come in and play the role.' I said yes I would, thankyou very much.
You get to really dance, really sing, and do all of that physical comedy which I loved so much in Sister Act.
Any skill you might have is squeezed out in the course of that performance.
In the first production, I was working with Chelsea Gibb, who is so different to me, and whose Roxie is so different to mine – fabulous, but her choices were so different to the ones I would make. So, when I saw Roxie, I didn't see me. It was really only that I'd had ten years to almost forget whatever I'd seen before and create it from scratch.
I do remember them saying come in for Roxie and sending the monologue. I read and said, yep, this feels really right. It had more of an acting and comedic edge to it, rather than the fierce song and dance element to Velma. They really challenge you in different ways.
Also, and it sounds pretty clichéd to say, but being a mother has really changed me too. I think its been very good for me as a performer, for it not to be the most important thing in my life. It does give you perspectives, and a depth to draw on, perhaps. And just 10 more years experience in life.
NL: What did you like best about playing Roxie?
SM: The monologue – the chance to talk to the audience like that. It's probably the closest I'll ever get to doing stand-up. To actually stand on the stage and engage with the audience, who I'd spent basically a career pretending they weren;'t there, was so exciting. And because I was the only person on the stage, I could sort of bend it, or embellish it, pull it back, or go faster, as I read it on the night, within reason. I loved that kind of freedom to read an audience, and develop a relationship every night. I can't think of another character in musical theatre that gets to do that. I'm singing to them. I'm cracking a little joke for their benefit, and I respond to their reaction to me. I found that so rewarding.
They're both such brilliant roles, you really can't compare one to the other. Aren't I the luckiest girl in the world to have played them both.
NL: So it's been quite a career renaissance for you over the last four years.
SM: You get a momentum – that's what it was – and people see you. Like Pippin, and then Sweet Charity. I'm ticking all those boxes of the roles I want to play before I die – to play Charity, and Anita in West Side Story, and Velma and Roxie – how lucky can you get.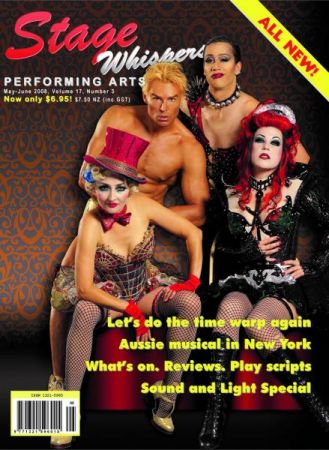 NL: And Pippin, even though it wasn't well received, started it all.
SM: But I got a Helpmann Award for it, and to get a Helpmann Award for the Rocky Horror Show as well was just hilarious. You think of Rocky Horror as a kind of bawdy panto, I guess, but, working with Gale Edwards, ten days into rehearsal we were convinced that this was Shakespeare. It was as important to us as Shakespeare, so we didn't throw any lines away. Everything was loaded. Gale wanted to tell the story as though it was of Shakespearen proportions – it was a tragedy – and she wanted to flesh out the love story between Columbia and Frank'n'furter.
NL: And doing Sweet Charity for The Production Company?
SM: How much would I love to get a good, proper go at that. Doing something like Sweet Charity with The Production Company is particularly challenging because it rides so much on character. There's nine big production numbers, and Charity is kind of in every scene, and up the front in all those numbers.
I loved it, I loved working with Matt Hetherington and I got to work with the incredible Ross Coleman and Nancye Hayes.
We couldn't find a pop-up Top Hat, they just don't make them any more. So she lent me the Top Hat that she initially used in 1966. You can imagine the sentimental thing with that. She keeps forgetting to get it back, so I still have it – very well cared for.
NL: It must have put a huge weight on your shoulders as a performer with the short 10-day rehearsal period.
SM: We were doing the final choreography at the half hour call – that's how Ross worked – in fits and starts, according to when inspiration hits, and when he was on a roll, he just rocketed along. We were choreographing right to the last second – it was real white knuckle – but like all Production Company shows, by the last performance, we were away and firing. We just wanted another two months after that, but sadly you don't get that.
NL: Do you have any backstage superstitions or rituals?
SM: I sort of thought I didn't have any process backstage, but when I worked with Tamsin Carroll and Kellie Rhode in Rocky Horror – you couldn't get three more different preparers in one room, and we got on like a house on fire. Probably one of the best backstage experiences I've ever had – sharing a room with those two.
I cut everything down to the wire – I'll do a warm up, but I'm literally glueing my eyelash on as the prologue is playing.
In Rocky, Tamsin would be on stage doing her number, and I'd just be buckling my shoes, and I'd literally walk down the stairs, scoop up my hat and not stop before I walk onto the stage. If I'm ready too early I get too inside my head – I like to keep it in the moment and spontaneous in a way. Tamsin is so meticulous, even though she makes it look like it's spontaneous. She's ready at the half. At the 15 minute call she's actually in the wings going over her lines. She's the epitomy of an actor prepares, whereas I go by the dictum the actor never prepares, it just undermines my performance. Whatever kind of works. I didn't think I had a plan, but now I realize I get anxious if I'm ready too early.
Images from Love Never Dies. Photographer: Jeff Busby.
The dressing room image is a promo shot of Sharon, with her personas for Last of the Red Hot Lovers in the mirrors.
To keep up with the latest news and reviews, like Stage Whispers on Facebook, or follow us on Twitter.