It took Carole King three months after the musical based on her life opened on Broadway to bring herself to see it. Ahead of its Australian premiere, the musical's original director and local leads reflected on what makes the songwriter tick. David Spicer reports.
When a musical has been on Broadway for four years, the original director normally allows an associate to pull the strings when it opens in faraway Australia. Not so for Marc Bruni, who is in the director's chair for its opening in Sydney. His enthusiasm for the project is still high and his tip for Australian audiences seeing Beautiful: The Carole King Musical is to expect the unexpected.
"I think they will be most surprised that she had this long career writing songs for other artists. Everyone is very familiar with her Tapestry album and solo career. They don't know she was very reluctant to be a singer and only wanted to be a songwriter," Bruni said.
"Carole spent the better part of the sixties writing songs for the biggest hit artists of the day."
Being lucky enough to see the musical on Broadway, what struck me was how someone so young (and white) could compose pop songs that sounded so authentically Afro-American.
"It comes from a musical genius. She idolised the form of song writers that came before her," Bruni explains. "Carole loved Gershwin and Rodgers and Hammerstein, and actually had a classical foundation, after learning piano at a very young age.
"When Doug McGrath, the author (of the musical), interviewed all four (featured) songwriters in order to create the show, he thought he was going to be writing a story about this young guard storming the castle and wanting to write this new rock'n'roll music. Instead of tearing down the old guard of the songwriting of the 30's and 40's and 50's, what he found was that Carole revered these artists.
"She has a singular way of expressing an emotion through a melody and the joy of a melody. That juxtaposes with (husband and lyricist) Gerry Goffin's often rather cynical lyrics and can be a really interesting push-pull.
"In addition, he was also quite a poet and wrote some of the most incisive lyrics about human emotion that have been written for music. The lyrics for both 'Will You Still Love Me Tomorrow' and 'Natural Woman' came from Gerry Goffin. It's really fascinating the way he has been able to channel that side of things."
Producers are hoping Carole King will be there on opening night in Sydney on September 23, but the 75-year-old is famously reticent to see the show.
"She saw an early reading, but she was reluctant to see the show all the way through out of town try outs."
Bruni said Carole King did not want to have to re-live the scene where her husband asks to have an affair, nor have people watching her watch it.
"She came three months after the opening in a disguise of a wig and glasses. She looked like a lot of our other audience members. Then she surprised the cast on stage. You can see it on YouTube."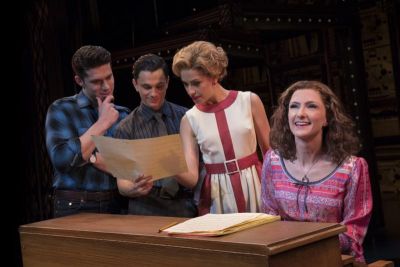 For its Australian season, Esther Hannaford is playing Carole.
With 16 songs, a gamut of emotions to display, a requirement for advanced piano playing and portraying a woman from the age of 16 until she is 29, it is a huge challenge.
Bruni said Esther appeared to be the natural lead at the audition, describing her as a chameleonic, immersive actress who will dig into the character
Esther Hannaford is probably best known for being the girlfriend of King Kong in the Broadway-bound Australian produced extravaganza
"Another King to challenge, which is really cool," she said with a smile. From Kong to Carole is quite a leap.
Esther Hannaford says she has been a fan of the much smaller King since she was a girl. It began when her family's car radio was glued to 3AW and continued in college.
"Mum and Dad had her records growing up. Then as a female vocalist you come across Carole King and you sing her songs."
What she likes best is the simplicity of her story telling.
"The songs have an authenticity and timeless nature. Even in a hundred years you could still sing and connect to them. When she is writing there is a radar that goes off and she notices if she is adding too many bells and whistles. When she is in the zone she knows that and so takes them away.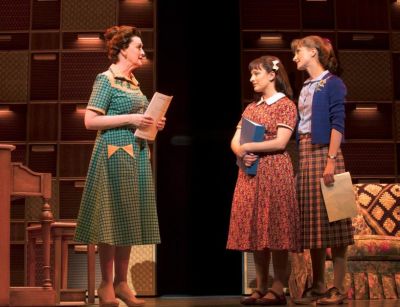 "When she is really in the zone, like in the song You've Got a Friend, Carole says that is one of the songs that came out completely as it is."
Ether Hannaford is no doubt brushing up on her piano playing skills to prepare for the role.
"I am not as good as Carole King; she is an incredible pianist. But my main focus is the story and the story-telling; making sure that is right is the most important thing."
How would she boil down Carole King's characteristics?
"She is very joyful. She genuinely loves music and hearing other people sing her songs. She has a thirst for life."
The musical is not just Carole King's story, but also in part that of her husband Gerry Goffin, and their song writing rivals Barry Mann and Cynthia Weil.
In the musical, the audience sees the couples working in a song-writing factory, competing against each other.
Playing Gerry Goffin is Josh Piterman.
"Carole openly says she could not have done it without him. The songs from Tapestry are all Gerry's lyrics. He co-wrote over 50 top 40 singles," he said.
The musical covers their "much publicised tumultuous relationship. The musical does not hide from that, his mental break down and the struggles he had to keep up with the prolific writing."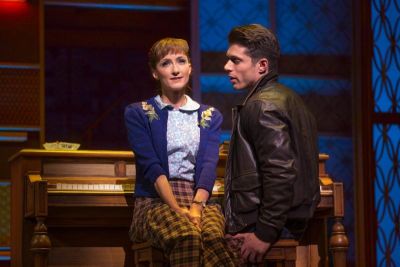 Goffin wrote the lyrics to bubble gum songs such as Who Put the Bomp in the Bomp, Bomp, Bomp and also wrote some of the most beautiful, simple intelligent lyrics.
"He got caught with this dilemma - where do I go with this. I can get a top 10 single with Who Put the Bomp. It went to number 7. Do I try to be like Bob Dylan or do I just write trash."
Goffin has his flaws.
"He cheats on her a couple of times. That is a struggle he went through. He struggled all his life with his bi-polar nature. He passed away in 2014."
Unilke Carole, Gerry Goffin relished watching the musical.
"He hung on to see the show. He saw it on Broadway, and passed away a year after it opened. He absolutely loved it. It was really good way to go out, to see his life re-created on stage."
With the musical in its fourth year on Broadway, touring productions underway in the US and UK, and now opening in Australia, perhaps millions more will have the same pleasure.
Beautiful: The Carole King Musical opened in Sydney on the 23rd of September, 2017.
Images (from top): Esther Hannaford (as Carole King); Josh Piterman (as Gerry Goffin), Mat Verevis (Barry Mann), Amy Lehpamer (Cynthia Weil) and Esther Hannaford (Carole King); Anne Wood (as Carole's mother Genie Klein), Stefanie Caccamo (Betty) and Esther Hannaford (Carole King); and Esther Hannaford (as Carole King) and Josh Piterman (Gerry Goffin) in Beautiful - The Carole King Musical. Photographer: Joan Marcus.