In This Edition
My Fair Ladies
Anna O'Byrne on working with Dame Julie Andrews
Dr. Theatre Rescues Actress
How Kate Mulvany copes with Richard III
Away
Michael Gow on his classic play
The Play That Goes Wrong
How out of workers created a blockbuster
Does Size Matter on Stage?
Actress weighs in on prejudices about appearance
School Performing Arts Resource Kit
Special Feature includes Shows for Schools
Sound Advice
Tips on getting the best audio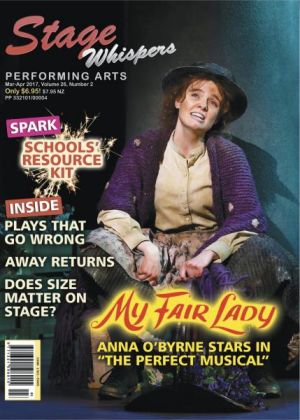 Musicals for Schools
AND MORE
Including
• Broadway and West End
• Books
* Sound and Lighting
* Schools on Stage
• What's On
• Reviews
Buy individual copies online at
or at your newsagent.
Subscribe to Stage Whispers print edition for one year or more and receive one of the following Double Passes, CDs, DVDs or scripts.
As stocks of some Double Passes, CDs, DVDs and Scripts are limited, please indicate 3 choices.
• The Bodyguard - 2 double passes on Wednesday 26th April at 8pm at the Sydney Lyric Theatre.
• The Play That Goes Wrong - 2 double passes in each of the following cities:Melbourne - Comedy Theatre; Adelaide - Her Majesty's Theatre,28 March;Sydney - Roslyn Packer Theatre,5 April;CanberraTheatre,25 April; Brisbane, Concert Hall, QPAC, May 4 & Perth, His Majesty's Theatre,31 May.
• Not in the Script - Monologue Book
• The Hollow Crown - Blu-ray
• The Hollow Crown: Wars of the Roses - Blu-ray
• Modus Season 1 DVD
• Acquitted Season 1 DVD set
And more - see our subs page.