IN THIS EDITION
The Disco Inferno
We talk to the stars of the new production of Saturday Night Fever
Todd Joins The Circus
Todd McKenney to sing, dance and walk the high-wire in Barnum
Geraldine's Dream
Geraldine Turner's great career and her greatest disappointment
Paradise Lost
Writer Sue Smith on her new play about George Johnston and Charmian Clift
Diary of a Busy Opera Singer
Two weeks in the working life of an Opera Australia chorister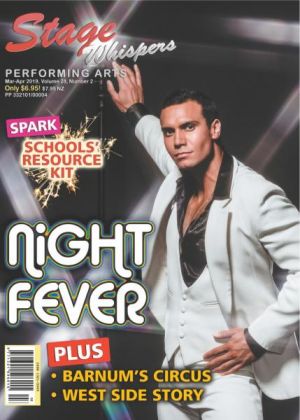 Something's Coming
West Side Story on the harbor and in the theatre.
School Performing Arts Resource Kit
New Zealand Musical Theatre Boom
Community Theatres in New Zealand band together to stage Blockbusters
AND MORE
Including
• Broadway and West End
• CD Reviews
• What's On
• Reviews
Buy individual copies online at
www.stagewhispers.com.au/products
or at your newsagent.
Subscribe to Stage Whispers print edition for one year or more and receive a free Double Pass, CD, DVD, Blu-ray or script.
As some stocks are limited, please nominate 3 choices.
Visit our subs page for more details - click here