IN THIS EDITION
Inside The Mind Of A Genius
The Curious Incident of the Dog in the Night-Time touring Australia
Aussie Kong Takes Over Broadway
Australian producers Global Creatures going global
A Christmas Panto In July
Traditional Pantomime making an Aussie comeback
Lola Montez – With A Twist Of Lemon
A legendary Australian musical, and the legend who inspired it
Assassins Returns
Bobby Fox on the Hayes Theatre Company's hit, returning to Sydney
Stage On Page
We review Andrew Lloyd Webber's UNMASKED A Memoir.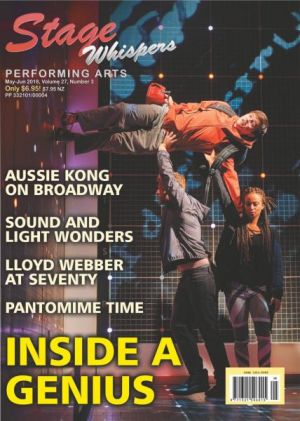 Madiba
Nelson Mandela musical set to tour
Lighting and Sound
Feature stories on the technical side of theatre
We Will Rock You Rocks
Community theatres stage the Queen musical
AND MORE
Including
• Broadway and West End
• CD Reviews
* Sound and Lighting
* Schools on Stage
• What's On
• Reviews
Buy individual copies online at
www.stagewhispers.com.au/products
or at your newsagent.
Subscribe to Stage Whispers print edition for one year or more and receive a free Double Pass, CD, DVD, Blu-ray or script.
As some stocks are limited, please nominate 3 choices.