Peter Pinne talks with stars Anthony Warlow, Lucy Durack, Jemma Rix and newcomer Samantha Leigh Dodemaide about their roles in the newest production to travel down the 'Yellow Brick Road'.
The upcoming production of Andrew Lloyd Webber's new London Palladium version of The Wizard of Oz probably has the starriest cast of any version since the original MGM film opened in 1939. Anthony Warlow plays the Wizard and Professor Marvel, with Lucy Durack and Jemma Rix returning to their Wicked characters' roots as Glinda, the Good Witch and the Wicked Witch of the West, and, new plucked-from-the-chorus, Samantha Leigh Dodemaide to play Dorothy.
Andrew Lloyd Webber was reunited with lyricist Tim Rice to compose four new songs to add to the beloved Harold Arlen score. It was the first time Webber and Rice had written together since they wrote the song 'You Must Love Me'for the movie of Evita.
Anthony Warlow sings two of the new songs, 'Wonders of the World'and 'Bring Me the Broomstick'.
"'Wonders'is an early song for Professor Marvel that sets-up his character, and I sing 'Broomstick'at the finale of act one as the Wizard," Warlow said.
It is the first time he has sung Andrew Lloyd Webber (who he describes as one of his favourite composers) on stage since The Phantom of the Opera.
"Lucy Simon is my all-time favourite. Dr Zhivago I find extremely poetic, while The Secret Garden holds a special place for me because my daughter was born during the run and I like it because it's a show about the redeeming qualities of children."
Anthony first discovered The Wizard of Oz on TV.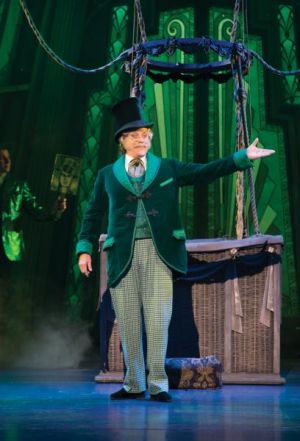 "I was about 12 or 14 and it was in black and white, before colour had come to Australia. I think it's a good musical in that the songs advance the story. It's also melancholic and reminds us what we forget about youth – lost youth.
"Baum wrote it as a fairytale for Americans. Europe had the Grimm Brothers and Hans Christian Anderson, but America had nothing of its own. So he wrote The Wizard. I discovered a 1964 thesis by Henry Littlefield which claimed the book was a political allegory of the times."
In Littlefield's eyes The Wonderful Wizard of Oz (published in 1900), was a comment on the political revolution in America in the late 1800s, when farming communities were not surviving and industrialists were without oil.
The Scarecrow symbolised farmers, the Tin Man embodied industrial workers, and the march down the yellow brick road to the Emerald City paralleled the farmers and industrialists marching on Washington for a better deal.
"The yellow brick road represented gold, Dorothy's silver slippers silver, and the Emerald City the greenback, with the Wizard a politician who was pulling-the-strings. It's fascinating when you look at it in those terms." (The slippers were originally silver in the book but were changed to ruby in the movie.)
It's Warlow's first time on an Australian stage since returning from Broadway. There he played Daddy Warbucks in the James Lapine directed 35th Anniversary production of Annie, reprised Don Quixote in a Washington production of Man of La Mancha and replaced Kelsey Grammar in the dual roles of Charles Frohman and Captain Hook in Gary Barlow's musicalization of Finding Neverland.
Three times up to bat in Annie is a good innings; 2013 on Broadway and 2000 and 2012 in Australia.
What's the difference between appearing in a show on Broadway and in Australia I asked?
"Broadway theatres are made for theatre. They have great acoustics. There's a different energy, and the pool of talent is excellent. In Australia there might be only one Anthony Warlow but in New York there are 300."
"Sometimes it feels like a show is thrown together, but it works because everybody behind the scenes is an expert. Finding Neverland was a great experience."
A few years ago Warlow said he was moving to America full-time, but that's not the case. "Well, Peter Allen was bi-coastal but I suppose you'd call me bi-country. I have an apartment in Harlem in New York and one in Melbourne. I usually spend six months in each."
Does that affect his personal relationships?
"I'm divorced. My daughter's now 22 and teaches ballet in Bowral."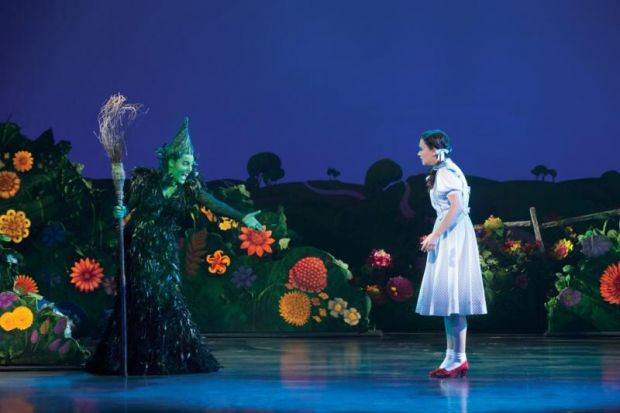 The MGM film version of The Wizard of Oz is also where Lucy Durack and Jemma Rix were first exposed to the story.
"I think I was about four and saw it on TV," said Lucy. "I loved it. Over the Rainbow has always been one of my favourite songs."
Jemma remembers being about five when she also saw it on TV. "I loved it too. The Wicked Witch was frightening. I was terrified of her."
"So was I," said Lucy, "but then I've always been a bit of a scaredy cat.
"I remember as a kid I used to play a Wizard of Oz game," she continued. "The film made quite an impression on me."
What does it feel like to be back playing opposite each other again in the two characters they created in Wicked almost a decade ago?
"I'm honoured," said Jemma. "Wicked was such an amazing experience, a big part of my life that I'll be forever grateful for."
"I couldn't agree more," said Lucy. "It's exciting to be playing the characters again but it'll be different because it's in a different show."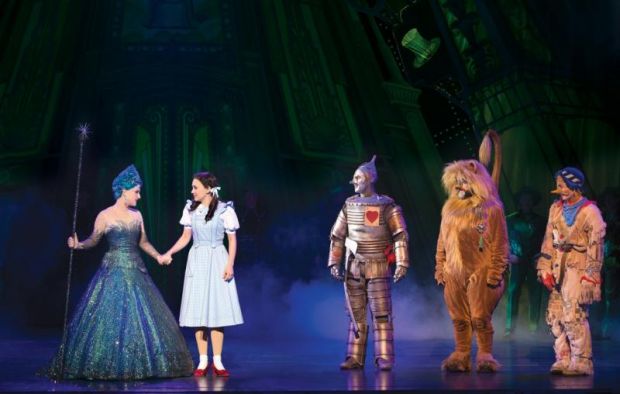 Lucy enthused about her new song. "It's wonderful. It's called 'Already Home'. I sing it to Dorothy. It's got a beautiful message about having everything she needed already, right here at home."
The fourth new song by Webber and Rice is a big second act number for the Wicked Witch, 'The Red Shoes Blues'.
"It's a conversational piece about the Witch's hatred of the power Dorothy has with the shoes and she wants them," said Jemma. "I do it with the Winkies, guards and the Winged Monkeys."
Prior to rehearsals, both actors have been busy. Lucy has been looking after her 2-year-old baby Polly and filming episodes of the Nine Network's Doctor, Doctor, Channel 10's Sisters, and an ABC comedy.
Jemma recorded her first album, Gravity, and has been doing promotional gigs for it around the country.
"It's a collection of show songs from some of the musicals I've been in and includes two tracks from Wicked, two from Ghost, and Queen's 'Somebody to Love'.I also do a couple of duets, Jekyll & Hyde's 'Dangerous Game' with Kane Alexander and Once's 'Falling Slowly'with Rob Mills."
Last year both were part of a highly successful concert at the Sydney Opera House called Witches, featuring four leading ladies from Wicked, who had all sung Glinda or Elphaba.
"Amanda Harrison and Helen Dallimore joined us and it was all Witch related - dark and sinister. They used the Harry Potter music as the overture. The marvellous Ben Lewis was the token male. He'd just returned from London," said Lucy.
"We sang with the Sydney Symphony Orchestra and it was recorded by the ABC. It's supposed to be touring."
When the Palladium production of The Wizard of Oz opened in March 2011 the role of Dorothy was played by Danielle Hope, who had been cast via a 2010 reality television series called Over the Rainbow. A similar Canadian reality search show found a Dorothy for the Toronto production in 2012, which toured North America in 2013.
In this new Australian production, the role of Dorothy has been cast along more traditional lines from over 400 actresses. In a move that almost parallels the movie and musical 42nd Street, Samantha Leigh Dodemaide has stepped out of the chorus and understudy roles to play the musical's starring role, made famous in the movie by Judy Garland. Her first exposure to the story was also the movie.
"Mum and I used to watch the MGM musicals which were on TV on Saturday afternoons and The Wizard of Oz was one of mum's favourites. It also became one of mine too. I was about eight. Every young girl of that age gets carried away by it. It's a classic. And 'Over the Rainbow'is just so beautiful – it's beautiful to listen to and beautiful to sing. I find it nostalgic and it brings back lots of lovely memories for me. Judy Garland's performance was so iconic. I hope I do it justice.
"(I'm) 28, so I'll have to shed 12 stage years to look the part of Dorothy," she says ironically.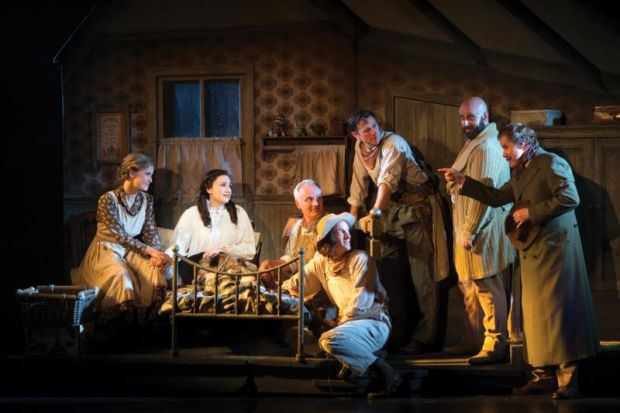 And her favourite character?
"Definitely the lion and in this production. I'm sure I'm going to love Toto because he will be a real dog."
How did it feel being plucked out of the chorus to play a leading role?
"This moment is the one I've been working to all my life. I've understudied many parts - Cathy Seldon in Singin' in the Rain, Reno Sweeney in Anything Goes, Charity in Sweet Charity and Cassie in A Chorus Line, and I've gone on and played them, so I've been incredibly lucky. But this will be the first time I've originated a part."
Does it feel like she's living the 42nd Street dream, when the chorus girl takes over for the leading lady?
"Yes, a little. But you know just rehearsing the leading role is wonderful anyway. It's a thrill to put on the costume and learn all the moves."
The Wizard of Oz also features Eli Cooper (Grease/Matilda) as the Scarecrow, Alex Rathgeber (Anything Goes/The Phantom of the Opera) as the Tin Man, and John Xintavelonis (The Lion King/Billy Elliot) as the Lion.
The same creative team who worked on the Palladium original will repeat their chores for the local version; Jeremy Sams (director), Robert Jones (set & costumes), Arlene Phillips (choreography), Hugh Vanstone (lighting), Mick Potter (sound), Jon Driscoll & Daniel Brodie (projection design) and David Cullen (orchestrations), with local conductor Guy Simpson coming in as musical supervisor.
The Wizard of Oz, produced byJohn Frost and Suzanne Jones, plays from the 4th November 2017 at the Lyric Theatre, QPAC, Brisbane, before touring to the Capitol Theatre, Sydney, from 30 December 2017, Festival Theatre, Adelaide Festival Centre, from 3 April 2018, and the Regent Theatre, Melbourne, from 15 May 2018.
Photographer: Jeff Busby