When Brisbane's Harvest Rain Theatre Company revive their successful 2010 production of Jesus Christ Superstar from June 6 to 16, Steven Tandy (perhaps best known the role of Tom Sullivan in The Sullivans) returns in his outrageous cameo as King Herod.
He spoke to Stage Whispers in this Q & A.
Stage Whispers: You're reprising your role as Herod in Harvest Rain's return season of Jesus Christ Superstar in June – what did you love about being involved in the first season?
Steven Tandy: Performing as Herod in the first season of Jesus Christ Superstar for Harvest Rain was a mind-blowing experience. The feeling amongst the hugely talented cast was amazing and the energy created on stage (and in rehearsals) was truly inspiring. I knew I only had the one three-minute song with which to make an impact and carry the story forward, so it had to be a show-stopper! I was helped greatly in this regard by Callum Mansfield's outstanding choreography which enabled me to act as a sort of ring-master or dance instructor with a bevy of dazzling dancing girls, and also the costume design by Josh McIntosh was amazing! All feathers and fishnets! An actor's dream cameo!! The set was also unbelievably effective, and a brilliant band brought out every possible nuance and inspirational beauty of Andrew Lloyd-Webber's score. It felt like a truly great theatrical event, the like of which I've seldom experienced in my forty-year career so far.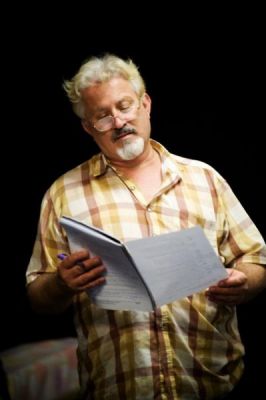 SW: Why do you think Jesus Christ Superstar is such a popular musical?
ST: I have no doubt that Jesus Christ Superstar is such a popular musical because of its scope and dramatic effectiveness in its outstanding musical score and lyrics. Telling such a timeless and powerful story, the combination of this, together with its iconic characters and underlying message, this musical really broke the mould when it first assaulted our senses and sensibilities back in the early seventies when I first saw it as a young actor entering the industry. It is an extremely powerful musical-most probably deserving of the title "masterpiece".
SW: Tell us about your interpretation of King Herod as a washed-up drag queen in this production!
ST: Washed up drag queen? God, is that how I came across?? Seriously, though, I was greatly influenced by the choreographer, Callum Mansfield's vision in this regard. It seemed to suit the vision of the director's concept as well, and, as we all know, the Herod song has always been one to experiment with and have a camp old time with (I think Reg Livermore set that bar in Australia for all aspiring Herods!). I've been told I was brave in my execution of it, but there was a lot of expressive freedom granted to me by Tim (O'Connor) and I just thought- what the heck?!- just go for it!!
SW:Tell us more about director Tim O'Connor's vision for this apocalyptic adaptation of Superstar.
ST: I love Tim O'Connor's apocalyptic vision of Superstar! The idea that a tribe of people could come together and recall memories of great stories and characters from the past- the ancient art of re-telling inspirational stories or fables, and I also loved the concept of Jesus being in everyday clothes and not the traditional pure-than-thou robes he is always associated with. The impact of his death on the cross has, I think, an even greater impact when you see him as just one of us, a man.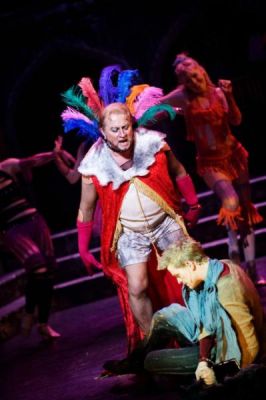 SW:Audiences would know you from your starring role on The Sullivans but have you ventured into the world of musical theatre much before?
ST: I have always adored musical theatre, but have had relatively few opportunities to indulge that passion professionally. I am very proud of doing The Threepenny Opera (playing Mack the Knife) for the Riverina Theatre Company in Wagga Wagga in 1990, but unfortunately it was only seen in Albury and Griffith as well. I've kicked up my heels as Warden Hodges in the musical Dads Army here in Brisbane at Twelfth Night Theatre, and, on the Gold Coast, played King Arthur in Camelot and Mack Sennett in Mack and Mabel. After all - I DID play Maria in The Sound of Music at the age of 13!! I would love to have a crack at Henry Higgins one day - I used to play Rex Harrison's version over and over as a kid!
SW:You've been a Brisbane-based performer for many years now – what makes you stay in Queensland?
ST: I moved up to Brisbane seven years ago, about a year after the death of both my parents. I had been relatively happy on the Gold Coast for years, having left Sydney due to limited acting opportunities in my late thirties. Initially, I came to Brisbane for Dads Army, but then came the chance to play Cole Porter in A Swell Party at the Stage Door, and then several opportunities came my way at La Boite Theatre, where I have now done five productions. I also resumed my association with Queensland Theatre Company a few years ago, and I get regular voice-over work up here. It's a difficult profession, of course, as we all know, but it would take something wonderful now to get me to move back to Sydney or Melbourne.
SW:What exciting projects are you involved in at the moment or do you have coming up in the future?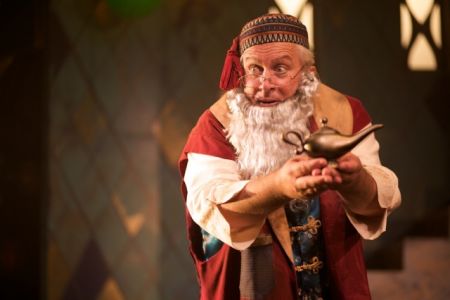 ST:Currently, I am performing in a wonderful play by Eugene Gilfedder, called Empire Burning, in which I play an old senator named Burrus. We are at the Sue Benner Theatre at Metro Arts for a short season. After Superstar's return season, I will be putting on a funny hat again to play the Sultan for Harvest Rain in Aladdin, but the latter half of this year is, however , a mystery. We shall see....
SW: What changes or developments would you like to see in the industry for the future?
ST: I miss the "old days" when theatre companies, like QTC, seemed to be able to offer 3 or 4 play contracts, and you got to grow with a Company in both major and minor roles. There's no sense of "belonging" any more, to anyone. It's nice to be a free agent, but a lot of work insecurity goes with it. I studied Direction at NIDA in 1995, and would possibly like to be given some more opportunities in that direction. Design concepts also fascinate me more and more these days, as the "creatives" are getting a greater sense of appreciation for their work in bringing theatre to life.
Jesius Christ Supersatr plays at the Playhouse, QPAC, from June 16 – 26.
Read Peter Pinne's review of the 2010 season.
To keep up with the latest news and reviews, like Stage Whispers on Facebook, or follow us on Twitter.