After months of auditions, Director Baz Luhrmann and Producer Carmen Pavlovic have announced that the search for the actress to play the role of 'Fran' in Strictly Ballroom the Musical is over.
The triple threat 'role of a lifetime' has been given to Newtown School of Performing Arts graduate Phoebe Panaretos, who topped the state in Drama when she graduated in 2008. Phoebe will be joined on stage by 20-year-old Thomas Lacey, whom Baz Luhrmann announced in November, to play the pivotal role of Scott Hastings.
On casting Phoebe Panaretos Baz Luhrmann said, "The role of Fran requires an actor to transform from within, expressing that transformation in terms of character, voice, and dance. Any wonder why the search for Fran went so far and wide. Phoebe weathered so many tests and hurdles, as Fran the character has to in the story of Strictly Ballroom, to reveal the true star that she is. So I am thrilled to be announcing her in this role, celebrating how resilient and strong she was through the grueling process of proving she had all that it takes, which she certainly does."
The outstanding cast of Australian actors includes Bob Baines as Les Kendall, Drew Forsythe as Doug Hastings, Natalie Gamsu as Ya Ya, Robert Grubb as Barry Fife, Fernando Mira as Rico, Heather Mitchell as Shirley Hastings and Mark Owen-Taylor as JJ Silvers.
Strictly Ballroom The Musical, the story of a championship ballroom dancer who defies all the rules to follow his heart, will tango, sashay and bogo pogo its way into the Sydney Lyric Theatre from 25 March 2014.
It will be brought to the stage by the original creative team behind the 1992 film, including director and co-writer Baz Luhrmann, set and costume designer Catherine Martin, choreographer John "Cha Cha" O'Connell and co-writer Craig Pearce.
Preview ahead of Opening Night.
Carmen Pavlovic, CEO of Global Creatures and Producer said "We are thrilled to make the much anticipated announcement of the cast for the new musical production of Strictly Ballroom. The film introduced iconic characters into the cultural landscape of Australia and we now have an amazing home-grown cast to bring these very characters to life again. A delightful mixture of veteran performers and newcomers will helm Baz's all-singing, all-dancing production. The audition process has been extensive and at the same time a rare and privileged chance for performers around the country to work with Baz and learn from his unique method. Baz has such a huge respect and affection for actors that he invested heavily in the audition process and the performances we saw him draw out of the candidates was inspiring. The wonderful company of actors that resulted will make Strictly Ballroom The Musical one of next year's most eagerly-awaited events."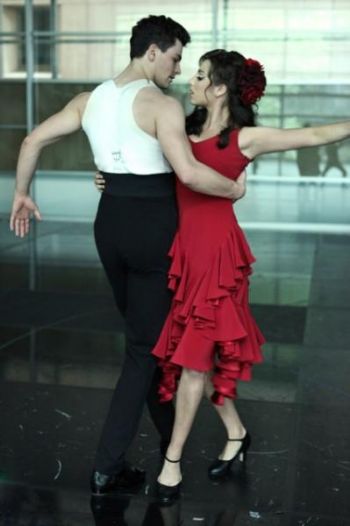 CAST LIST
Scott Hastings - Thomas Lacey
Fran - Phoebe Panaretos
Shirley Hastings - Heather Mitchell
Doug Hastings - Drew Forsythe
JJ Silvers - Mark Owen-Taylor
Barry Fife - Robert Grubb
Les Kendall - Bob Baines
Rico - Fernando Mira
Ya Ya - Natalie Gamsu
Liz Holt - Sophia Katos
Wayne Burns - Andrew Cook
Vanessa Cronin - Ash Bee
Ken Railings - Rohan Browne
Charm Leachman - Angela Kennedy
Pam Short - Angie Stapleton
Tina Sparkle - Nadia Coote
Clarry Welch - Lachlan Martin
Terry Best - Tyler Coppin
Merv - Damien Bermingham
Dance Ensemble
Kaylah Attard, Cristina D'Agostino, Keanu Gonzalez, Ryan Gonzalez, Melanie Hawkins, Loren Hunter, Nathan Pinnell and Mike Snell
Swings
Leigh Archer
Steven Grace (Dance Captain)
CREATIVE TEAM
Baz Luhrmann - Director & Co-Writer
Catherine Martin - Set & Costume Designer
John O'Connell - Choreographer
Craig Pearce - Co-Writer
Hugh Vanstone - Lighting Designer
Peter Grubb - Sound Designer
Max Lambert - Musical Supervisor
Anton Monsted - Music Producer
Elliott Wheeler - Orchestrator, Arranger and New Compositions
Phoebe Panaretos grew up in Sydney and went to Newtown School of Performing Arts and graduated topping the State in drama. She moved to Melbourne and was an inaugural 2011 Musical Theatre graduate of the Victorian College of the Arts where she was awarded the Encouragement Award from the Friends of the VCA. In her final year she played the role of Anita in West Side Story, directed by Martin Croft.
Phoebe made her professional debut in Cameron Mackintosh's production of Oliver when she was 11 years old playing the role of Rose. Other credits include touring Sydney, Melbourne and Adelaide with the Simpsons Tour and singing at the Premier's Concert in Sydney at the Entertainment Centre.
Since graduating Phoebe was cast in the television series Mr and Mrs Murder. In 2012 she toured to both Singapore and Hong Kong with the Smile Live Entertainment production of Thomas And The Hidden Treasure. Phoebe was part of The Production Company's 2013 season of Singing in the Rain.
Venue: Sydney Lyric, The Star
Dates: Previews from Tuesday 25 March, 2014.
Opening Night Saturday 12 April
Bookings:Ticketmaster.com.au or 1300 795 267
Groups 20+ and School Groups 20+ call 02 8420 2290
Premium Tickets, VIP and Hotel Packages – call 1300 4 SHOWS or showbiz.com.au/strictlyballroom
www.strictlyballroomthemusical.com
Image: Phoebe Panaretos and Thomas Lacey.