Strut & Fret, Australia's most successful independent theatre company, has dazzled audiences all round the world with its intimate cabaret. Coral Drouyn explores its rise to international success and an encore production of its greatest success, Blanc de Blanc.
"Life's but a walking shadow, a poor player,
That struts and frets his hour upon the stage,
And then is heard no more …"
This iconic quote from Macbeth inspired Brisbane born Scott Maidment when he was searching for a name for his new company twenty years ago. The creative director of Strut & Fret trained as an actor and spent eight years "doing Shakespeare" before discovering his talents as a creative innovator and entrepreneur.
"I thought it was a good name because you have to strut your stuff in front of the audience and, if you do it right, nobody sees the fretting, the headaches and heartaches, that go on behind the scenes when you're trying to make a show work," Scott tells me.
There must have been a lot of fretting in the early days to get the company to the unique position it's in today, with more than 20 original productions under its belt. Each production has been lauded by public and critics alike, while the company has a swag of awards and an international reputation second only to the famed Cirque du Soleil. It's a comparison that Scott has mixed feelings about.
"I'm happy that people see that we are looking for the same level of excellence they consistently produce. It's awe-inspiring. But the downside is that their productions keep getting bigger, and with that they become more removed from the audience," Scott says. "It's strange in a way because Cirque started as street performers, and you can't get much closer to your audience than that."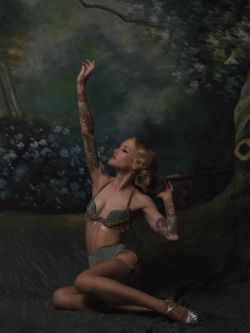 Part of Strut & Fret's manifesto is to play big while staying small. In terms of production that means the very best use of the budget on costuming, lighting, choreography, music, and the finest performers from around the world - all contained in small and manageable venues at a fraction of a "Cirque" budget.
The formula is a blend of Circus, Cabaret and Song and Dance. The mission statement is to push the boundaries as far as they can go – most of the shows are risqué and even dangerous – while at the same time drawing the audience ever closer into the intimacy of the performance, the connection with the artist.
In the early days Strut and Fret were largely promoters of other people's productions, mostly in Singapore.
"It was quite small scale back in 1997," Scott says, "because I hadn't got a handle on the vision. I wasn't sure what we wanted to do. I just knew we wanted to make our own niche rather than trying to fit into someone else's."
The change came when Scott took The Happy Sideshow to the Edinburgh Fringe Festival in 2001. Scott saw the show in Mullumbimby at a circus festival and was struck by how the production changed the perception of circus. With an MC replacing the traditional ringmaster, and the comedy coming from interaction between the entire cast, rather than traditionally resting in the hands of clowns, the acts somehow integrated thematically rather than being stand alone. Scott knew that he had found what he was looking for.
"It wasn't easy in the early years," Scott says. "We knew the kind of acts we wanted for the shows, and there was a broad spectrum across the world of artists we wanted to attract, as well as letting the rest of the world see our amazing Australian talent. But the reality was that no-one knew us, so why should they commit to working with this little company with lofty ideas."
All of that has changed now, with more than a dozen internationally acclaimed productions cementing their reputation.
"The press has always been kind to us," Scott says, "and that's a blessing because it gave us credibility."
When a major newspaper like the UK Guardian calls you "a brilliantly inventive young company" you no longer have to explain yourself.
These days artists themselves contact Strut & Fret saying 'we want to work with you', meaning that Scott can create the shows built around the personalities of the performers, rather than creating the characters and expecting the performers to fit into them.
"It's a bit like baking a cake," Scott explains. "You need the best ingredients to make the cake work, otherwise you'll end up with something that isn't very palatable and is a bit flat, no matter how well you mix it."
That quest for the very best ingredients has led Scott to put together an amazing core of creatives, all under forty.
"What we do is a young man's game, because it's very physical," Scott explains, "and it's also about not being afraid, not saying - 'oh, that's going too far' - not censoring ourselves and not settling. Even when something works we are constantly looking for a way to push it further, to make people catch their breath."
It's that drive and passion for pushing things beyond their natural limits in all areas that has seen Strut & Fret go from strength to strength. Maidment is one of those individuals with energy and passion to burn, and that needs constant feeding with new challenges. Scott had to find a way to make the next challenge HUGE and still intimate.
"I love the idea of facing the public one on one. In my youth I performed as a unicyclist. It's an amazing thing to look down into the eyes of a child that is fascinated by what you're doing."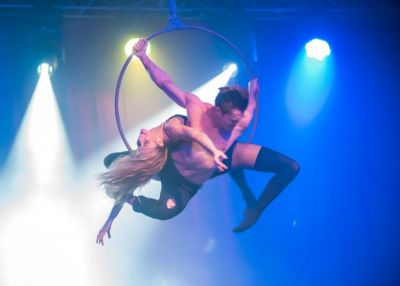 Struth & Fret diversified into festivals and events, and that led to the Garden of Earthly Delights. Now Adelaide's premier summer arts festival, it started in 2000 in just one Spiegeltent.
"Once we broke free from the restrictions of one venue we found a new freedom," Scott says.
The festival now runs across many venues as well as outdoor spaces, incorporating theatre, circus, dance, puppetry, physical comedy, family entertainment, stand-up, music and so much more! In 2016 over 800,000 stepped through the Garden's gates. Other festivals and special events followed.
"I don't see the festivals and special events as separate to our core shows," Scott explains, "It's all part of what we do. We provide breath-taking entertainment."
And in 2016 the Piece de Resistance - Blanc de Blanc - was born.
"It was very French, very risqué and very different." Scott explains.
It was also a runaway success with return seasons everywhere they played. Combining spectacle with the intimacy of a cabaret proved the perfect vehicle for audiences, young and old, looking for different entertainment. Not even Scott could have seen its impact.
"It is one of those shows where magic happens." Scott explains. "Everything just clicks. "
Scott doesn't question it, knowing that once you dissect magic it disappears. All the thought and work go upfront. The audience brings the magic.
And now, in its 4th Year and revamped with new acts and even more glamour, Blanc de Blanc Encore is set to delight us again, this time at the Sydney Opera House, a far cry from that first production in Mullumbimby. All it takes is style and vision and breath-taking entertainment.
What a perfect way to start a New Year.
Blanc de Blanc Encore plays at the Sydney Opera House from January 4 until March 9.
Images: Blanc de Blanc Encore, Emily Shephard and Caitlin Marion & Spencer Craig.