Coral Drouyn talks to British Superstars Michael Ball and Alfie Boe, discovering how fate brought about their spectacular musical partnership.
When super stars cross each other's paths in space, the result is usually a powerful explosion, and the same rules apply in Musical Theatre. And there are no bigger Superstars in the West End world of Musicals than Michael Ball and Alfie Boe.
Two very different but extraordinary voices.
"I used to listen to Michael's records when I was a kid," Alfie teases affectionately. Both took London by storm in different productions of the same show. At the tender age of 23, Michael was the original Marius in Les Misérables, and Alfie was Valjean in the acclaimed 25th anniversary concert and played the role on Broadway.
In the years between, Michael took the West End stage by storm and wound up winning two Olivier awards; released a string of hit albums; hosted television shows and established himself as Britain's favourite leading man in a variety of roles in shows by Andrew Lloyd Webber and Stephen Sondheim (his favourite role is Sondheim's Sweeney Todd, but he regrets he's "not quite right" for Momma Rose in Gypsy). Self taught, his fabulous voice easily adapted between Operetta, Musicals and even Pop.
Following a few years behind, Alfie took a different path. He trained at the Royal College of Music and the National Opera studio and was hand-picked by Baz Luhrmann for the Broadway production of La Boheme, winning a Tony Award with the rest of the cast.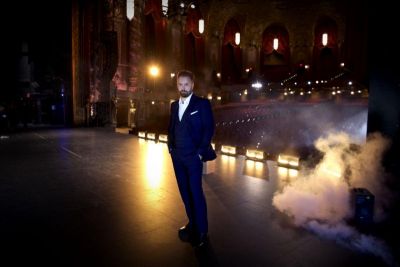 Ball is animated, as if he's had a large dose of sparkle before he goes on stage. He has the ability to light up every room, let alone every stage. Boe is more sombre, a man of far fewer words, but with an intriguing mystique. Both are charismatic, as their legions of fans will attest.
Ball grew up in the wilds of Dartmoor in Devon, an only child for the first ten years of his life. He loves Jazz, and early musical influences were Ella Fitzgerald and Frank Sinatra. Boe is a product of the North, raised in Blackpool with eight other brothers and sisters. He listened to, and loved, his Dad's Richard Tauber records (and later recorded Tauber's famed 'Girls Were Made to Love and Kiss') but he was also a drummer in a rock band, and a great fan of The Who.
Two very different men shared (though they didn't know it at the time) the same philosophy, that there are only two types of music - good and bad. They might have stayed in their own orbits in the firmament, but fate, Kismet, brought them together – quite literally.
When the English National Opera (ENO, the same name as the British liver salts, which should have been a portent) decided to stage the 1953 musical Kismet, they scored a coup by securing Ball (considered a 'veteran' at barely 45) to play Haj, the poet, and Boe to play the Caliph. With sumptuous songs like 'Stranger in Paradise' and 'Baubles, Bangles and Beads', based on the glorious melodies of Borodin, and a great supporting cast, it should have been a dream of a show. But, as Michael told me, "It was a nightmare of a production. I kid you not, it's hard to imagine how such a show could be so bad."
"But if the production had been better," Alfie chimes in, "Michael and I might not be together doing this tour now."
So, was this 'bromance' an instant thing?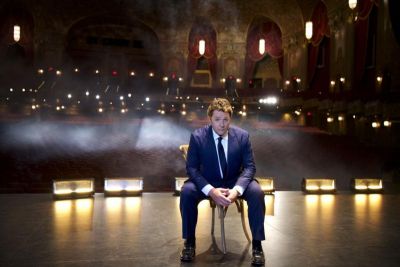 "Pretty much," Alfie says, "I didn't have the background Michael had and I wasn't certain how much I should say about it, when I realised the problems."
"Whereas I, "Michael admits truthfully, "had no qualms about saying what I thought -it was a bloody disaster." They provided support for each other through rehearsals and the short run.
The two, who had a mutual respect for each other's work, discovered a genuine liking for each other as people. They started hanging out together before and after the show.
"Michael is very funny," Alfie explains, "he makes me laugh."
"Believe me," Michael adds, "It was hard work finding things to laugh about, and don't forget Alfie's a northerner, and they're bloody miserable most of the time. But actually he has this dry sense of humour and we laugh and take the mickey out of each other."
"Of course," Alfie explains with mock seriousness, "Michael is such a Diva, and so much older than me - I have to show him due deference."
Michael laughs, "He's joking - you are joking, aren't you Alf? Have you ironed my shirts?" Michael adds.
It's clear that there's genuine regard between the two men and hanging out together is not a chore.
If the friendship hadn't formed so quickly, they might have gone their separate ways at the end of the short run.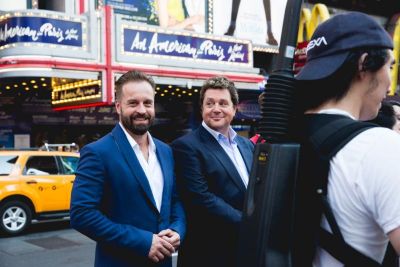 "So we started discussing things we could do together, even though I was going in to Hairspray," Michael says.
"He looked lovely in a frock," Alfie interjects. (It's true, I've seen the pictures, and the role brought Michael the Olivier Award.)
The two started fitting in concerts together and found that when they could be themselves on stage, the camaraderie spilled into the audience.
"Remarkably, our voices work really well together, and we've sung so many of the same songs," Michael explains, "that it's a real treat to get to sing them together."
"And we're not competitive about it. After all, Michael's been at it so much longer."
Michael sighs, "The things I have to put up with!" he tells me.
Inevitably they decided to record an album together, called, appropriately, Together.
"It was great fun. We did most of the studio work in New York," Michael says, "but, to be honest, we never expected the response we've had. We released it late last year and it was the UK's biggest selling Christmas album."
I've heard the album several times and it's glorious, with lush string arrangements that are breath-taking.
"You know Coral," Michael says, "the arrangements were by Vince Mendoza, and he did the arrangements for Joni Mitchell's 'Both Sides Now' album and that, in my opinion, is one of the finest albums ever made."
I had no problem agreeing with him as it's one of my favourite albums.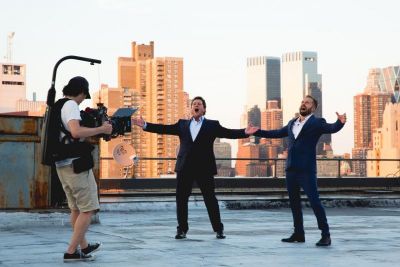 "So we've just done a long UK tour to promote the album," Alfie says, "and then the opportunity came to bring the concert version to Australia…"
"And there was no way we were going to say no," Michael chimes in, "we've both been here before but not for years."
"Because nobody asked us," Alfie adds.
"Speak for yourself!" Michael quips with mock indignation.
The two have already been back to New York to record the second album, which will be released at the end of the year.
"It's called Together Again - highly original - and we do a few more up-tempo numbers this time."
I'm personally pleased because the two do a delightful duet on the old Georges Guetary song 'Stairway to Paradise'.
"We know our audience well now, and we would never short-change them. We sing all the songs they expect from us, every one," Alfie tells me.
"But we also like to give the audience surprises - a little extra - something they might not expect from us," Michael adds.
"Music is the most astonishing way to connect with people," Michael continues. "The right chord, sequence of notes, can touch someone deeply - and if you're lucky enough to put the right words with them, well that's incredibly powerful.
Michael and Alfie promise first and foremost to entertain, and hope the audience has as much fun as they do. And if you can still buy a ticket - I'd call that Kismet.
Michael Ball & Alfie Boe - Together
QPAC Concert Hall, Brisbane - Thursday October 5
Hamer Hall, Arts Centre Melbourne - Saturday October 7
State Theatre, Sydney - Wednesday October 11
AEC Theatre, Adelaide - Saturday October 14
Crown Theatre, Perth - Monday October 16