Sydney Theatre Company has unveiled its 2018 Season – Kip Williams' first as Artistic Director. The program features sixteen shows across five venues, comprising a range of new works by Australian writers, the epic stage adaptation of a beloved trilogy of novels, and the return of a rarely produced Australian classic. These sit alongside new productions of contemporary and classic international works.
Speaking about the season, Artistic Director Kip Williams said:
"The theatre is where we come to find pleasure, to ask questions, to understand ourselves, and to negotiate our society. In 2018, these traits are the bedrock of the season. I've aimed to put together works that reflect our city and our community. The writing comes from some of the world's great playwrights, who give lively and expressive shape to timely questions around political leadership, social responsibility, gender equality and race relations.
"There's an exciting array of new Australian plays – some from familiar voices, others from writers making their debut. One such debut is H Lawrence Sumner's The Long Forgotten Dream, which brings Neil Armfield back to STC to direct Wayne Blair in a beautiful tale of family and belonging. Nakkiah Lui's voice is significant in our national discourse, and a cornerstone of our season. We're very excited to present two of her plays next year – the bold new Blackie Blackie Brown: The Traditional Owner of Death, and a limited return season of the hit Black is the New White.
"We also see the return of our finest actors in big, iconic roles. Hugo Weaving is back as the ruthlessly charming villain in Bertolt Brecht's The Resistible Rise of Arturo Ui. Jane Turner joins a cast of Australia's finest comedians in Dario Fo's outrageously funny Accidental Death of an Anarchist. Yael Stone returns to Australia to lead the cast in George Bernard Shaw's Saint Joan. Helen Thomson takes on the role of Marlene in Caryl Churchill's Top Girls. Pamela Rabe and Sarah Peirse team up in The Children, an outstanding new drama from British playwright Lucy Kirkwood (Chimerica), and we also get to experience Sarah in Patrick White's masterpiece, A Cheery Soul.
"In the second half of the year comes one of the most ambitious productions STC has created. Ruth Park's classic Australian novels, The Harp in the South trilogy, have been adapted for the stage by the prodigious Kate Mulvany. Performed across two parts, this beloved story of the Darcy family will feature an ensemble of 18 actors and an original score by Iain Grandage (The Secret River). I'm delighted to be directing this major new work.
"Bringing new Australian plays to the stage requires dedicated support for our writers. It's inspiring that three of next year's plays came through our Rough Drafts development program – The Long Forgotten Dream, Lethal Indifference, and Still Point Turning: The Catherine McGregor Story. We're proud to be developing new work through Rough Drafts, and looking to the future with our new Emerging Writers' Group and their work with our Patrick White Fellow Andrew Bovell."
Photo of Kip Williams by James Green.
THE PLAYS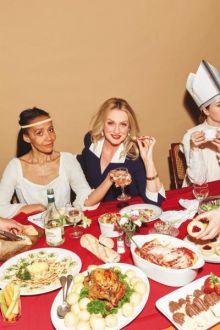 Top Girls
By Caryl Churchill
12 Feb – 24 Mar
Drama Theatre, Sydney Opera House
STC Resident Director Imara Savage kicks off the 2018 Season with Top Girls by Caryl Churchill.
Marlene (Helen Thomson – After Dinner) is unstoppable. She's been promoted to the top job at a London employment agency and it's time to celebrate. Her dinner party with famous female figures from throughout history is one of the playwright's wittiest and best known scenes.
Joining Helen Thomson in this all-female ensemble are Paula Arundell (The Bleeding Tree), Kate Box (Cloud Nine, ABC's Rake), Michelle Lim Davidson (ABC's Utopia) and Heather Mitchell (Cloud Nine).
Image: Paula Arundell and Helen Thomson - Photographer: Rene Vaile.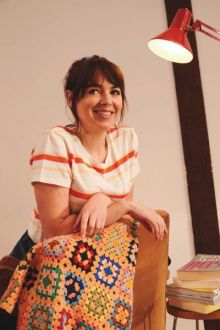 Lethal Indifference
By Anna Barnes
World Premiere
17 Feb – 10 Mar
Wharf 1 Theatre
Writer Anna Barnes' new play, Lethal Indifference, is based on real events and her own experiences, told through a single actor, Emily Barclay (ABC's Please Like Me), who brings to life a series of overlapping and interrelated chapters, full of drama, rich humour and deeply moving revelations.
In the play, a young writer in Melbourne's inner suburbs lands a public relations role at a family violence legal service. It's the kind of job that can change the way you see the world – and it will.
Lethal Indifference is not only a story of a young woman's growing awareness but also a meditation on society's complicity in domestic violence.
Developed through STC's Rough Drafts program, Lethal Indifference is directed by STC's Directing Associate Jessica Arthur.
Image: Emily Barclay. Photographer: Rene Vaile.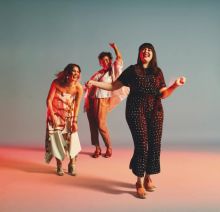 Black is the New White
By Nakkiah Lui Return Season
28 Feb – 10 Mar
Roslyn Packer Theatre
Black is the New White by Nakkiah Lui returns to the STC stage in 2018 – this time in Roslyn Packer Theatre.
The play follows Charlotte Gibson (Shari Sebbens), a lawyer on the up. As herfather Ray (Tony Briggs) says, she could be the next
female Indigenous Waleed Aly. But right now she's in
love – and her fiancé is not what her family expects – he's unemployed, an experimental composer... and he's white! Inviting him and his conservative parents to Christmas is a bold move that has all sorts of unintended and hilarious consequences. Secrets are revealed, prejudices outed and old rivalries get sorted through.
An array of charactersare played by an ensemble cast featuring Luke Carroll, Vanessa Downing, Geoff Morrell, Melodie Reynolds-Diarra, Tom Stokes and Anthony Taufa. Directed by Paige Rattray with design by Renée Mulder.
Also on tour:1 – 17 Feb, Playhouse, QPAC; 21 – 24 Feb, Merrigong Theatre Company, IMB Theatre Illawarra Performing Arts Centre; 14 – 17 Mar, Riverside Theatre, Parramatta; 28 – 31 Mar, The Playhouse, Canberra Theatre Centre.
Image: Kylie Bracknell (Kaarljilba Kaardn), Melodie Reynolds-Diarra and Shari Sebbens. Photographer: Rene Vaile.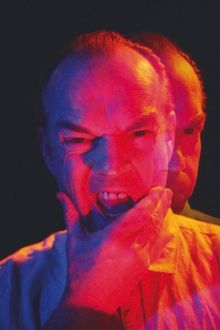 The Resistible Rise of Arturo Ui
By Bertolt Brecht. Translated By Tom Wright
21 Mar – 28 Apr
Roslyn Packer Theatre
Hugo Weaving makes his return to the STC stage in Bertolt Brecht's 1941 classic The Resistible Rise of Arturo Ui – about a demagogue coming to power in a democratic state.
Described by Brecht as 'a gangster play that would
recall certain events familiar to us all', The Resistible
Rise of Arturo Ui is a satire on the
rise of Hitler recast as a fictional, small-time Chicago gangster's takeover of the city's grocery trade in the 1930s. With Weaving in the title role, the play examines the construction of power, authority and political identity while exploring the role that violence has in controlling a population. Directed by Kip Williams, the cast includes Mitchell Butel (Arms and the Man), Peter Carroll, Tony Cogin (Chimerica), Anita Hegh (The Father), Brent Hill (Chimerica) and Ursula Yovich (The Golden Age).
image: Hugo Weaving. Photographer Rene Vaile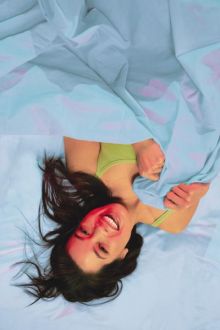 Going Down
By Michele Lee
World Premiere
A Sydney Theatre Company and Malthouse Theatre Production
23 Mar – 5 May
Wharf 2 Theatre
Going Down is writer Michele Lee's first full-length play for STC. Its hero, Natalie Yang, has just published her memoir – Banana Girl – a sexually explicit look at life as a twenty-something woman in millennial Australia. It isn't the migrant story or the feminist call to arms that people expected. It isn't on any of the best-seller lists. Cue the quarter-life crisis as Natalie and her friends search for meaning in their sexuality, identity and purpose.
Directed by Leticia Cáceres, the cast includes Catherine Davies, Josh Price, Naomi Rukavina and Jenny Wu.
Image: Catherine Davies. Photographer: Rene Vaile.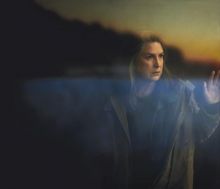 The Children
By Lucy Kirkwood
Australian Premiere
A Sydney Theatre Company and Melbourne Theatre Company production
29 Mar – 19 May
Drama Theatre, Sydney Opera House
After decades of hard work and raising a family, Hazel and her husband Robin have retired to a cottage by the sea. It's the idyllic life they always wanted – but there's a catch. Not too far away, the nuclear power plant they used to work at has been torn apart by a natural disaster. When their old friend Rose arrives unexpectedly, the past is dredged up and the future upset. This is a touching and richly detailed study of three people coming to grips with the consequences of their actions and the choices they made long ago.
Former STC Resident Director Sarah Goodes (Disgraced) directs the superb cast of Sarah Peirse, Pamela Rabe and William Zappa.
Image: Pamela Rabe. Photographer: Rene Vaile.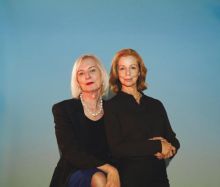 Still Point Turning: The Catherine McGregor Story
By Priscilla Jackman.
Based on interviews with Catherine McGregor
World Premiere
21 Apr – 26 May
Wharf 1 Theatre
Still Point Turning is a theatrical portrayal of one of our country's most intriguing public figures – Catherine McGregor.
From the age of eight, Catherine knew she was a woman. But first she would have to live as a man. She played many parts – son, brother, husband, athlete, soldier, speechwriter – working in professions full of machismo and inside institutions built by men. Every day was a challenge which took its toll. In 2012, aged 56, McGregor faced a turning point – to end her own life or transition as a woman.
Drawn directly from countless hours of interviews, this play tells her story in her own words and is a portrait of one person's struggle to find an authentic self.
A product of STC's Rough Drafts program, Still Point Turning weaves together the chapters of McGregor'slife. Writer/director Priscilla Jackman, in her STC debut, has assembled a magnificent cast led by Heather
Mitchell (Cloud Nine) as Catherine and including Andrew Guy and Nicholas Brown.
Image: Catherine McGregor and Heather Mitchell. Photographer: Rene Vaile.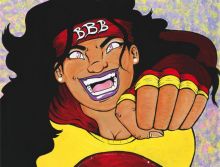 Blackie Blackie Brown: The Traditional Owner Of Death
By Nakkiah Lui
World Premiere
A Sydney Theatre Company and Malthouse Theatre production
12 May – 30 Jun
Wharf 2 Theatre
A new work by Nakkiah Lui (Black is the New White). Dr Jacqueline Brown, a mild-mannered archaeologist, uncovers a mass grave somewhere deep in the Australian bush. Picking up the skull of one of her Aboriginal ancestors, she's suddenly seized by a transcendent power and transforms into cold-blooded vigilante Blackie Blackie Brown. And now, in a no-holds-barred gore-fest, she's going to kill all the descendants of the men who murdered her ancestors – in an increasingly hilarious fashion.
Declan Greene (Sisters Grimm's Calpurnia Descending) returns to STC to direct, with projected animations by visual effects whiz kids Oh Yeah Wow and Barkindji, Birri-Gubba illustrator Emily Johnson. Megan Wilding plays Blackie Blackie Brown and Ash Flanders plays every white person she needs to kill.
The creative development of Blackie Blackie Brown was produced by Performing Lines with support from ACMI, the Australia Council for the Arts and Create NSW.
Image by by Emily Johnson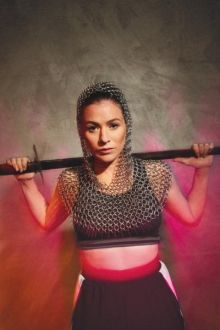 Saint Joan
By George Bernard Shaw
5 Jun – 30 Jun
Roslyn Packer Theatre
A feminist icon, Joan of Arc made history in her time. Her faith and her visions, which inspired an entire army to victory, were both her greatest strength and her downfall.
George Bernard Shaw's classic play, written in 1923, three years after Joan's canonisation, was a key factor in his receiving the Nobel Prize in 1925.
Based on records of her trial, it follows the true story of Joan's life as she fights – first for her country, then for her life. Yael Stone (Net Flix's Orange is the New Black) returns to STC playing this rebel with a cause.
Directed by Imara Savage in Roslyn Packer Theatre, the distinguished ensemble of actors also includes John Gaden (Orlando) and Socratis Otto (Foxtel's Wentworth).
Image: Yael Stone. Photographer: Rene Vaile.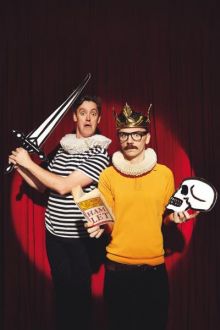 The Tragedy of Hamlet: The Prince of Skidmark
A Badaptation of The Bard
By The Listies
Return Season
4 Jul – 22 Jul
Everest Theatre, Seymour Centre
This very cheeky, clever, irreverent riff on Hamlet, made especially for children, is back for a return season. The Listies (Richard Higgins and Matt Kelly) are maestros of children's entertainment. Together with director Declan Greene, they have pulled apart Shakespeare's classic and glued it back together with hilarious costumes, loads of silliness and plenty of interactivity.
Hamlet is already full of things kids love in a good story: ghosts, castles, sword fights, bodily fluids and spooky stuff. Add to the mix some super-sonic gags and expertly timed stage magic unlike anything kids have seen before and you have a brilliantly disguised Shakespearean tragedy for everyone aged five and over.
Also on tour: 25 – 27 Jul, Lennox Theatre, Riverside Theatres; 3 – 4 Aug, The Playhouse, Canberra Theatre Centre; 7 Aug, Civic Theatre, Wagga Wagga; 10 – 11 Aug, Merrigong Theatre Company, IMB Theatre Illawarra Performing Arts Centre; and 15 – 18 Aug, Glen Street Theatre.
Image: Matt Kelly and Richard Higgins. Photographer: James Green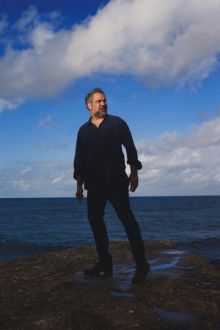 The Long Forgotten Dream
By H Lawrence Sumner
World Premiere
23 Jul – 25 Aug
Drama Theatre, Sydney Opera House
Neil Armfield (The Secret River) directs this new play from Ngarrindjeri writer H Lawrence Sumner.
Inspired by true stories of stolen bones in Australia's past, The Long Forgotten Dream is a sweeping family epic which examines four generations of history in a rural community.
Jeremiah Tucker (Wayne Blair) is a man looking for peace. His daughter Simone is an archaeologist looking for bones. Her great-grandfather just wants to be buried where he belongs. Together, they will uncover the past's brutal secrets as well as hope for a way forward.
The Long Forgotten Dream was developed through STC's Rough Drafts program.
Image: Wayne Blair. Photographer: Rene Vaile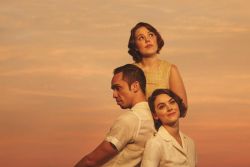 The Harp in the South: Part One and Part Two
By Ruth Park.
An Adaptation for the stage by Kate Mulvany. Score by Iain Grandage.
World Premiere
16 Aug – 6 Oct
Roslyn Packer Theatre
In 1947, Ruth Park's novel The Harp in the South appeared in instalments in the pages of The Sydney Morning Herald. Full of energy, romance and spirited rebellion, it went on to become a touchstone of Australian storytelling.
Playwright Kate Mulvany brings to the stage Park's revered trilogy – Missus, The Harp in the South and Poor Man's Orange. This epic stage adaptation spreads Park's beloved stories across two plays, The Harp in the South: Part One and The Harp in the South: Part Two. The two parts stand alone, but together they offer over five hours of theatre. It's a moving family saga and a celebration of Sydney in all its funny, gritty glory.
The Harp in the South traces the lives of the Darcy family over the course of thirty years. At twelve-and-a-half Plymouth Street, they live amongst the brothels and sly grog, the pious and the violent, the opportunists and the desperate. The Darcy family faces life's challenges with love, laughter and irreverence.
Artistic Director Kip Williams brings together an ensemble cast of 18 actors including Tony Cogin, Anita Hegh, Tara Morice, Rose Riley, Guy Simon, Helen Thomson and Contessa Treffone.
Image: Guy Simon, Contessa Treffone and Rose Riley. Photographer: Rene Vaile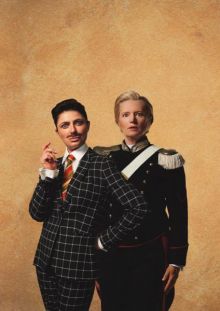 Accidental Death of an Anarchist
By Dario Fo.

In a new adaption by Francis Greenslade, with Sarah Giles.
10 Sep – 27 Oct
Drama Theatre, Sydney Opera House
Written by Nobel Laureate Dario Fo in 1970, Accidental Death of an Anarchist is a farce with a political sting in its tail which has become an absurdist classic. In a first for this play, Sarah Giles production will feature
an all-female cast led by some of the country's funniest comedians - Jane Turner (ABC TV's Kath & Kim) and Sacha Horler (Channel 10's Offspring), and playing opposite them on the side of freedom and justice is Helpmann Award-winnerAmber McMahon.
A man has fallen to his death from a police station window – but did he jump or was he pushed? The police want a cover up, but first they have to contend with an unlikely detective – a certified lunatic with a knack for impersonation.
Image: Amber McMahon and Jane Turner. Photographer: Rene Vaile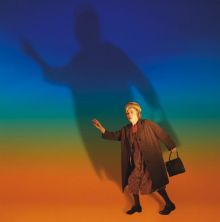 A Cheery Soul
By Patrick White
5 Nov – 15 Dec
Drama Theatre, Sydney Opera House
Patrick White is the only Australian to win the Nobel Prize for Literature. Of his plays, A Cheery Soul was White's own favourite. Set in the fictional suburb of Sarsaparilla
at the end of the 1950s, White described it as being about "the destructive power of good." The archetypical Aussie busy-body, Miss Docker's story leads her in a series of increasingly surreal acts from the home of the Custances, to the local nursing home, the church, and finally to the isolated grounds of the crematorium. White's acidic insights into the nation's soul are as funny and telling now as they were upon the play's debut in 1963.
STC Artistic Director Kip Williams takes the helm, placing Sarah Peirse (Switzerland) into Miss Docker's fiercely sensible shoes.
Image: Sarah Peirse. Photographer: Rene Vaile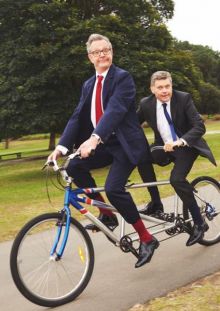 The Wharf Revue 2018
Written and Created byJonathan Biggins and Drew Forsythe.
13 Nov – 15 Dec
Roslyn Packer Theatre
Jonathan Biggins and Drew Forsythe are back in the saddle and gearing up for another year of political satire in 2018 – this time in Roslyn Packer Theatre.
So, politicians take cover and pundits stand back, because there will be songs, there will be dance, and there will be some very funny impressions. The Wharf Revue will again sort the wets from the dries, the leaks from the fakes, and the factions from the fictions.
Also on tour:13 – 15 Sep, Riverside Theatre Parramatta; 20 – 22 Sep, Q Theatre, Joan Sutherland Performing Arts Centre, Penrith; 27 – 29 Sep, Whitehorse Centre, Nunawading; 3 – 13 Oct, Glen Street Theatre Belrose; 16 – 20 Oct, Merrigong Theatre Company, IMB Theatre Illawarra Performing Arts Centre; 23 Oct – 3 Nov, The Playhouse, Canberra Theatre Centre; 6 Nov, Civic Theatre, Wagga Wagga; 9 – 10 Nov, Civic Theatre, Newcastle.
Image: Jonathan Biggins and Drew Forsythe. Photographer: Rene Vaile