Bangarra's Artistic Director talks to Coral Drouyn about the company's current regional tour.
When Stephen Page was a kid in the suburbs of Brisbane attending the local primary school with his eleven siblings, the idea of an indigenous dance company that could take its work all over the world was not even on the radar, let alone less than two decades away.
"We were urban aborigines in the seventies. My dad worked as many jobs as he could fit in to a day to support this huge family, but the reality was that no-one was going to give him a loan to buy a house or start a business like his mates. The materialistic aspects of life weren't on our radar. But what we did have was a strong sense of family and storytelling - it goes hand in hand with being indigenous," Stephen explains.
Contrary to what some people believe, Stephen did NOT start Bangarra Dance Company. He was already dancing with Sydney Dance Company and earning accolades for his unique style when Bangarra started to find its form. At first, it was seen as a way of reaching both urban and rural indigenous communities and keeping Aboriginal tradition alive. The idea that it could cross into the main stream and play major international theatres seemed ludicrous.
"Technically Bangarra was birthed in 1989, but it was conceived over 65,000 years ago. Where so many cultures have evolved to the point where their roots are no longer recognisable; it's part of our tradition to honour and keep alive the culture of our ancestry. They're inherent in all of our music and storytelling, and that was the basis for the company," Stephen says. "I was working with Graham Murphy and immersing myself in contemporary dance in Sydney, but I did join Bangarra to choreograph a new work in 1989, and the idea of finding a way to somehow marry the ancient style of indigenous dance – which defies dating anyway because it's so visceral – with more contemporary dance forms was too intriguing, and challenging, to ignore."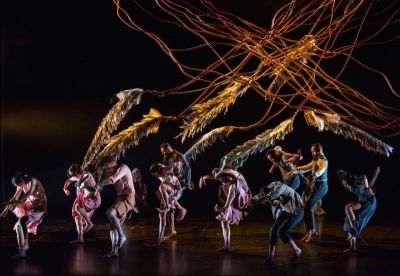 Page became Artistic Director a year later and the company has never looked back.
"We've found a format that works for us and allows us to maintain the integrity of what we stand for," Stephen tells me. "Every year we produce a major new work which we tour nationally, we do one overseas tour, to places like New York or London, and we do a big Regional tour. The rest of the time is spent in communities, some remote, and in schools, and in searching for and training new dancers."
So it really is a case of taking country back to country?
"Well yes – it's perhaps the most important of our three elements," he explains. "It's wonderful to play a State theatre filled with press and dignitaries, but that's not what we came from. While I'm grateful they enjoy the work, there are thousands of people who will never get the chance to see inside a State theatre in a capital city, and I'm not just talking about indigenous people. There are people in regional Australia who have never been to the theatre; have never seen any dance company live. Occasionally they are a reluctant audience, dragged along by friends and family, and that's okay too. Fortunately, the Arts in Australia have come a long way in the last three decades, and most country centres have excellent theatres and production facilities. But it wouldn't matter if they didn't. What we have to say is more important than where we say it."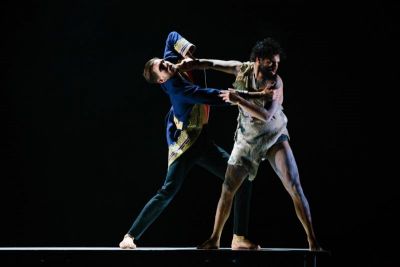 For Stephen and Bangarra it's about Spiritual connection. "Because it's part of our makeup, indigenous Australians need to keep that connection current and personal. But it's really irrelevant what creed or colour you are," Stephen declares passionately. "The world is at a crossroads. We can't just be 'Me first' at the expense of the land, the wildlife, the people around us. We're all connected whether we like it or not, so surely it would be better for all of us if we acknowledge the past but embrace the present."
This year the new production is Dark Emu, which carries at its core the same message of honouring country. In 2017 the company earned critical acclaim for Bennelong.
The current tour of Northern NSW and Southern Queensland brings back Our Land People Stories, which premiered in 2016 at the State Theatre Melbourne to rapturous reviews. I was in the audience on opening night and was transported by the production and its original music, and moved to tears by the three works which make up the programme. The piece called MacQ – on Governor Macquarie – was as poignant as it was confronting.
But it's sometimes hard to tell whether Bangarra's works, marrying the indigenous tradition with western contemporary dance is pro – or anti – assimilation.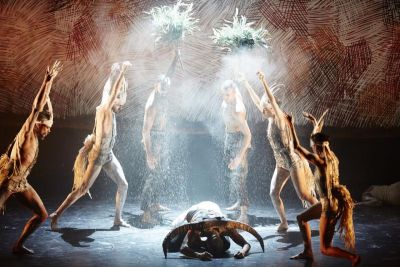 "I couldn't say definitively," Stephen ponders. "It depends on perception, and where you're looking from. All I can say is it is our Truth, the rest is up to the audience."
Images (from top): Bangarra Dance Ensemble - Nyapanyapa, OUR land people stories - Photo by Vishal Pandey; Bangarra Dance Ensemble - Miyagan, OUR land people stories - Photo by Vishal Pandey; Daniel Riley & Beau Dean Riley Smith - Macq, OUR land people stories - Bangarra - Photo by Vishal Pandey; Bangarra Dance Ensemble - Nyapanyapa, OUR land people stories - Photo by Edward Mulvihill.
Tour Dates
Civic Theatre Newcastle 9 - 10 February
Dubbo Regional Theatre and Convention Centre 14 February
Empire Theatre Toowoomba 17 February
The Arts Centre Gold Coast 23 - 24 February
Rockhampton Regional Council 28 February
Mackay Entertainment and Convention Centre 3 March
Araluen Arts Centre Alice Springs 9-10 March