Coral Drouyn catches up with Australia's top dance act before their Queensland tour.
It must be nearly four years ago now that I went to Chapel off Chapel (still my favourite theatre) to see a new show called The Tap Pack. It was billed as an homage to The Rat Pack - made (in)famous by Frank Sinatra, Sammy Davis Jnr and Dean Martin, with a variety of other members coming and going (Joey Bishop, Peter Lawford among others). Sinatra and Martin could hoof, even if they couldn't get all the beats, and Sammy Davis Jnr was a brilliant tapper. I mention this because the guys in the Tap Pack were inspired by these legends and their first show together had a storyline in the style of Forty-Second Street. They sang a few songs, exchanged banter and…best of all, they tapped… and they were fabulous.
All of the members have a strong background in Musical Theatre with a list of credits to die for and, like so many performers from that background, they created the show to have something extra in their tool-box when there wasn't a main stage show to do. But the 'little show that could' soon grew into a juggernaut, and more brilliant dancers were added (11 at last count) so that there would always be four or five top talents available to keep The Tap Pack alive and tapping.
This current mini tour of Queensland, which kicks off in Redcliffe (Brisbane) tonight (November 8, 2017, features three of the original Creative Directors, Jesse Rasmussen, Thomas J. Egan and Jordan Pollard, along with Sean Mulligan who has recently been wowing audiences in Jersey Boys in London's West end. There's a special ease between them which only comes from knowing and trusting the people you work with, and it shows when they are on stage together.
"But the show will be a bit different from last time you saw it!" Jordan tells me.
"We have decided to embrace the entertainment aspect of it and move away from the plot line this time around. So you can expect more tap, more songs, more rhythms but still lots of heart, fun and humour too!"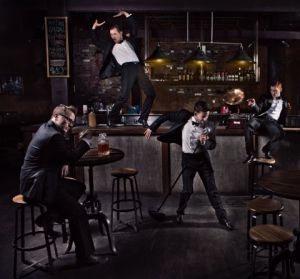 They have also perfected every move and even pushed themselves to new routines and creating new tap dynamics.
It's this move to perfect their craft that has seen The Pack garner great acclaim, not just nationally but on the International stage as well. They've recently played London, the Edinburgh Fringe Festival and received standing ovations in Berlin, where they were billed as the Tap Dance Tornadoes from Down Under. Early next year they will be in New Zealand and Bangkok, Thailand – and who knows where after that?
"But we plan to take a break and be home for Christmas." Jordan says.
There have been many predictions over the years that tap would die out with the rise of hip-hop, contemporary, and other forms of dance. But it's one of those art forms which just refuses to die - the resurgence began here in Australia with shows like David Atkins' Hot Shoe Shuffle and Dean Perry's Tap Dogs. It's the sheer joy of the music and the sense of wonder watching top dancers doing impossible things with their feet. Add to that the fact that The Tap Pack dress in suits, look sharp, and sing up a storm as well, and you have the perfect night's entertainment.
The Tap Pack QLD tour dates are
8th November – Redcliffe Cultural Centre
9th November – The J, Noosa
10th November – The Events Centre, Caloundra
11th November – Arts Centre Gold Coast
12th November – Empire Theatre, Toowoomba.