NO CYCLONE TRACY – JUST A BREATH OF FRESH AIR.
By Coral Drouyn.
Tracy Harvey isn't Stephen Sondheim. Nor is she trying to be. For one thing, she could never manage the beard.
Whoa! Back up to the name. Tracy Harvey? Isn't she the slightly geeky, big toothed comedienne from The Comedy Company, The Gilles Report, The Whittle Family? That's the one. So why mention her in the same breath as The Most High Emperor of musical theatre? Simple. Both have a talent and a passion for musicals. Yes, really. They're poles apart in approach, musical ability and theatrical sensibilities, but then Tracy doesn't want to be Stephen Sondheim. She's having too much fun discovering Tracy Harvey.
"When I was with The Whittles I let the boys do all the writing. Secretly I was creating songs but I didn't have the confidence to put them forward. I always assumed they wouldn't be quite good enough. It took a long while for me to realise that what I had to say musically really deserved to at least have an audience that could make up its own mind." There's an almost wistful tone in her voice as she recalls the past, but it isn't tinged with regret, merely realisation. That's just the way it was.
Despite the lack of confidence, Tracy was always destined to be a performer.
"My family was television crazy; it was always on. And back then it was a time of variety, comedy, all dancing, all singing local shows that are part of history now. I loved television, the whole idea of performing." She says with eyes sparkling, her enthusiasm not dulled by the twenty five years of seeing local production, particularly variety, dissipate into countless television talent shows.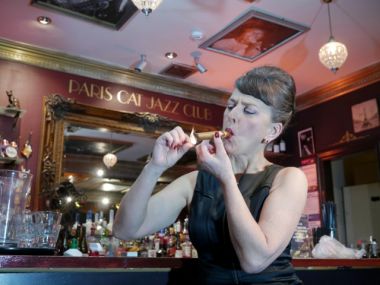 "I was always drawn to music, always played piano and sang, but I was never going to be the - what do they call them now? "Bootylicious babe" - that sold records. I knew I wasn't what was traditionally considered "pretty". For a long time all people saw was the teeth, and so comedy seemed the natural genre for me. As long as I could perform it didn't matter. I SOOO wanted to be on the telly."
And she was - in the most lauded of our comedy shows over more than a decade. She even wrote a book called "Dear Mum, I'm on the Telly." It was a blissful time, but something was still missing.
"I was conscious that, mostly, I was interpreting someone else's material. Some of it was wonderful, some not. Some was my own but with lots of input from others, and I wasn't strong enough to say "No." I just assumed everyone knew better. They weren't my words, my emotions."
In 2004, during an involuntary hiatus of the type most performers endure more than once, Tracey got the idea for a sitcom set in a call centre. But it wasn't until comedy doyen Doug Macloed came on board as script editor in 2007, that things changed dramatically. He suggested it might make a musical and so Tracy started working on songs and called it Call Girl, conscious (and perhaps even hoping) that the title would be misinterpreted…there's far more edge to Tracy than most people appreciate. Despite the lull in TV comedy work, Tracy now knew who she was and now had the confidence, doubly enforced by her partner Greg, not to compromise her passion. With Doug as her collaborator and editor on the book and lyrics, Tracy wrote catchy smart "pop" musical songs in a number of styles with witty and sometimes corny lyrics for an audience starved of good down-home comedy without any intellectual pretension. She composed on a Casio keyboard in her bedroom while partner Greg was trying to sleep but always ready to encourage.
The show had successful runs in 2008 and 2009, garnering great reviews – but the runs were small and Tracy was already exploring the "what if?" fantasy paradigm which all writers have locked away deep inside. "What if" she could write a bigger musical, with better songs, a larger cast, for a bigger theatre? "What if" she could create something to possibly be compared to The Producers – and even make it to Broadway?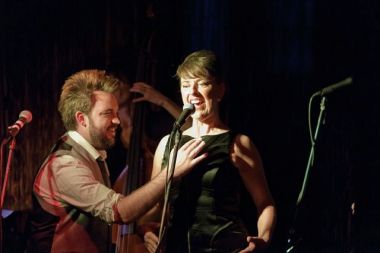 The driving force for all of us in "The Yarts" is not the possibility of riches, though Tracy would concede that money would be "nice." It's the need to create and to push your boundaries, and honour your talent. Without that, life can be good, but it can never be complete. Tracy is a smart lady. If it was going to happen, she had to make it happen. No-one was going to hand it to her on a plate. And so musical number two "Prick" (again the title is a double entendre) was conceived and is now in the gestation period. Tracy and her crew are workshopping the songs in cabaret fashion and no doubt the script, which Tracy is completing as I write, will be equally as good.
"Prick" is set in a large city hospital and is essentially about a receptionist who wants to be a doctor. It's full of great songs, humour and pathos. Best of all, it's Australian, for Australian audiences. No offence Mister Lloyd Webber, but we've seen everything in your box of tricks and there's really nothing fresh for us to savour. Prick is so fresh and ready for life it hasn't even been born yet. All it needs is for a backer with big bucks and a belief in musical theatre to fall under its charms.
Tracy credits her neighbour Suzanne Wills, who is a long time theatre nurse and knows the hospital system inside out, for the support and inspiration that has kept her going through the process "I've had great creative support – but Suzanne isn't part of this business. She's "just a good woman with heaps of compassion and energy who is always ready to encourage me."
Tracy will get Prick into production, though it remains to be seen if it is in the big theatre she hopes for. She has such passion and commitment that it's inevitable. Personally I hope for something smaller in a venue. There's a wonderful intimacy and vulnerability in her performing which may be lost on too big a stage. It's also inevitable that this new venture will delight her fans and confound her critics. That's the way it has always been. Undaunted, she has plans for two more musicals beyond this one and there's no sign of the creative well drying up anytime soon. Tracy may not have been the prettiest girl in school, but, as her partner Greg told me, "I think she gets more beautiful with age." Agreed. And so does her talent.
Colin Lane, Tracy Harvey & the Smokers at the Paris Cat (Melbourne) – Return Season
Dec 16 & 17, 2011 at 7.30pm
Colin Lane (Ready Steady Cook, Lano and Woodley), Tracy Harvey and their Smokers bring you some tunes from the brand new musical Prick. Colin and Tracy are joined by legendary trumpeter Jack Howard (Hunters and Collectors), the irrepressible Bryce Ives, the fabulous Laura Burzacott and swinging pianist Peter Foley.
Our review - http://www.stagewhispers.com.au/reviews/tracey-harvey-smokin'-paris-cat
To keep up with the latest news and reviews at Stage Whispers, click here to like us on Facebook, or follow us on Twitter.