Australian Cabaret performer Tim Draxl appears in his acclaimed show Freeway: The Chet Baker Story as part of the 2012 Melbourne Festival. He spoke with Coral Drouyn.
It all began with an un-birthday present. You don't know what an un-birthday present is? That's a present your parents give you on a sibling's birthday, so that you won't feel left out.
For the very suave, sexy and super-talented Tim Draxl, the un-birthday present that set the wheels in motion was a VHS copy of Singing In The Rain. From the moment he saw Gene Kelly singing and dancing Tim said, "I want to do that!" Not an unusual response perhaps until you realise that Tim's Austrian Dad was an Olympic skier and ski instructor and Tim, a Jindabyne boy, grew up on the snowfields of New South Wales. So insistent was Tim that he had found his calling that his Mum sent him off to talent school, which left Dad and his older brothers bemused. "It's not that I wasn't interested in sports, I just wanted show business more," he tells me. He learned to ski while a toddler and by age 13 he was Australian Junior Ski Champion. "The dance classes actually helped my skiing, and vice versa. Agility, balance and co-ordination – you need all three for both of them. Since my skiing improved once I started at talent school, there was really no argument."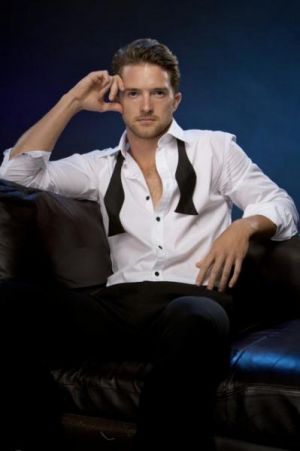 The voice, that velvet smooth caressing instrument that saw him recording a best selling album while he was still in his teens, is a gift, and surprises him as much as anyone else. "I was brought up listening to jazz, and ballad singers. Sure, I listened to the music my contemporaries were listening to. But it never touched me, never grabbed my heart the way standards and jazz classics do. It's that combination of chords and wonderful lyrics that touch me. My big regret is that I don't read music. I took piano lessons but I was always too impatient to learn to read when I could play so easily by ear. But when I took my musical exams they realised I wasn't reading and I got a D. That was the end of music lessons."
Even at 17 Tim sang with the maturity of a much older performer. The voice was lived in, though the singer was still a slightly geeky looking kid. Tim laughs. "I guess I had to grow into the voice. It knew where it was going….I just had to catch up." By the time he reached his teens Tim had already played Oliver in the school's production of the musical and got to sing the poignant "Where is Love?" It brought tears to the audience and Tim found himself choking up on the lyrics. "There are some songs you could sing forever; they evoke such emotions in you. My Funny Valentine is one of them."
"My Funny Valentine" is such a great Rodgers and Hart song that everyone has their own favourite version of it. Mine is Chet Baker's….and so is Tim's. No surprise, it was Chet's signature tune. "I never set out to sound like Chet Baker, or anyone else for that matter," he tells me, "But looking back I knew Chet's version best, so it shouldn't have surprised me." When it was pointed out to him, that was the first step towards the show Freeway, The Chet Baker Story which Tim brings to the Arts Centre, commencing October 16th for the Melbourne Festival, complete with a live band of fabulous musicians, led by the incomparable Ray Alldridge, one of our finest jazz pianists. It's a tribute to Baker's much loved musical style and the contribution he made to music, rather than a "warts and all" expose. "It's no secret that Baker hurt a lot of people, including himself. He was a troubled man, but the music he made is pure and beautiful and deserves the full attention of the audience." In the years between Tim receiving that un-birthday present and now, he has made two CDs; won a prestigious New York Cabaret award, done musical theatre, co- starred with Geoffrey Rush and Judy Davis in the film Swimming Upstream as well as acting in several other films, and even had an on-going role in the TV series Super-Nova. We've seen all facets of his great talent as he moves at a frenetic pace to international stardom. "No you haven't", he assures me, "You haven't seen me dance. I'm still waiting to do one of those Gene Kelly routines that got me hooked." Perhaps the Broadway stage will be the place for that. Tim is under contract to an American music company so he is able to divide his time between Australia and the U.S.A. His Visa declares him to be "An Alien of Extraordinary Capabilities." His talent is out of this world, so I'm not about to disagree with them.
FREEWAY - THE CHET BAKER JOURNEY
FAIRFAX STUDIO, ARTS CENTRE MELBOURNE
16 OCTOBER to 20 OCTOBER 2012
BOOKINGS: 1300 182 183 / ARTSCENTREMELBOURNE.COM.AU / TICKETMASTER 136 100