Our own Coral (Drouyn) talks to Genevieve Mooy about the fabulous Coral Browne and the new play "That F***ing Woman" which opens at 45 downstairs on July 10th
Since I have the name Coral I'm used to people saying, "That's an unusual name, I don't think I've ever heard it before," to which I reply, "What about Coral Browne?" - only to be met with blank stares most of the time - the "Coral who?" is rhetorical.
I wasn't named after Coral Browne, but I wish I had been - she was some woman and one of the first Australian actresses to travel to The Old Dart and make her mark there. She was funny, in your face, brilliantly acerbic, sexually liberated, painfully honest and foul-mouthed enough to make a sailor blush, and yet maintain a grace and presence which saw her constantly cast as a "lady". She was also a dazzlingly good actress both on stage and screen and her performance as Vera Charles in the original film of Auntie Mame, with Rosalind Russell in the title role, is still one of my movie favourites.
She was only 17 when she made her debut at Melbourne's Comedy Theatre in 1931, and with only 50 pounds in her pocket she set sail for London where she quickly made her mark as an actress. But she was a true feminist long before we bought into the philosophies of Germaine Greer and friends. Coral had no patience for procrastinators, no time for time wasters. She commanded, and got, respect and attention from those in the business - even those who described her (behind her back) as "That effing Woman". Men weren't used to hearing women call a spade a shovel in those days, and Coral always managed to add a few expletives to any description.
And if you don't remember her playing herself on TV in Alan Bennett's "An Englishman Abroad" – for which she won a BAFTA and a swag of other awards - you might remember that she was the wife of Hollywood Horror legend Vincent Price, although Coral would no doubt have said…(sic) "No Darling, he was my husband." She was unique, a genuine one-off larger than life personality, but with all the talent in the world to back it up.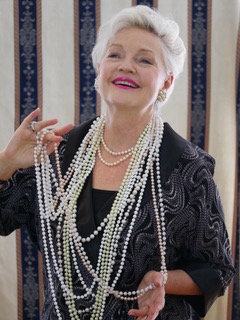 How lucky we are to have Maureen Sherlock write a one woman play about her: doubly lucky to have a versatile actress like Genevieve Mooy play this amazing woman. Mooy has been part of the film and theatre landscape in Australia for more than two decades, honing her craft in everything from Home and Away to Frontline on TV, and big screen movies like The Dish, Emoh Ruo and Breaking News. I asked her what it was that drew her to Coral Browne.
"What I love most about Coral Browne is her audacity and spirit. She was a trailblazer. By that I mean she carved the path that other actors could emulate," she tells me. But how hard must that have been in the centre of world theatre for a girl from the colonies.
"Of course there were hundreds of actors in London trying to establish themselves at the time Coral was there," Genevieve answers, "but she became one of the most exciting, provocative and brave Australian artists working in the classical theatre and film industry in the UK in the 1930s. And she did this through her scholarship, her capacity to be able to learn very quickly, her ability to transform herself from a working class girl from the suburbs of Melbourne with very little education into a shining star."
That of course, is part of her mystique. Her father ran a small restaurant with the help of her brothers, and Coral could easily have ended up as a waitress. Except…except that she would never have settled for that. Genevieve agrees.
"I think it's her drive that captivates me, it's her understanding and intelligence that enabled her to stand out. She created a persona, an entity, that could resonate beyond the confines of the stage - a celebrity of sorts and she did this by using her body her beauty and particularly her wit." Genevieve tells me.
But it wasn't always easy for Browne, and Sherlock's play explores the dark side of her life as well.
"The trick with this piece is to allow the dark side of her to be seen and the depth in Maureen's writing has rendered the perfect balance between the wit and the dark blue sea," Genevieve says.
Mooy's admiration and fascination with Browne promises a great night's entertainment and a whole new fan base for Browne herself. And that's a good thing.
"That F***ing Woman" runs at 45 Downstairs from the 10th-22nd July, 2018.
Images: (top) Coral Browne and (lower) Genevieve Mooy.