Australian composer Peter Stannard has died at the age of 86, just months before the musical he penned sixty years ago - Lola Montez - is due for a professional concert revival.
Peter Stannard was born in Sydney in 1931. He began piano studies at the age of 12, but lessons were curtailed six months later due to evacuation from Sydney during World War II.
He continued piano, self-taught. While still at Sydney Grammar School, he was professionally engaged to play for ballet schools, weddings and other events. Later, as a student at Sydney University, he wrote music and lyrics for revues, and performed in several.
He wrote music all his life – piano suites, songs, revues and musicals.
His greatest success, Lola Montez (co-written with Alan Burke and Peter Benjamin), premiered in 1958 when Peter was 27 years old, and is due for a professional concert revival in 2018 (which will be announced in late March.) The song 'Saturday Girl' made the hit parades and has been recorded by more artists that any song from Australian musical theatre. The cast recording of the show was the first LP produced in Australia.
In 1959 he composed the score for Australia's first original TV musical, Pardon Miss Westcott. This was also recorded and released on LP. He composed special arrangements for the TV version of Albert Arlen's The Sentimental Bloke (1975) and the original music for the songs in Canberra Repertory's production of Errol Flynn's Great Big Adventure Book for Boys (1982).
Meanwhile he had married, had three sons and worked as a radio announcer, a copy and jingle writer, TV commercial producer, advertising agency director, and freelance creative advertising advisor to the Sing Tao newspaper group in Sydney, until his retirement in 2003.
He composed numerous classical works, including Capriccietto (1998) for flute and piano, The Entheon Concertino (1999), and a number of piano suites and pieces for chamber orchestra, including Evocations – A Blue Mountains Suite, The James Tyson Pastorelle, Concerto for Two Pianos, and many more.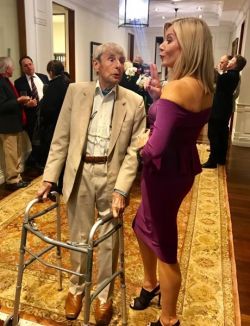 In 1996 Gay Daniel, who had worked for the Australian Elizabethan Theatre Trust on its season of Lola Montez, suggested her concept of a musical about Rose Shaw, the florist and Sydney icon who for 40 years sold flowers in Martin Place.
They contacted playwright and lyricist Frank Hatherley who was living in London at the time and he enthusiastically joined in. On his return to Sydney in 1998, he joined a series of concerts and try-outs (including a fortnight in Taree with Hazel Phillips as Rosie) that led to the show being fully produced at the Independent Theatre, North Sydney in 2005. It starred Geraldine Turner, and featured Angela Toohey and Rodney Dobson in the supporting cast. It was Dobson who touchingly delivered the show's finest song, Never Wait Until Tomorrow.
In recent years Peter has been working closely with Stephen Helper and Meredith O'Reilly of The Follies Company to stage a professional revival of Lola Montez. As part of the project he composed a sparkling new song for the work (hand written of course) that is sung by the lead character. Lola Montez is famous for scandalising the Ballarat Goldfields during the 19th century with her song and dance routine.
Peter is pictured above at a fundraising event last year for the professional revival, alongside the actress playing Lola – Deb Krizak.
Peter Stannard lived life to the fullest and was famous for his fondness for the tipple. His friends recall that it was always best to contact him in the morning….and never wait until tomorrow.
The funeral for Peter Stannard will take place on Friday the 9th of March at 2.30pm at St Marks Anglican Church Brighton-Le-Sands (Sydney).
He is survived by three sons, Stephen, Mark and Timothy, and five grandchildren, Saxon, Maya, Deanna, Bryce and Ryan.
(Written by Frank Hatherley and David Spicer.)