Coral Drouyn explores why drag has become such an integral part of our theatre.
There's no doubt that theatre needs to keep evolving in order to survive in a world of hi-tech personalised entertainment. But it's also true that (as Peter Allen said) "Everything old is new again."
Tony Sheldon, one of our greatest stars on the world stage, has again donned his alter ego of Bernadette for the 10th Anniversary tour of Priscilla – Queen of the Desert. The Helpmann Award winning, Tony and Olivier nominated actor will pass the 2,000 performance mark in this tour, yet it's not something he foresaw in the early days of work-shopping and development of the musical.
"I was having a ball," he says, 'but even though the film had been a smash hit, I did wonder what the theatre going public would make of a show about Drag Queens. Obviously I shouldn't have given it a thought. Right from opening night they embraced it totally all over the world."
Drag Queen - there's that title. It was out of the closet long before many of its greatest stars. "Drag" was given that name back in the 1870s (though Shakespeare's plays all had male actors playing female roles hundreds of years earlier). Surprisingly, it was largely the domain of "straight" males. Later it became a staple element of film. We all remember Dustin Hoffman in Tootsie, or Robin Williams in Mrs Doubtfire, but that was film, and men disguising themselves as women was an integral part of the plot.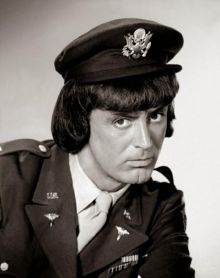 My first film appearance as a child performer was with Cary Grant, who was dressed in drag in the film I Was a Male War Bride. It was a comedy, of course. And the image is burnt into our retinae of Tony Curtis and Jack Lemon in Some Like It Hot and Joe E Brown's response to Jack Lemmon's confession that he's a man - "Well, nobody's perfect."
But the theatre was a different experience entirely. In English Music Hall there were MORE male impersonators than female impersonators. Names like Vesta Tilley, always in immaculate tailored suits, and Ella Shields, famous for 'Burlington Bertie', headlined across the Music Hall circuit and commanded the highest salaries. But it was the novelty factor that provided the appeal. And in some countries, most notably the USA, where homosexuality was against the law, it was permissible to appear in drag ONLY if you were straight. For anyone gay it was against the law, and an imprisonable offence. The Broadway play The Nance, written for Nathan Lane, tells just that story, though it's hard to believe in a time when most of the world has now embraced same sex marriage.
But for most of us, our first encounter with "drag" was as children, when our parents took us to pantomimes. It was traditional in pantomime for a female in male drag to play the heroic male roles (known as Principal Boys) and for men in drag to play the Dames - mother of the heroine, Ugly Sisters etc. Comedian Arthur Askey was a staple of pantomime every year in my youth when he played Dame, and I can remember when Danny La Rue played Ugly (?) sister to my Dad's 'Buttons in Cinderella. I was so used to seeing him in drag backstage that the first time he came to dinner as a bloke, I refused to believe it was him - despite the fact that he was equally beautiful as either gender.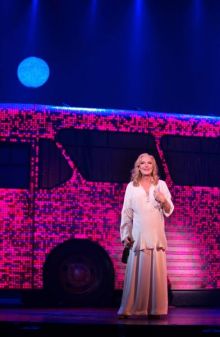 Certainly for Tony Sheldon, born into a show business family, drag was something he was always aware of.
"I think I was about 3 or 4 years old when I saw my first panto, most probably from the wings, and I was fascinated by the Dame. A few years later I saw Reg Livermore play the Wicked Witch in The Wizard of Oz at the Sydney Tivoli. I remember going backstage with my mother and (I think) my Auntie (Toni Lamond and Helen Reddy) and there was Reg with a naked chest but his tights still on, and he had the whole of his eyelids covered with stuck on emerald green sequins which he peeled off one by one as he removed his make-up. It was such a glamorous and yet everyday thing to be doing for a performer, and I remember being awe-struck."
Drag has as many categories as art or music, and it carries with it all kinds of connotations. It's certainly only recently that it's become a totally legitimate form of entertainment. For many it meant gay men exaggeratedly mimicking women (whom it is assumed they either hate or envy – though I've never met a drag queen who didn't love women) in shows that relied on lip syncing to Judy Garland or Barbra Streisand. We can't deny that's a trail-blazing part of it, but without drag shows there would never have been La Cage Aux Folles, or Priscilla. Still, there are always going to be haters; it's a theatrical form that polarises people.
Stage performer Michael Dalton, an actor/singer who played Oliver in London's West End as a child, has a huge following for his alter-ego, the very classy and ladylike Dolly Diamond. He likens the haters of drag to the 'fear of clowns' syndrome.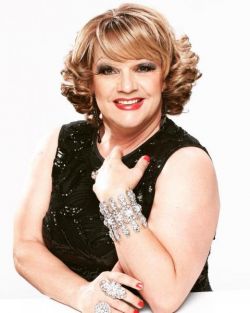 "I think it's the exaggerated makeup and costuming that makes some people fearful," he tells me. "The platform shoes, the over-the-top eyelashes, the painted faces. It's a mask, like a clown face is a mask. It has nothing to do with reality, and that is just too alien for some people. Comedy seems to be the way to overcome it. Just as with clowns, it's very difficult not to warm to a drag queen who makes you belly laugh. I rely on comedy, and Ms Diamond is a very toned-down version of the drag queen - not scary at all until she opens her mouth. But I adore some of my peers who go for the most outrageous and exaggerated form of drag. It's just that it's not who Dolly is … she's your very glamorous and naughty favourite Auntie who shocks everyone."
The breakaway from lip syncing to stand-up and singing live owes a huge debt to Carlotta, one of the early Les Girls, and the great Johnny and Peter Moselle, whose drag shows in Surfers Paradise provided an alternative reason to go to the Gold Coast. When drag performers found their voices, everything changed.
Tony Sheldon remembers them well. "I was just that little bit too young to remember Les Girls, but I loved the Moselles - gaudy, funny and totally at ease behind their on-stage masks."
Tony makes the point that he actually plays TWO women in Priscilla. One is the over the top drag queen, the other is the quiet and refined Bernadette - a man who chooses to live as a woman.
"I feel an enormous sense of responsibility to the LGBTI community to honour the difference between on stage and off," he says.
Tony's Bernadette is based on the amazing Rose Jackson, an extraordinary drag performer who was a superb costumier. Like Tony, I had the honour of meeting her back in the seventies. She lived as a woman and, more importantly, a "Lady", offstage. Rose once made a costume for me (more than forty years ago) and chided me gently when I asked for more sequins. "You're a young lady, not a tart!" she told me. I've never forgotten it.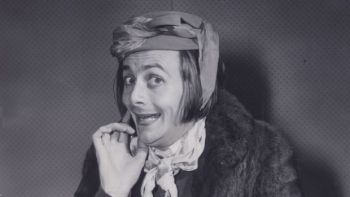 Drag has changed so much over the years and nowhere is there a greater example of that than with Barry Humphries' alter ego, Dame Edna Everage. Those who remember the character's beginnings in the early 1950's will remember a dowdy housewife with nothing glamorous about her, but as she grew and became bolder she embraced her inner extrovert and became increasingly outrageous.
"It's one of the greatest joys of drag," Tony says. "The mask allows you to push through boundaries that you would never explore as yourself."
That was true for Michael Ball, the great West End star, in Hairspray, for which he won the Olivier award; and he loved every minute of discovering his inner female. What's more, he looked great in a frock - far prettier than John Travolta in the film. But that's a role which COULD be played by a woman.
In the case of Matilda it was specified that, for the right level of intimidation, Ms Trunchbull must be played by a tall and athletic male actor. James Millar, a stalwart of musical theatre and a writer of musicals in his own right, made the role his own and won, rightly so, the Helpmann Award for his performance. Still, there's a certain irony in realising that, despite his amazing talent in so many areas, he is most likely to be remembered for his bosomy hunchbacked and tyrannical school marm in a classic case of drag without glamour.
Of course we can't forget the sub categories of female impersonators – those who actually impersonate female artists; and gender illusionists – those who are such beautiful females that it's hard to believe they are actually male.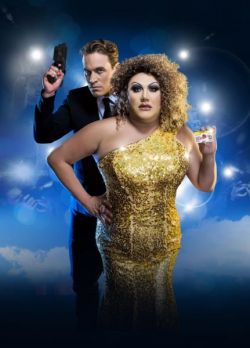 Trevor Ashley is one of the former. He has smash hit shows as both Liza Minnelli and Shirley Bassey. A gifted singer and mimic, he vocally smashes both characters and is equally as entertaining as both. Yet Trevor himself is a gifted director and actor, most recently seen as Thenardier in Les Mis.
In the latter category is the astonishing Courtney Act, who is totally convincing as a self confessed female illusionist. Brisbane born, Courtney had to go to the USA to find stardom on RuPaul's Drag Race. After failing to qualify for the first series on Australian Idol as a male singer, she donned drag and made it to the finals. A great singer and performer, she now lives in Los Angeles where she is in high demand for her cabaret act. Courtney was hugely successful in the role of Angel in the musical Rent, one of the best "legitimate" stage roles written to be played in drag, but, as she says, "There just aren't enough roles to go round."
And that poses another question - is theatre ready to go gender neutral? Could someone in drag actually play an iconic female role in a musical? Danny La Rue played Dolly Levi in a West End production of Hello, Dolly!, but it was treated more as a novelty. Lily Savage played Bea Smith on stage in the Prisoner musical, also promoted for its novelty value. Michael Dalton thinks it could happen - "I'd be putting my hand up for Hello, Dolly! if it happened," he says. And surely any singer/actor would relish the chance to play Rose in Gypsy? It is, after all, arguably the greatest role in Musical Theatre.
Tony Sheldon isn't enthusiastic about it.
"I hope it never happens, largely because it would be terribly deprecating to all the fabulous female performers that we have," Tony says. "Strong, commanding female character roles are in the minority in Musical Theatre. Too often the female leads are love-sick heroines or princesses waiting to be rescued. Nothing wrong with that, and Disney Princesses have helped revive the musical, but let's not start tampering with the great roles that are there for women. The men get more than their fair share of great roles."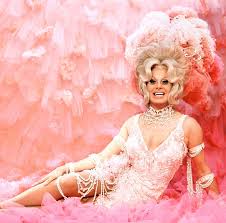 I point out that one of the most praised elements of Tony's own performance in Priscilla Queen of the Desert is female credibility. Bernadette is so convincing as a female in her 'offstage' moments that audiences were waiting for the 'actress' who played her to take a curtain call, not realising she was actually a man. What does that tell Tony, I wonder?
"It tells me that I'm doing my job well, that's all. I love her, I channel her - my partner is looking forward to having 'that lovely gentile lady' around the house again."
And will she have changed much over the last ten years? Tony thinks for a moment. "We haven't started rehearsals yet, so she hasn't told me. I'm waiting to be surprised."
And that's why theatre can never be a drag, even when it is!
Priscilla Queen of the Desert - The Musical began its 10th Anniversary tour at Melbourne's Regent Theatre in January 2018. Opening Night at Sydney's Capitol Theatre was Thursday May 17, with an Adelaide season commencing at the Festival Theatre on August 19. priscillathemusical.com.au
Trevor Ashley appears in The Bodybag – the Panto at Sydney Opera House from May 16 – 23, and the Comedy Theatre, Melbourne from May 31 – June 2. trevorashley.com.au
Images (from top): 'I Will Survive' David Harris (Mitzi), Tony Sheldon (Bernadette) and Euan Doidge (Felicia) - Priscilla Queen Of The Desert (Photo by Sam Tabone Getty Images); Cary Grant in the film I Was a Male War Bride; Tony Sheldon as Bernadette - Priscilla Queen of the Desert (Photo by Ben Symons); Dolly Diamond; Edna Everage; Trevor Ashley in The Bodybag; Danny La Rue.