For thirty years updated versions of The Pirates of Penzance have delighted Australian audiences. Now two recent graduates from the musical theatre course at Griffith University have scored the plum roles of Frederick and Mabel in Harvest Rain's new production of Essgee's Pirates. Green with envy is the Wizard of Penzance himself, Simon Gallaher. He will direct the production whilst appearing in Wicked at the same time. Peter Pinne jumped on board for a chat.
Billy Bourchier is the perfect age to play Frederick. He is 21 in real years and birthdays, having not been born on a leap day.
Simon Gallaher says the auditions were gruelling but then in wandered Billy.
"When he started to sing I couldn't believe it. I knew immediately we had found our Frederick. He was perfect. He reminded me of myself at that age – a little bit cocksure, but so right for the character."
The Pirates of Penzance also requires a beautiful maiden to steal Frederick's heart. He says Georgina Hopson was perfect too.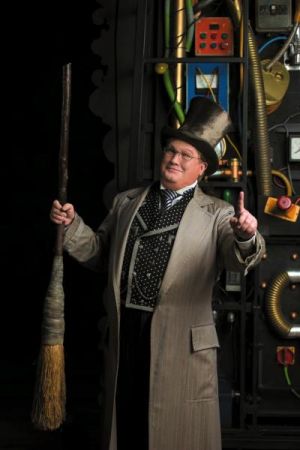 "They both had an honesty that was right for the roles. Frederick and Mabel's sweet little love story is really the heart of the show. There's all this chaos going on around them with the Pirate King and the Major General, but Frederick and Mabel give it a reality. I'm so pleased we found them. And right on our back door. They were both about to graduate. What a wonderful start to their professional careers, straight out of Uni and into a job."
Working on a new production of the show has brought back a lot of memories for Simon.
"Originally it was mounted as just a bit of fun for the Arts Centre in Melbourne. I'd seen the Linda Ronstadt and Kevin Kline version on Broadway and loved it. Well, I was thrilled when I got back to Australia and was cast in the role of Frederick. But they couldn't find a Mabel. They searched everywhere. So they held open auditions and that's when they found Marina Prior. It was her first show. They cast me because of my television profile, Jon English because he was rock royalty and June Bronhill because she was the operetta queen.
"Everyone thought it would be a disaster, but it wasn't and it went on to tour the country. The only sad thing for me was we couldn't play Brisbane. There wasn't a major theatre to put it in. Her Majesty's had been demolished and QPAC was not open yet.. But when it did open in 1985 it opened with our production of Pirates anyway."
The Essgee versions of Pirates, The Mikado and HMS Pinafore whichtoured Australia for a decade are still popular in community theatre.
Simon explains the secret of the success of Essgee's Pirates.
"It's irreverent but at the same time true to the original. Although it's updated, it's not sacrilegious. Every note and every bit of harmony is still there. The integrity of the original is still present. Gilbert spent a lot of his later life going around the provinces and updating the material. It really was the Monty Python of its time and a little bit risqué. You can't time capsule it. If you do it becomes creaky. That's what D'Oyly Carte tried to do. You have to keep updating it for a modern audience."
Both Billy and Georgina come from musical families. Billy's father and brother play drums, his mother plays piano and bass, and Billy plays every kind of musical instrument.
He was born and raised in Canberra and performed in amateur musical theatre.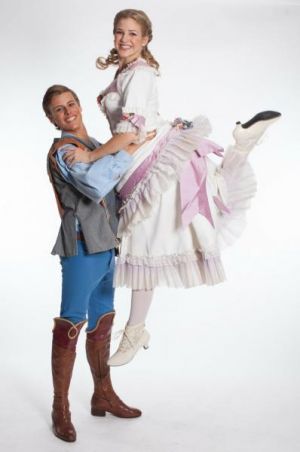 "I was Sir Thomas Mallory of Warwick in Camelot, Joseph inJoseph and his Amazing Technicolor Dreamcoat, and I sang Judas in Jesus Christ Superstar. That's my favourite role. I hope to one day play it professionally."
It was Billy's headmaster who recognised his vocal talent and encouraged him to have vocal lessons. During his three-year musical theatre course at Griffith he played Mister Snow in Carousel, Woof in Hair and Jack in Into the Woods.
Georgina also performed in Into The Woods at Griffith playing Cinderella and Julie Jordan (a favourite) in Carousel, as well as being featured in Hair and I Love You, You're Perfect, Now Change. She was born in Toowoomba and at an early age began putting on shows.
"I used to force my brother and sister to be in them. Of course I was the star," she said.
She plays piano, violin and cello, her mother plays piano, and her sister is a professional violinist. It was her singing teacher at school, Gwyneth Chappell, who saw her potential and encouraged her. The first musical she ever saw was Simon Gallaher's production of HMS Pinafore. She loved it then and still loves it and hopes one day to play Josephine and later Buttercup.
"With Pirates I've sort of come full circle. My musical theatre education started with Gilbert and Sullivan and my first professional job is in Gilbert and Sullivan."
Billy's only brush with G&S was seeing Simon's 2002 production of Pirates. As he said, "I'm a G&S virgin, but then I'm in good company because this is Nancye Hayes' first G&S production too."
Both kids are excited to be working with Simon and to be creating professional musical theatre in Brisbane. He'll have his hands full as he is appearing as the Wizard in Wicked, luckily in the same theatre complex.
"It was something I thought might be too hard. But my wife Lisa said don't be stupid, you've run your own company before and been in the show at night.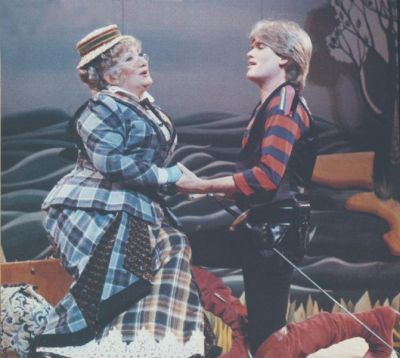 "That was really gruelling compared to sitting in a director's chair telling people how clever they are.
"Luckily the theatres are interconnected. I can swish between one theatre to the other in my wizard costume. Look it's magic."
Simon loves playing the Wizard.
"I like the complexity of the character more than the way he is portrayed in The Wizard of Oz. Rather than just being a jolly old man and a snake oil salesman he is more conniving. You can bring your own interpretation to a character which has many layers."
The Pirates of Penzance plays the Concert Hall, QPAC, 19-22 March, 2015. It stars Andrew O'Keefe (Weekend Sunrise/Deal or No Deal) as the Pirate King, Nancye Hayes (Annie) as Ruth, John Wood (Blue Heelers/Rafferty's Rules) as the Major General, with Billy Bouchier as Frederick and Georgina Hopson as Mabel. Direction is by Simon Gallaher.
Images: The cast of Harvest Rain's The Pirates of Penzance; Simon Gallaher as the Wizard in Wicked; Billy Bouchier as Frederick and Georgina Hopson as Mabel (Photographer: Nick Morrisey) and June Bronhill and Simon Gallaher in the 1985 production of The Pirates of Penzance.
Originally published in the March / April 2015 edition of Stage Whispers.
More Reading