With My Fair Lady playing in Melbourne, prior to a return Sydney season, Coral Drouyn talks to star Anna O'Byrne and looks at the history of "The World's Best Loved Musical".
My Fair Lady is back - some would say it never went away. Now a whole new generation is discovering the joys of "The Perfect Musical". But the show's origins are not so well known.
When George Bernard Shaw wrote Pygmalion over a century ago now, it's doubtful that he could ever have imagined we would still be in love with Eliza and Henry Higgins. GBS saw a world that was changing in a way that had been unthinkable before the 20th Century. Women were asserting themselves, demanding the vote, standing up for their rights and finding their voices. Eliza Doolittle, the "guttersnipe" flower seller, is arguably the first feminist character to appear on any stage - and pre-empts Germaine Greer and Gloria Steinem by half a century.
For most of us in the 21st Century, the idea of a world where women were chattels and always subservient to their husbands is ridiculous and comical, but this was a time when women were seen and not heard, and didn't answer back. In the first production of the play, a somewhat rotund Mrs Patrick Campbell, at least 25 years too old for Eliza, reduced the audience to hysterics with the line "Not Bloody Likely", and in the 1930s film, the wonderful Wendy Hiller showed us that Eliza was her own woman and didn't need anyone to take care of her. And though Shaw was way ahead of his time in sending Eliza off with confidence to make a life without a man, it was unthinkable not to have a romance in a musical.
After Shaw's death in 1950, Lerner and Loewe started work on the musical, which Shaw had always refused to sanction. Shaw's play was a biting satire about social and class divisions, and much of that was lost by adding not one, but two romances – the unspoken love between Higgins and Eliza, and the more obvious romance between Freddie and Eliza. It worked, and when Julie Andrews and Rex Harrison clashed in a battle of the classes when the musical hit Broadway in 1956, it was an instant success. Much of the credit goes to the stars, and the wonderful songs of Lerner and Loewe, but let's not forget that it was Shaw who broke the mould by giving us a feisty modern woman who changed the face of the musical theatre heroine forever.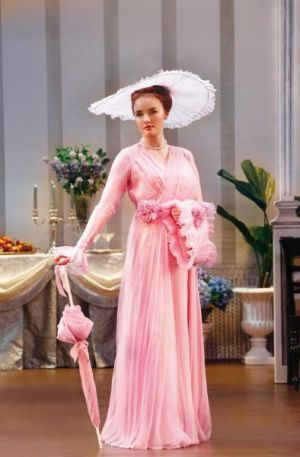 There have been at least ten professional productions of the show here in Australia, and the original production, starring Bunty Turner and Robin Bailey, set up a second company so that the show could play Sydney and Melbourne at the same time. It was the first time in Australian theatre history that such a thing had happened - two simultaneous identical productions of the same show, in two capital cities, with two sets of everything, including two revolves.
The Melbourne production opened on a sweltering January 24th 1958, which was before the West End opening. An announcement was made before the opening that 'Gentlemen will be permitted to remove their jackets and loosen their ties', unheard of in theatre etiquette of the time. That original production ran for almost five years in Australia.
Over the years there have been Elizas of all kinds, some household names and some unknown, including Jane Martin, Patricia Moore, Patricia Hemingway, Geraldine Morrow, Rona Coleman, Peta Toppano, Helen Buday, Suzanne Johnston and Opera Australia's Taryn Fiebig, with all of them bringing strong female sensibilities to the role.
Fast forward sixty years to 2016, and was there ever a more stunning idea than to have the original My Fair Lady star, Dame Julie Andrews, recreate the very first production for this latest revival? And it is a recreation, using the original set and costume designs, an homage to the original. This very special production needed a very special Eliza, and despite the incredible list of leading ladies that Australia has produced - over 250 auditioned - it was very evident to Dame Julie, as Director, that Anna O'Byrne was the perfect choice. But then O'Byrne is the perfect choice for almost any leading role. From Christine in Phantom and Love Never Dies to Maria in West Side Story to a feisty Eliza in MFL, Anna has a way of making every character her own.
"It's the acting that's most important," she says. "I discovered that very early on. You have to make people believe what you are saying, and singing. It's harder than just singing the notes, and far more important. I have to become that character. If the audience is thinking about your voice, you've got it wrong."
Anna admits that her life now is a far cry from her school days when she wanted to be a librarian.
"I suppose people might say we were a privileged family. We went to the theatre, and we travelled, but my parents worked incredibly hard for everything," she explains. "Mum was a music teacher. I started learning the violin when I was about 8 and it was important to me for 10 years or more. I sang in school choirs and performed in school musicals and the like but, yeah, it was just for fun. I really wanted to be a librarian and it wasn't until I was about thirteen or fourteen that I actually became aware of theatre as a job."
Even then, it was a gap year in London and a trip to Europe that sealed her future.
"I went to the opera one night and I thought Oh My God…I want to do that," Anna says. But, with no formal training, one doesn't just walk into opera.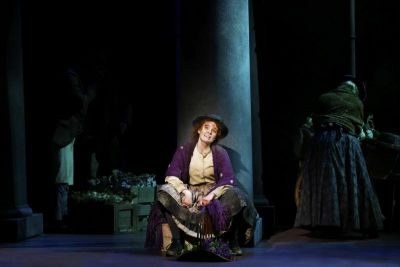 "I managed to get into Victorian College of the Arts for classical voice training, and my first show was as understudy in Phantom of The Opera," Anna tells me. "It was an astonishing way to start. And then Andrew Lloyd Webber became interested in my work, and suggested I go to London and … yeah … I never did get to be a librarian," she laughs.
So what was it like when the first Eliza (Dame Julie) and the latest Eliza met for the first time?
"Awesome," Anna admits. "I mean, we had the original cast recording at home. I'd been hearing her voice for all of my life and suddenly, there she was and yes, I was nervous. I didn't know if I'd be able to speak, let alone sing, for her. But she was incredibly warm and kind, and she totally understood how nerve-wracking the whole process was."
The two Elizas grew even closer during the rehearsal process.
"She has an uncanny sense of when to give advice and when to sit back and see what you are developing," Anna says.
"My Eliza is not her Eliza, and she never tried to make me reproduce her performance. Every day I discovered something new about this wonderful character and it was such a thrill to be able to discuss it with her. She has, as you'd expect, uncanny instincts about when to pull back, when to reach out. Let's face it, she's a star and has been for most of her life. This has been a once in a lifetime experience."
This faithful reproduction of an iconic musical promises to be another once in a lifetime show. Who knows, maybe we'll be talking about it in another sixty years.
Originally published in the March April 2017 edition of Stage Whispers.
Photograpghers: top image Brian Geach and lower Jeff Busby.