Coral Drouyn reports on the launch for More Sex Please – We're Seniors, opening in Melbourne in October.
You realise, when you discover your launch "show bag" contains a catalogue for wheelchairs and walking frames, that your future may well include a bed at the twilight home for the perpetually bewildered. "Grey Power" is not always what it's cracked up to be. But all is not lost. In an era when seniors are all but ignored where entertainment is concerned (other than the occasional "Morning Melodies" concert), the seemingly immortal John-Michael Howson, now very much a senior himself, brings us a new offering – More Sex Please – We're Seniors. John-Michael describes his new play as raunchy entertainment, nothing too serious or dramatic, just tried and true comedy. The purpose is to make audiences laugh with the characters– not at them, and isn't that a nice change? He has written the show as a series of sketches featuring two senior couples in a retirement village, linked by parodies of popular songs. Of course, for those of us over sixty, the popular songs of our youth belong to The Beatles and The Rolling Stones, Dusty and Elvis and even The Osmonds – all of them with ample scope for parody. Mini skirts and lace up boots for seniors? The entire world of their youth is deliciously ripe for the pickings.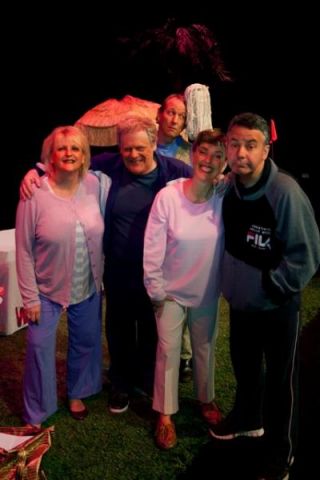 Producer Malcolm Cooke and director Pip Mushin have assembled a simply stellar cast of comedy actors for this production, each one of them with broad appeal and audience recognition. There's Jane Clifton, still much loved for her role as Margo Gaffney in Channel Ten's PRISONER series. She's well known to theatre audiences through such mainstream entertainment as Menopause The Musical and Mum's The Word. A great singer, she is a force to be reckoned with. Tracy Harvey is one of our best loved comediennes, affectionately remembered from The Comedy Company, The Gillies Report and her breakfast radio show. These two names alone should ensure a sell-out season, but as the old TV ad used to say – "But wait – there's more." Two of our best known and most respected TV comic actors, Mark Mitchell and Michael Veitch, round out the cast. Michael's performances on Fast Forward and D-Generation are indelibly imprinted on our psyche (I still chuckle at the two cabin stewards with Steve Vizard), and Mark's iconic creation "Con the Fruiterer" is part of our nation's television history. All four are seasoned stage performers, even though we might know them best from the small screen. Add to the mix Musical Director Peter Sullivan, whose list of credits would be longer than this article, but whom we know best as co-writer of footy anthem "Up There Cazaly".
The show is unashamedly aimed at the senior demographic – those of us not yet ready for "God's waiting room." The ticket price will be low enough to encourage all senior citizens within 200kms to hire a coach and get down to The Comedy Theatre from October 31st for a limited season. What a perfect Christmas outing for those among us in need of a good laugh at ourselves. There's no word on whether there will be free Viagra or Oestrogen pills for audience members – but a good dose of laughter is just as effective.
Imges: (top) L-R: Mark Mitchell, Jane Clifton, Tracy Harvey, Michael Veitch, Matthew Quartermaine (on table) and (lower) L-R: Jane Clifton, Mark Mitchell, Matthew Quartermaine, Tracy Harvey, Michael Veitch
More Sex Please … We're Seniors plays at the Comedy Theatre from October 31. Bookings: Ticketmaster or 1300 111 011.