By Jeremy Lloyd and David Croft. Lilydale Athenaeum Theatre (Vic). Director: Nicholas Ryan. November 15 – December 3, 2011.
Café René is the centre of all the action in 'Allo 'Allo, the stage adaption of the popular BBC TV wartime comedy series, complete with the marauding Germans looking after their future, British airmen using the café as a safe house while the Resistance comes up with crazy plans to help them escape and poor René, the proprietor, his wife and two waitresses trying to run the restaurant in a little French village, despite all that is going on around them.
A remarkable set uses two revolves with three scenes on each, ranging from the café, a bedroom, a Gestapo office, a storeroom, the German Colonel's office and a movie theatre, to keep the show moving briskly.
Director Nicholas Ryan cast the show very successfully; not only were all the actors superb, they resembled their TV counterparts.
Adrian Carr as René captured the character with finesse and professionalism giving a great interpretation of the role, just as we remember him on TV. Kellie Bray as Edith, Rene's wife, gave a magnificent performance and added to the audiences' enjoyment in her hysterical cabaret scenes, especially her high opinion of the talent she lacks.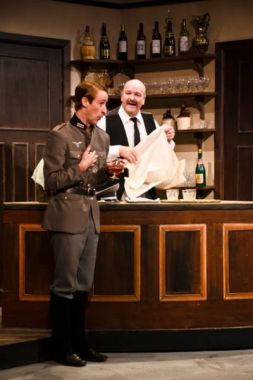 Tina Bono gave a first class interpretation of Yvette, the tall waitress madly in love with René, displaying strong stage presence and an enjoyable performance.
Her fellow waitress, Mimi, was skilfully and extremely energetically performed by petite Donna Page. More than a waitress, she was Rene's bodyguard, defending him very violently on occasion.
Rhiannon Leach gave a strong portrayal of Michelle, the Resistance leader, best known for the phrase, "Now listen very carefully, I'll say this only once."
Les Wallis was Colonel Kurt Von Strohm gave a good performance in a small role.
As Helga, the German secretary spying on Colonel Von Strohm for Herr Flick and spying on Herr Flick for the Colonel, Megan Coe (usually seen in musicals) gave a terrific portrayal. Her Tango with Herr Flick had the audience in stitches.
As Herr Otto Flick, Keith Hutton really captured the stiff bearing of a stereotypical Gestapo officer, sharing a strong rapport with Coe.
Gary Rens brought a light touch as the Italian Captain Alberto Bertorelli, catching the humorous, ridiculous essence of the 'great Italian war hero' (the Captain's own words, naturally). Justin Stephens was Crabtree, the English spy disguised as French gendarme, with an atrocious accent, uttering cod French phrases like 'good moaning.' Stephens projected well and kept the crazy mangling of the language consistent throughout the performance.
Leclerc, who brought René the radio to contact England disguised as a parrot, was given a good even performance by James McRae. Kieran Tracey played the tank driver Lieutenant Gruber over-the-top, as called for.
A great night's entertainment, rather bawdy in parts but absolutely enjoyed by the opening night's audience.
Peter Kemp
To keep up with the latest news and reviews at Stage Whispers, click here to like us on Facebook, or follow us on Twitter.