Music and Lyrics by Jason Robert Brown. Book by Dan Elish and Robert Horn. Director: Bridget Keating. Shire Music Theatre. Sutherland Memorial School of Arts. March 23 – April 1, 2012.
In 13 the central character is Evan Goldman, the only Jew in his class, on the cusp of celebrating his Bar Mitzvah. He is transplanted from New York to middle America when his parents get divorced.
So, I took my 13 year old boy who completed his Bar Mitzvah a few months ago with me to help review the musical.
He gave the production the thumbs up.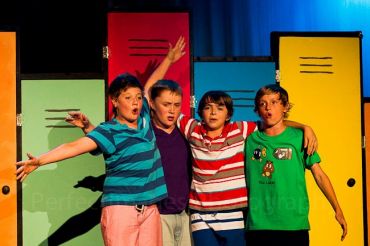 First thing to note is that the Jewish angle is not central to the musical. 13 is about coming of age and making choices about what qualities are important in friendship. There are moments which make you cringe in recollection at those High School years.
The musical loses a little momentum in the second act. Even so Shire Music Theatre presented a neat production with strong performances.
In the lead, Jack Paterson as Evan Goldman was impressive. We listened intensely for the short time he had to sing in Hebrew and he passed it off well, although the costume department forgot to give him a skullcap.
But the knock out performer was Gus Noakes as Archie, the school's resident special needs student.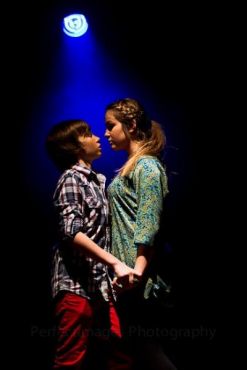 At the age of 11 he has natural comic timing. His rendition of the song "No one says no to a boy with a terminal illness" was spot on.
The production suited the small stage used by Shire Music Theatre in Sydney's south.
The set, made up of lockers that rotated, was clever – and the band was sharp.
All up it was a well-drilled production by the director Bridget Keating.
Despite the quip in the musical Spamalot that "We won't succeed on Broadway, if you don't have any Jews," the musical did not succeed on Broadway. It lasted just 110 performances in 2008.
That does not seem to matter as the musical lives on in a growing number of amateur and school productions, where teenagers relish playing roles about characters their age. The only drawback is that the cast is limited to, yes you guessed it, 13.
David Spicer
Images (from top) Jack Paterson, Gus Noakes and Maddy Johnson as Evan, Archie and Patrice; Julian Bonser, Louis Vinceguerra, Ethan Fuller and Michael Kilbane as Malcolm, Richie, Simon and Eddie; SMT 13 Jack Paterson and Maddy Johnson as Evan and Patrice; full cast; Gus Noakes as Archie and full cast.
More Details: www.stagewhispers.com.au/community-theatre/13-musical-shire