By John Beaton. Darlington Theatre Players. Directed by Neroli Sweetman. Marloo Theatre, Greenmount, WA. 11 Nov - 8 Dec, 2018
Darlington Theatre Players opened this locally written world premiere on Remembrance Day, a fitting choice for this show, which is set around the Conscription Referendum of 1916.
Set around the Darlington Hills, and featuring the area's biggest place of employment at the time - The Midland Railway Workshops, the story centres around two families, the Catholic O'Connors, whose son is in army training at local Blackboy Hill Army Camp (where most of WA's recruits were trained) and who is in love with local girl Rose, and Rose's family, the Baptist James family, whose eldest son is reported missing in action in France. It explores the passion of the conscription debate, the pressures of the home front, local events and family friction.
Using the music of the time, it might be described as a juke box musical, if juke boxes had been invented in 1916. The music helps conjure the era, as do the costumes created by Marjorie De Caux and team. George Boyd has created a set with lots of detail, although the changes feel a little laborious at times - this is more about the dramaturgy than the design.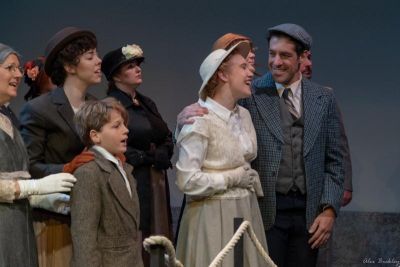 Alan Gill is strong as Irishman Joseph O'Connor, a passionate supporter of the "No" vote. His new, young wife is sweetly played by Sophie Byrnes and their relationship is believable. Joseph's son Paddy is played nicely by Jack Martin, with matinee idol looks, who works very nicely opposite Matilda Jenkins' beautifully sung Rose.
Rose's father Charlie is played by Daniel Minutillo, with a lovely singing voice. Michelle Ezzy gives a heartfelt performance (although she seems much too young) as Julia James, Guy Jackson brings credence to his brief appearance as Robert, Kody Fellows is believable as younger brother Harry, and an aged-up Jenny Trestrail is excellent as grandmother Dorothy Nye.
Brendan Tobin's Reverend William Meade brings another perspective to the debate and a large chorus add colour and atmosphere, as well as fine choral skills.
While the script could do with further development, it is a fascinating concept and a story worth telling. 1916, A Love Story is a good choice for lovers of new work, those interest in the local area and history buffs. Well done to the company for a brave and interesting choice.
Kimberley Shaw