By George Orwell. New adaptation created by Robert Icke and Duncan Macmillan. Ambassador Theatre Group, GWB Entertainment & State Theatre Company South Australia present the Headlong, Nottingham Playhouse & Almeida Theatre production. Touring Australia from May to August 2017.
What is reality? How much of our perceptions and beliefs are created or changed by insidious or even overt external influences? Can 'alternative' facts trump actual facts? How easily can the identity of individuals and societies be destroyed by power, propaganda and menacing officialdom?
These questions are contemporary, yet the themes defy time, demonstrated by George Orwell's 1949 dystopian novel Nineteen Eighty-four, which is equally as well-known as his other famous work, Animal Farm.
Robert Icke and Duncan Macmillan's stunning new theatrical adaptation of Nineteen Eighty-Four brings into stark relief that the menacing threats of totalitarianism and suppression of the individual have always been part of the past, are alive and thriving in many of today's various and different societies and will no doubt endure into the future.
Ambassador Theatre Group, GWB Entertainment & State Theatre Company South Australia are currently touring Australia with the Headlong, Nottingham Playhouse & Almeida Theatre production of 1984, commencing this week in Adelaide. The production will move on to Melbourne, Brisbane, Sydney, Canberra and finally, Perth.
Unlike the original novel, the play's title 1984 is written as a number rather than in words, but as per the novel, the narrative begins as the clock strikes thirteen on a cold April day in 1984. It has at its core the story of Winston Smith's resistance towards the thought control and omnipresent government surveillance exerted in 'Oceania', which is a totalitarian superpower that includes a now differently named Great Britain and is overseen by the mysterious person or entity, Big Brother.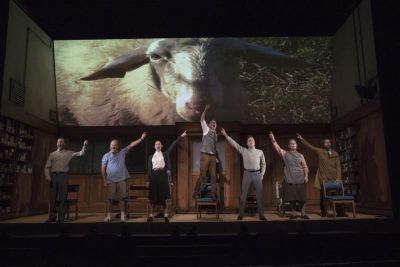 Known as Comrade 6079, Winston works as an editor in the Ministry of Truth where he ensures all material that leaves the Ministry toes the party line and where he deletes 'unpersons' from records and even rewrites history. However, when he believes he is out of sight of video surveillance, he also keeps a secret diary in which he disagrees with the prevailing practices of Big Brother and the Thought Police. A love affair and ghastly torture influence the ultimate outcome.
Many people may believe that because the year 1984 is long gone, the story is no longer particularly relevant, but Orwell made it clear his novel is not just a narrative of Winston Smith's 'real time' resistance experience; it also takes place as a history and in remembered time from the future.
This is where Icke and Macmillan's adaptation is quite brilliant. They have focused on a section of the novel people rarely read, the Appendix, to create the 'history' and 'future' elements of the play's design. Some of the action takes place amongst a discussion group who look back at Winston's diary. They exist somewhere beyond 2050, when Oldspeak (Standard English) has finally been completely eliminated and Newspeak is the language spoken by all in Oceania. Newspeak is designed to diminish the range of thought. While often confusing, the 'future looking back' approach helps to immerse the modern audience in a highly visceral and sensory experience that is also unsettling and disorientating.
Taking the baton from the original West End cast and from a past successful Melbourne Festival production, the Australian ensemble for this touring production is wonderful.
Tom Conroy is much younger than the thirty-nine years Winston is described as in the novel, but is superb as the character. He embodies Winston's fear, confusion and confliction. A towering performance.
Ursula Mills appears wooden as Julia, but this is clearly deliberate. She delivers a wonderfully enigmatic character and does a fine job of leaving the audience unsure as to Julia's true persona and motivations.
Terence Crawford gives a chilling performance as O'Brien, made even more impactful by portraying him as a man who so completely believes in his masters' ideology that he can carry out torture with a matter-of-fact assumption that he is helping his victim to commit to the same ideals and therefore benefit from this.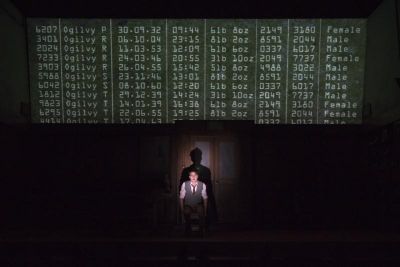 The remaining very fine acting ensemble, some of whom play more than one character, includes Paul Blackwell, Guy O'Grady, Yalin Ozucelik, Fiona Press and Renato Musolino. Musolino generates shivers down one's spine, with little dialogue but creepily controlled robotic body language. Youngster, Trinity O'shea, playing a child on opening night, completely nailed someone influenced at a young age by the prevailing thought control. In some ways, these actors have little to work with in terms of material for character development, but while this would be a criticism in any other work, it makes some sense here as many of the people they portray have had any depth of memory or life experience removed by the Thought Police.
The monochromatic colour palette of the costumes contributes to the claustrophobic atmosphere and setting of much of the piece; a long, narrow, sepia-hued room adjacent to an institutional corridor. There are frosted windows opening onto the corridor, along which people move and sometimes stop to watch those in the room. There is a sense of robotic movement as people come and go from the room, disappearing or arriving disturbingly, in the blink of an eye, under cover of momentary blackouts and ear-shattering sound. There is a TV screen high on the wall, a device Orwell called a telescreen in his novel. It is a two-way screen and its height and position highlights the 'Big Brother is Watching You' aspect of the story.
Sequences showing the intimate bedroom relationship between Winston and fellow subversive Julia are secretly filmed by Big Brother and we view this on a looming screen as uncomfortable voyeurs. The relationship is distilled from the novel and not fully developed but this can be forgiven in the overall context.
The set later morphs dramatically from 'institution-like' interior to something huge, open, but more disturbing, the horrifying Room 101; a superb design feat supported by highly unsettling sound and light effects that shock the senses.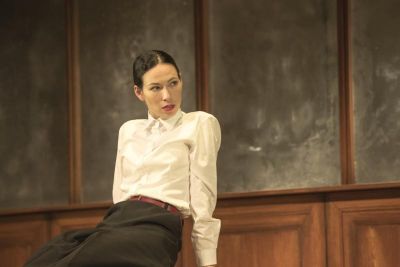 Such light and sound occurs at unexpected intervals throughout the play, along with disembodied voice effects. This not only contributes to the mind manipulation occurring for Winston Smith, but also the overwhelming and at times harrowing audience experience.
All aspects of Chloe Lamford's (set), Natasha Chivers'(lighting), Tom Gibbons' (sound) and Tim Reid's (video) design are excellent, but particularly sound and lighting, which become characters in their own right, lashing the audience with the gut-wrenching power of their 'voice'.
This audience impact is clearly contrived by Robert Icke and Duncan MacMillan, who are also the play's directors. Through the very sudden, overwhelming and unnerving light and sound effects, combined with the narrative and surreal atmosphere, audience members experience a taste of what must occur with mind and sensory control. We are therefore in empathy with Winston Smith's own contrived, enforced disorientation.
This is intelligent interpretative theatre, but I suggest you read the book before you attend if possible. Importantly, reading the play's detailed program will provide a better understanding of the intent behind the design and adaptation.
1984 is 1 hour and 41 minutes of powerful and mind-bending theatre, uninterrupted by either interval or free thought; a sometimes frightening but unmissable experience.
Lesley Reed
WHERE AND WHEN:
Her Majesty's Theatre, Adelaide May 13-27
Comedy Theatre, Melbourne, May 31-June 10
Lyric Theatre, QPAC, Brisbane, June 14-18
Roslyn Packer Theatre, Sydney, June 28-July 22
Canberra Theatre Centre, Canberra, July 25-29
His Majesty's Theatre, Perth, August 4-13
Photographer: Shane Reid