Book and Lyrics by Ian Gerrard. Music by Russell Tredinnick. Endymion Productions. State Theatre, Sydney. August 13 – 17, 2019.
Walking into the Grand Dame that is the State Theatre is always a pleasure, but sadly this was the wrong venue to try out this brand new musical.
Instead of splashing out money renting this opulent picture palace, which was far from filled with just a few hundred patrons on opening night, the investment should have been directed on creative talent to develop the writing, choreography and stagecraft in a smaller venue.
Aspects of the production are entertaining, moving and tuneful, whilst at the same time glaring artistic misjudgements and historical inaccuracies were jarring.
3 Weeks in Spring is inspired by the short period that Private John Simpson spent in Gallipoli, carrying wounded soldiers around on his faithful donkey.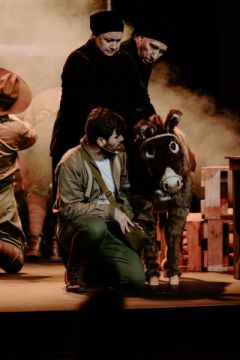 In the role, Lincoln Elliot was well cast, effectively portraying Simpson as a likable larrikin.
The narrator for the musical was the official war historian C.E.W Bean, who crafted the ANZAC legend. Matthew Herne shone in this role with his high tenor range.
However a major dramatic opportunity was missed, by the exclusion from the musical of the contempt the journalist held for Colonel John Monash (Lachlan O'Brien).
Female characters largely played second fiddle. In one scene the wife of John Monash (Hannah Monash) led a protest against the strategy of invading Turkey which felt unrealistic.
The score is rich and tightly delivered by the orchestra, under the baton of Zara Stanton, with a wide variety of styles which didn't always suit the narrative.
The musical begins with a number of tuneful upbeat songs. "On With the Show" is set at a fair, followed by the recruitment number "Step Right Up", with tight barber shop harmonies.
Very soon the soldiers have landed at Gallipoli. The song "Fight On. Push Though" had a Jesus Christ Superstar rock feel. The character of Simpson is introduced sweetly with "Grains of Sand" which had a rich brass feel.
The song "Two Bullets" was based on the fascinating concept of two bullets colliding. Simpson is introduced to his Donkey in the "Shrapnel Gully Blues" – with a sultry feel. It is a nice song but it felt more like a seduction song than a soldier finding a donkey.
The songs had me tapping my feet but they felt at times oddly placed.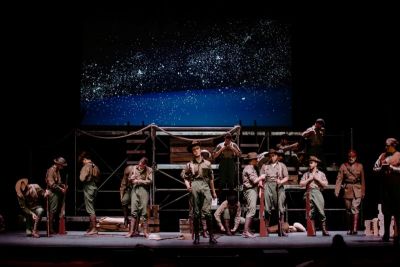 There were visual highlights. Strikingly beautiful projection artwork from Aidan Robert lit a screen behind a stationary set of scaffolding.
Letting down the production was some of the stagecraft. The donkey, manipulated by two puppeteers, lacked artistry.
Some of the choreography too was sadly derivative and dozens of chorus soldiers running around with two dimensional rifles felt at times amateurish.
Nonetheless the small audience gave the cast a well-deserved ovation for making it to opening night.
With tickets now heavily discounted, head to the State Theatre for an experience that is not likely to be repeated.
David Spicer