By Patrick Barlow. Director: Doug Bennett. 1812 Theatre (Vic). Nov 15th – December 8th, 2012
What a delightful Christmas treat the 1812 has on offer! Even if you're not normally a theatregoer, you will love this latest production of Patrick Barlow's comedy spoof on John Buchan's novel and Alfred Hitchcock's iconic 1935 movie. There are spies, Nazis, murders, beautiful women, and a hapless rake of a hero on the run in Richard Hannay. But don't be fooled into thinking this is just a thriller, as one poor elderly and somewhat deaf audience member did on opening night. He got very confused by the hysterical laughter in the audience.
Doug Bennett has done a superlative job as Director, not just with the cast of four, but in his overall approach to the comedy. There is comedy business in this production I have never seen before, and that's saying something. There's a mountain chase with shadow puppets, an innovative crossing of the Forth bridge and some great old footage of dancers, to denote the London Palladium, projected on the scrim. With an ingenious set…or what passes for one….and the actors themselves, through body movement, conveying being in a train or a car, it's all hilariously convincing (particularly when the car is broken up into 4 chairs, a lectern and a wheel….and one of the clowns carries it offstage). This heady mixture of familiar and original keeps the laughs coming from beginning to end. When three shaking hanging green lights appeared above some upturned green trunks we knew instantly we were on a train at the station. Our imagination was stretched – but never to the point of disbelief.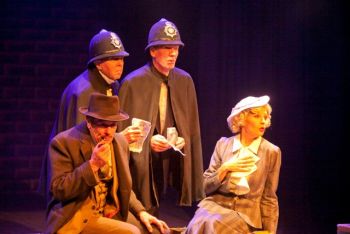 The soundscape is excellent throughout, adding nuances and authenticity. Justin Stevens has done a great job creating it. If there's a flaw it's that the sound levels are sometimes too loud on the background, drowning out some dialogue – but that is easily fixed.
Geoff Arnold is a perfect Richard Hannay – with slight overtones of both Leslie Howard and Rex Harrison. He brings an endearing sympathetic quality to the role. Rhiannon Leach is both attractive and competent in her three female roles – particularly as Annabella. I look forward to seeing more of her. But, as always in this piece, the production stands or falls on the quality of the Clowns. And what clowns they are! With so many costume and accent changes, and so many props to handle, it's a fine line between hilarity and chaos. Keith Hutton and Barry Lockett nailed it all perfectly; great clowns both of them – and they never put a foot wrong. It's a joyous thing to see a community theatre production which works on every level and offers pure entertainment for two hours. See it if you can.
Coral Drouyn
Images: (top) l to r - Rhiannon Leach, Barry Lockett Keith Hutton and Geoff Arnold & (lower) l to r - Geoff Arnold, Barry Lockett, Keith Hutton and Rhiannon Leach.