By John Buchan and Patrick Barlow. Theatre on Chester, Epping (NSW). August 4 – 26, 2017.
Film buffs and theatre goers alike may be a little surprised by this production, yet surely delighted. If you've only watched the Hitchcock film, don't expect a thriller. If you've seen previous stage versions, don't anticipate an exact reproduction of the frenetic physical farce.
Director Carla Moore confided that she's never seen the play on stage, nor checked out the video clips available online. It's an advantage. Instead, she's taken a fresh look at the witty script, playing for broad comedy, without attempting to replicate the tightly choreographed slapstick and physical comedy associated with the multi-award winning West End version and its equally successful international off-spring. It's a good decision – that brand of physical comedy demands very particular skills, and I've seen community theatre productions which have either been brilliant, or painfully failed to nail it. Her choice has led to some delightful new gags and variations.
Moore (also the set designer) adopts black, white and grey tones in set and costuming (by Joy Sweeney), an homage to film noir, combined with a partially live soundtrack, consciously and very visibly presented in the style of a radio play broadcast (also popular at the time of Hitchcock's film thriller), physically integrated into the production (quite apt, as Orson Welles actually starred in a radio play version, shortly after the film). It's a formula which keeps the audience laughing throughout this brightly paced production.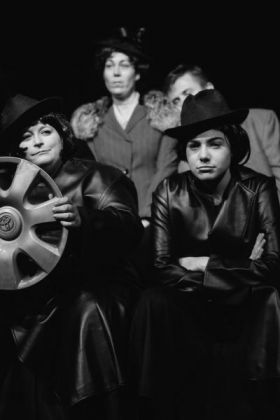 As leading man Richard Hannay, Martin Bell lands the world-weary Brit, just back from years in the colonies, and now caught in the headlights of a spy drama, perfectly. He's straight from the pages of John Buchan's original, or any number of Graham Greene novels.
The remaining three cast members switch impressively between a cavalcade of supporting characters.
Julie Moore, equally at home as Femme Fatale, straight-laced, buttoned up British spinster and a simple-minded rural publican's wife, utterly nails three splendidly drawn and clearly delineated characters, with straight-faced comic delivery.
Tracey Okeby Lucan and Charli Lucas, comically paired in an interpretation with nods to traditional British Pierrots, and duos like Laurel and Hardy, Abbott and Costello or even The Two Ronnies, romp their way through the play, delightfully differentiating all the other way-out inhabitants of the comic thriller's world.
Indeed, Charli Lucas is the surprise package of the evening. At just 18 years of age, her superb comic instincts, timing, and marvelous stagecraft are a remarkable.
If the cast are on their toes all evening delivering this brisk entertaining comedy, so too are the tech crew, with a multitude of lighting and sound cues impressively delivered with split second timing. Like the sound crew, the stage crew are consciously and effectively integrated into the action rather than attempting to be invisible in quick scene changes.
This snappily paced, impressively performed farcical spin on the classic thriller will warm up many an audience at Epping throughout August.
Neil Litchfield